Bring Back That Shine!
Hagerty, Jay Leno's Garage and other automotive news sources frequently report exciting "barn finds." Many of these vintage vehicles remained untouched for decades.
Hagerty notes a 1968 Shelby 500GT discovered in a leaning barn. One episode of Jay Leno's Garage told the story of a 1953 Porsche 356 Pre-A Coupe. A collector discovered it in an old garage in San Diego, CA.
Enthusiasts also discover "barn finds" in fields and nondescript warehouses. Jalopnik described a 1937 Mercedes Benz 500 K discovered in a south-central Los Angeles junkyard.
Meticulous cleaning reveals the vintage sheet metal once buried under layers of dust and dirt. It's a remarkable transformation.
Wash & Clean
Serious cleaning is sometimes in order even if your ride has not been languishing in a barn. Maybe your family road trip included forays down unpaved back roads. Perhaps you've been mudding in your 4×4. Or, you've simply picked up a motley mix of grime, bird droppings and bug residue in ordinary day-to-day driving.
Prepare for superior cleaning with the four premium products in the 303 Total Wash Collection.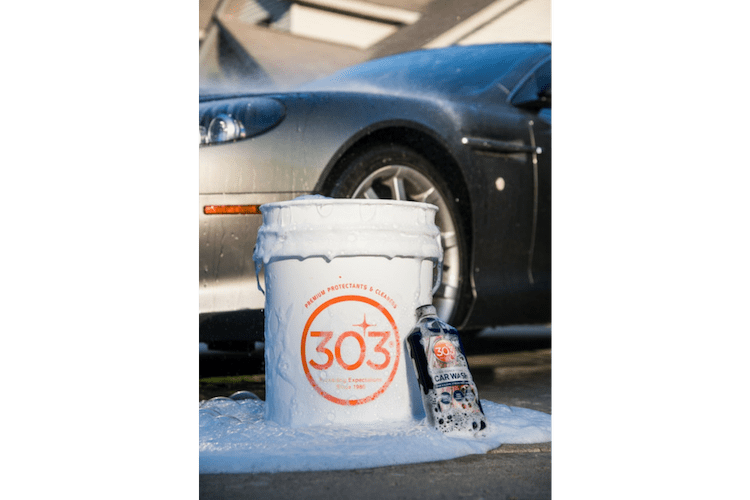 Use the "two bucket method" to clean up a terrific barn find or another seriously soiled vehicle. When you use a single bucket, you risk recirculating accumulating dirt. You run the risk of scratching your vehicle in the process. The only real solution is to toss the dirty water and start over – again and again.
Instead, opt for a five-gallon wash bucket and a large rinse bucket. Fill the wash bucket with clean water. Add a single ounce of 303 Ultra-Concentrated Car Wash to clean water. Yes, it is truly concentrated! This premium car wash soap produces a continuing foam. It lubricates the 303 Car Wash Mitt to inhibit scratching.
The generous size of the 303 Grit Guard Bucket is a clear advantage. Dirt passes through the grit guard to the bottom of the bucket. Rub your mitt on the guard to dislodge stubborn particles. Then, thoroughly rinse your mitt in the bucket of clean water. Dump the contents and replace with more clean water as needed. Once you use the two-bucket method, you'll wonder how you ever lived with just one!
Dry your vehicle's exterior surfaces with the 303 Waffle Weave Drying Towel. It is also included in the 303 Car Wash Collection. The 303 Ultra-Plush Microfiber Towel is another excellent option.
Shine & Protect
Once your vehicle is clean, it's time to protect exterior surfaces. Apply 303 Touchless Sealant for a deep, glossy shine. The silicon dioxide formula repels water in a very impressive way. Use it on modern clearcoats as well as the single-stage paint on a vintage vehicle. You can even use it on wheels and windshields!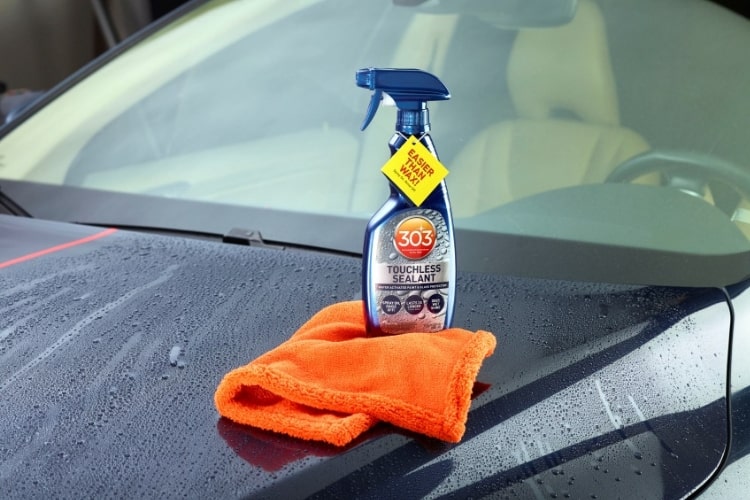 Watch water bead up across every treated surface. The beads act as tiny prisms that add sparkle to your shine! At the same time, the durable finish protects against the damaging effects of UV rays.
303 Automotive Protectant also delivers excellent water beading and essential water beading. It's perfect for those who prefer a deep, matte finish.
Use 303 Automotive Speed Detailer to clean and protect other metal, plastic and glass surfaces. It features powerful UV blockers to inhibit fading. The anti-static formula repels dust, stains and dirt.
Take care of your tires with specialty 303 products. Agitate rubber sidewalls with the firm bristles in the 303 Tire Brush. Use it with fast-acting 303 Tire and Rubber Cleaner to remove contaminants. Wipe down and rinse your tires before applying 303 Tire Balm & Protectant. A single coat delivers a new-tire, matte finish. Build up a gloss with multiple coats of the protectant.
Sometimes a rare barn find ends up on the auction block at a Mecum Auction. Gold Eagle is a proud sponsor of Mecum Auctions, the largest collector car auctions in the world.
Clean, shine and protect your vehicles with 303 Automotive Products!