SDS Search Instructions
Please enter the Product Part Number or Product SKU in the Product Code field to find the correct SDS.
---
ISO 9001:2015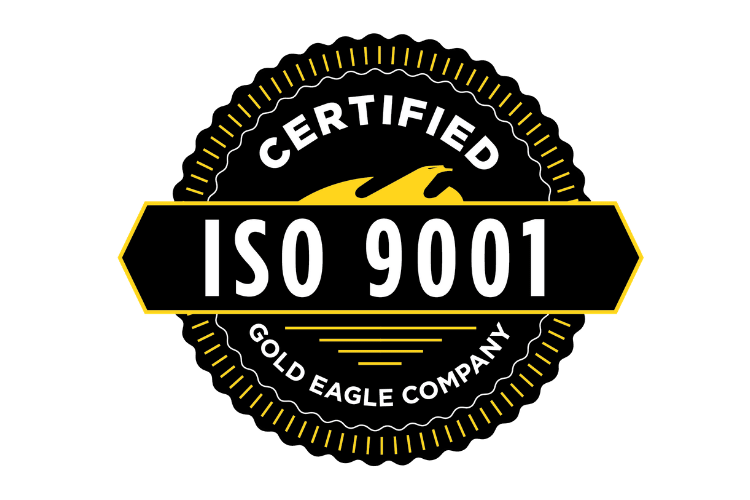 ISO 9001 is defined as the international standard that specifies requirements for a quality management system. Organizations use the standard to demonstrate the ability to consistently provide products and services that meet customer and regulatory requirements. Gold Eagle Company is proud to be an ISO 9001:2015 certified manufacturer dedicated to providing quality products & services to our customers.
View our Certificate of Registration.
---
Certificate of Compliance
CONSUMER PRODUCT SAFETY IMPROVEMENT ACT OF 2008 (CSPIA) CERTIFICATE OF CONFORMANCE
The Gold Eagle Co. (GEC) is certifying that products received by your company meet the Consumer Product Safety Commission (CPSC) standards (were applicable) for:
Federal Hazard Substance Act (FHSA)
Poison Packaging Protection Act (PPPA)
These products were produced by the GEC located at:
4400 S. KILDARE AVENUE
CHICAGO, IL 60632-4372
The manufacturing Julian code date is located on the individual container and shipping carton, please see the production code date that is interpreted as follows:
Julian Date based Date Code: YYDDD
YY = year (2011) DDD = day of the year (Aug. 17= 229),
Bottle:
1) YYDDD
2) Work Order # only – Time
 example:  (8/17/11)
Carton: YYDDD – Pallet # – Time

example:  11229-P003-12:18
Please contact Scott Fisher at (773) 326-6376 or email questions regarding the CSPIA Certificate of Conformance to sfisher@goldeagle.com.
Issued: 11/12/2008
Revised: 01/28/2013
Document controlled by:   Scott Fisher
Gold Eagle Company
4400 S Kildare Ave.
Chicago IL 60632 4372