Using Graphene to Protect & Maintain Your Car
How two graphene-based products sustain a first-rate finish on your vehicle, even in tough conditions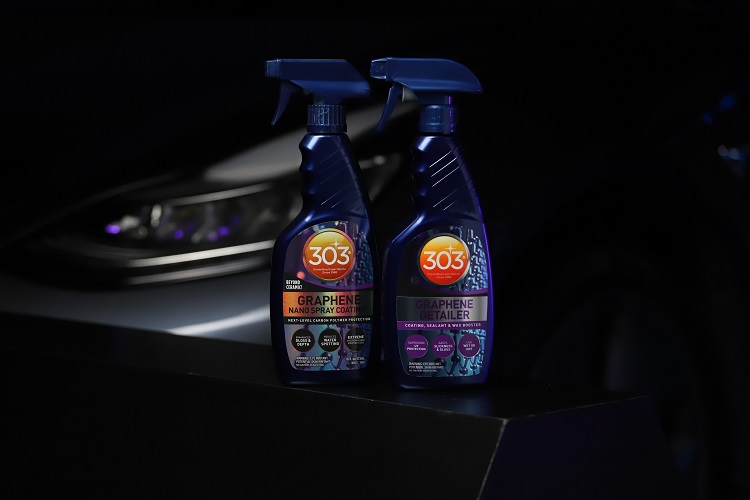 Graphene oxide is transforming the world of aftermarket automotive products. The chemical compound is durable and flexible, containing all the properties you need to coat and detail your car like a professional.
303® is no stranger to the superior hydrophobic properties and versatility made possible by graphene. For that reason, we created two products designed to work together to elevate your automotive care to a place that wasn't possible even a couple of years ago.
Keep reading to learn how 303® Graphene Nano Spray Coating grips to applied areas to create an effective base on your ride. Once applied, you will discover how topping it with 303® Graphene Detailer enhances the slickness and gloss of that existing coating.
The one-two combination is all you need for a DIY detailing job that is so impressive your friends and neighbors will think you are taking your car to a professional detailer. The reality is that maintaining a first-rate finish is entirely possible thanks to this dynamic duo.
Pro Tip: If you want the best experience possible, give your car a proper bucket wash using the 303® Total Wash Collection first. This step will ensure you have the perfect canvas to protect and maintain your vehicle's finish with graphene-oxide products.
1: Base With 303® Graphene Nano Spray Coating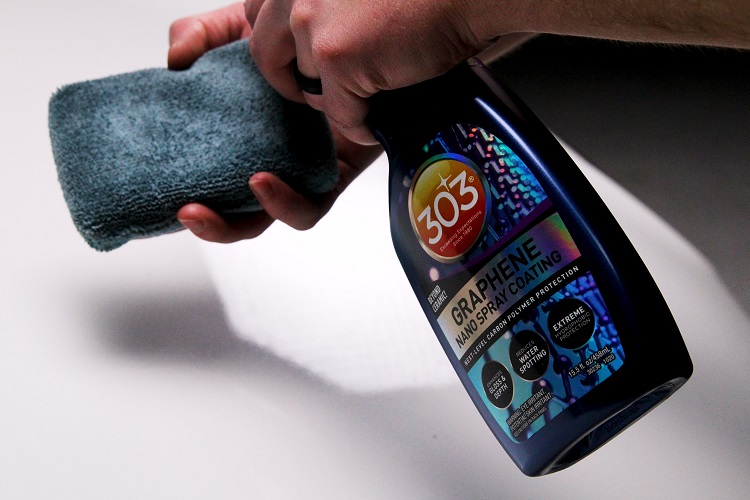 Using 303® Graphene Nano Spray Coating is as easy as spraying it on your desired applicator and working it onto the vehicle in a crosshatched pattern. The product works safely on most surfaces, including paint, chrome, wheels, trim, and glass. With that in mind, you can protect almost every aspect of your car for total coverage.
There is no need to remove any existing coatings, waxes, or sealants before you start; 303® Graphene Nano Spray Coating will work just as well with a preceding layer. Additionally, the coating is adaptable enough to use in direct sunlight, making it safe to use outside. Therefore, the only prerequisite is working on a clean surface so make sure your car is washed first.
Make sure to work on one section at a time for the best results. Spray it on the applicator, coat the designated section, and wait a few minutes. 303® Graphene Nano Spray Coating first appears black before eventually hazing to white. This transformation is your cue to buff it off with a clean, dry microfiber towel.
Once complete, you will feel a slight gripping sensation when running your finger over the surface. This feeling is the actual graphene-based coating you just applied, which provides 12 months of protection, durability, and water-shedding capabilities. After giving it some time to cure, that feeling will become slicker, but there is a way to speed up that process.
If you're anything like us, you don't want to wait around for that coarse texture to turn smooth. Instead, you want to immediately boost the slickness to give it the desired effect. That's where 303® Graphene Nano Spray Coating tags out, and 303® Graphene Detailer tags in.
2: Top With 303® Graphene Detailer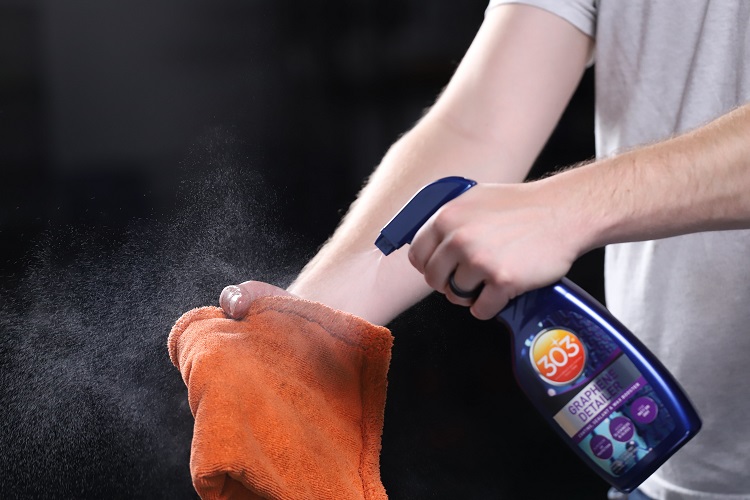 The main purposes of 303® Graphene Detailer are threefold: to obtain more slickness, increase shine, and reinforce protection for the layer created by 303® Graphene Nano Spray Coating. The detailer is designed as a topper, but it is still effective when used independently.
When ready, spray 303® Graphene Detailer directly onto a clean, dry microfiber towel. Like the coating product, the detailer appears dark grey or black since graphene oxide powder is a key ingredient. From there, you can work it onto your vehicle one section at a time.
An added benefit of 303® Graphene Detailer is how well it works for quick cleanups when you're in a pinch. For example, if you notice fingerprints or dust in between car washes, the detailer will erase them on the spot.
If you have any doubts, refer to the graphic below, which neatly outlines this simple process. When used in tandem, 303® Graphene Nano Spray Coating will shield your vehicle from the harsh elements of nature, and 303® Graphene Detailer will maintain that elevated level of protection for months.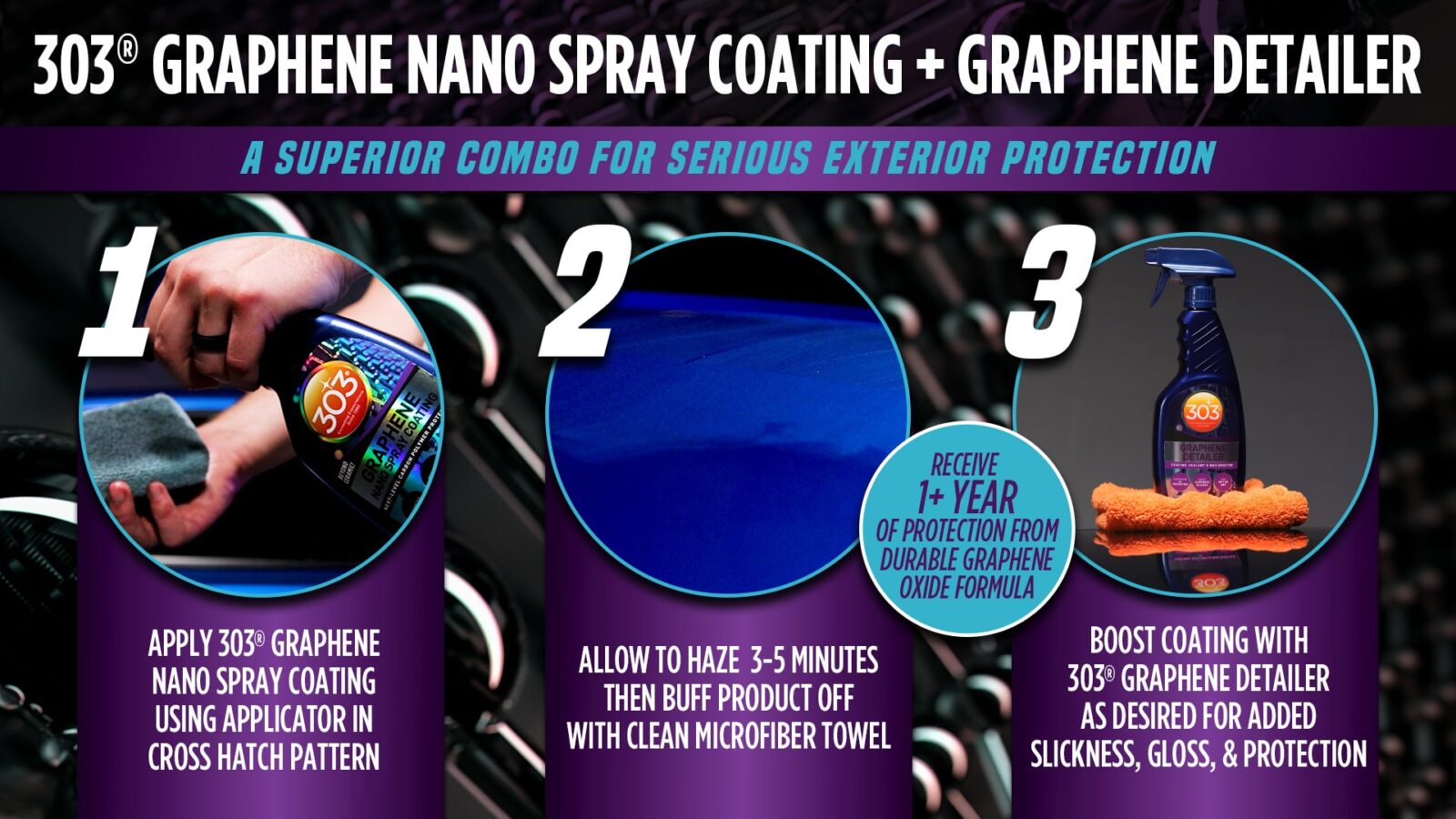 Now you know it only takes three steps and two products to achieve and maintain one fantastic finish. For more details on what makes the 303® graphene line so impressive, learn about the science behind graphene oxide. Lastly, connect with us on Instagram and Facebook to stay in the know about what's coming next!