Why You Should Use a Spray Detailer Between Washes
The next time you want every surface on your car to simply shine, you need the right detailing product. More specifically, you need 303 Automotive Speed Detailer, which works well when it comes to ensuring all exterior surfaces gleam! But first, you need to know how to use it and what kinds of results to expect, whether you plan to use it on your daily driver or your classic car. So take a look at the benefits of this detailer as you prepare to get your vehicle looking its best.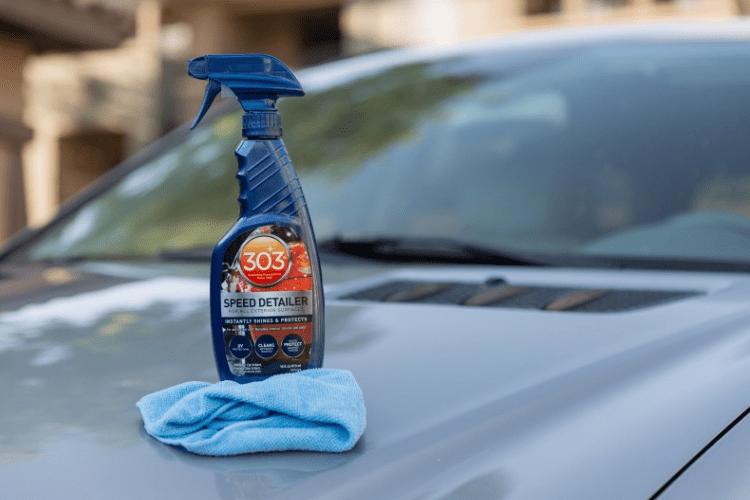 What Can a Quick Detailer Product Do for Your Car?
When it comes to 303 Automotive Speed Detailer, the name of the game is to keep every surface of your car shining between washes. So if you're tired of seeing fingerprints or dust and dirt on your car just days after washing it, simply grab this product and apply it to see a spotless vehicle within minutes.
The spray bottle makes it easy to use, and you'll quickly see that this formula doesn't leave any streaks or chemical buildup on the surface of your car. Plus, it can repel dust, static, stains, and dirt so the surface stays clean longer than usual. It can even protect against light scratches on the surface of your car. And as a bonus, 303 Automotive Speed Detailer provides UV protection, which means the sun's rays won't cause the paint on your car to fade over time. All these benefits should make this product worth a look if you want to keep your car clean at all times!
Where Can You Use Speed Detailer?
This formula was created to provide an instant shine for any exterior surface you apply it to. You can use it on everything from paint, plastic, and metal to fiberglass and glass. So basically you can use it anywhere you want on your car! In fact, many people even buy this product to use on their motorcycle, while others use it on their classic car before showing it off.
Whether you want to use it on the doors, windows, mirrors, wheels, or bumpers of your car, you'll quickly see a huge difference, because the surface will look cleaner and glossier than before. So if you've noticed some dirt or smudges between washes, you don't need to take the time to thoroughly wash your car again right away. You can just use 303 Automotive Speed Detailer to get it glistening once again!
How Do You Use Speed/Quick Detailers?
If any part of your car's exterior surface is not as clean or shiny as you'd like, just get out your bottle of 303 Automotive Speed Detailer. Before you spray it on, make sure the surface you want to apply it to is cool and dry. Then shake the bottle well and start spraying the detailer on any part of the car you want to treat, working on one section at a time.
Once you've sprayed the product on the surface, take a clean microfiber towel and use it to wipe down the area. As you're wiping the product off, you'll be buffing the surface, which will get you the results you're looking for when you want to keep your car looking clean and glossy!
If you need additional ideas on detailing your car, feel free to read: Top Ten Car Detailing and Auto Care Tips from Enthusiastic Car Owners. And be sure to pick up the supplies you need to keep your vehicle gleaming, such as the 303 Total Wash Collection and the Automotive Detailer Bundle!