STA-BIL 360° Protection: What You Need to Know
Few things are more upsetting than hearing your engine sputter, struggle, or lose some of its power. You invest a lot of money and time into this valuable equipment, so it's natural to feel bothered when they aren't operating as they should.
If you are anything like us, you demand a solution to keep your car, lawnmower, or any gasoline-powered engine in top condition. After all, we love these things, so there needs to be a product out there to preserve them.
Well, we did create that product and named it STA-BIL 360° Protection. Read on to learn everything you can want to know about the everyday fuel additive that will keep your engines packing a powerful punch with every start-up.
STA-BIL 360° Protection Explained
Ethanol is present in a lot of modern gasoline, which is not a horrible thing. It only means the fuel needs to be treated with care. Nonetheless, ethanol can lead to erosion since it attracts moisture within the tank. As you are likely aware, water and metal are a recipe for rust, and nobody wants to lose their car, small engines, or outdoor power equipment to the slow-spreading, adverse effects of corrosion.
For this reason, STA-BIL 360° Protection was created to combat the harmful effects of today's ethanol-dominant fuels. The product contains antioxidants, anti-corrosives, water removers, and PEA fuel system cleaners. Each of these qualities works together to clean and safeguard your engine, giving it a natural boost in performance.
The additive is intended for everyday use wherever you have an engine that needs protecting. Keep a 32-ounce bottle in the trunk of your car, so it's there when you visit the gas station. Have a smaller size available in the garage to pour into your gasoline container. The product is smart, efficient, and highly versatile, given its broad compatibility with all gasoline-powered engines.
Using STA-BIL 360° Protection for Vehicles
Using STA-BIL 360° Protection at every fill-up is comparable to eating a well-rounded meal. Think about it. If you truly love your car, you will make sure that it has everything it needs to operate at peak performance, just as your body needs good food to convert into energy. In this scenario, gasoline is the protein, or star attraction, of the dish. STA-BIL 360° Protection acts as the vitamin-rich vegetables to complement it, providing the vehicle with everything it needs to operate efficiently.
Using STA-BIL 360° Protection for Small Engines & Outdoor Power Equipment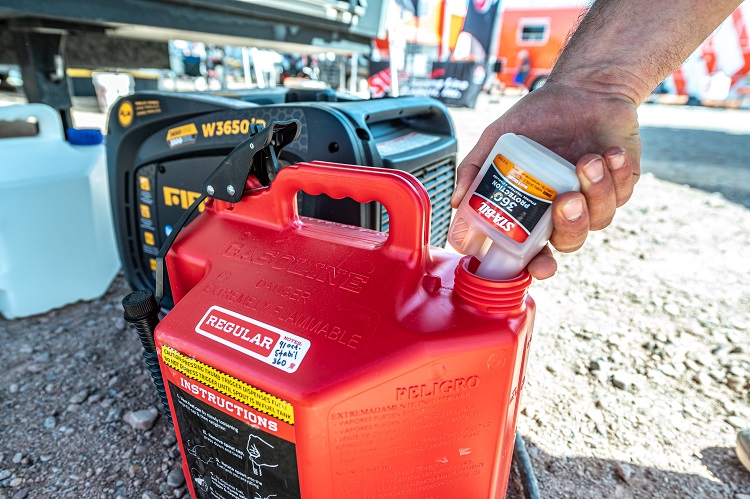 When treating the fuel of your small engines or outdoor power equipment (lawnmowers, snowblowers, ATVs, UTVs), pour STA-BIL 360° Protection into your gas can, like the picture above. The product comes in a convenient 4-ounce bottle that is made specifically to pair well with 5-gallon gasoline containers. Once you treat the fuel in your can, you can safely transfer that same gasoline into the tank to enjoy cleaner, more efficient fuel. You will notice an improvement in engine performance if it has been a while since the fuel system had a thorough cleaning.
How to Use STA-BIL 360° Protection
Whether you are using STA-BIL 360° Protection for your vehicle, outdoor power equipment, or another engine, the most important thing to keep in mind is the product-to-fuel ratio. One ounce of the product treats five ounces of fuel. So measure out the amount of additive you need ahead of time to ensure you aren't underpouring. Check out the video below to see how the built-in measuring bottle works in a similar product, STA-BIL 360° Marine.
What Are the Differences Between STA-BIL Fuel Stabilizer and STA-BIL 360° Protection?
Now that we've explained the basics of STA-BIL 360° Protection, you might be asking yourself this question. Luckily, you are not alone! This is arguably the most common inquiry people have about the STA-BIL brand as a whole.
In short, the answer is that STA-BIL 360° Protection's formula is optimized for everyday use with PEA fuel system cleaners and water-removal properties. These factors contribute to safeguarding the metal in the tank of the treated engine for constant protection, even with regular use.
Alternatively, STA-BIL Fuel Stabilizer should be used in cases where you are storing the engine for a year or longer. Take a look at the following video, which features VP of Product Engineering, Mike Profetto, as he details what sets each product apart.
More STA-BIL 360° Protection FAQ
Although we uncovered the most obvious question about STA-BIL 360° Protection, there are still other things you might be curious to know. Check out a few more of the most commonly asked queries about the everyday fuel additive that works best with small engines and every time you gas up the tank of your car.
Q: Why does the additive to fuel ratio differ in this product compared to STA-BIL Fuel Stabilizer?
A: STA-BIL 360 Protection has a higher treat ratio because the formula is more concentrated. Since it is intended for more frequent use, you get more value for the product by using less.
Q: Is it still practical to use with gasoline that is not ethanol-based?
A: Yes! The product will still clean out the entire fuel system of the treated engine, which leads to improved performance, even in gasoline that does not contain ethanol.
Q: Can you use the product in engines besides cars or small engines?
A: Yes! STA-BIL 360 Protection will safely and effectively treat any gasoline-powered engine.
Q: Where can I buy the product?
A: Follow the "Learn More" button below to visit the product page. You can read all about STA-BIL 360 Protection's benefits, customer reviews, and pick the size bottle that suits your needs.
Q: Where are STA-BIL Fuel Additives made?
A: STA-BIL products are proudly made right here in the U.S.A. by a Family-Owned company. Formulas are created in our in-house lab; bottles are blown in our blow molding departments and then filled on our production lines.