STA-BIL Fuel Stabilizer: What You Need to Know
There's a reason why STA-BIL Fuel Stabilizer continues to be America's most trusted additive. It works!
For over 60 years, STA-BIL Fuel Stabilizer, also commonly referred to as STA-BIL Storage, has been treating the gas of vehicles, generators, boats, motorcycles, and small engine equipment all over the country (and even abroad).
The iconic red fuel additive remains a staple for both knowledgeable mechanics and inexperienced beginners learning about basic engine care for the very first time. But it's been a while since anyone has really explored why and what makes the product is so successful.
Read on to brush up on your knowledge of STA-BIL Fuel Stabilizer so you can clue yourself in on the simplicity and versatility of arguably the best additive on the market.
STA-BIL Fuel Stabilizer Explained
The ingredients contained in STA-BIL Fuel Stabilizer have remained the same Gold Eagle Company purchased the product in 1988. This original formula is optimized for long-term storage of all engine types and all gasoline types.
For example, the additive stabilizes the fuel of two-cycle engines, vehicles, motorcycles, and even generators. Additionally, STA-BIL Fuel Stabilizer is compatible with ethanol-based and non-ethanol-based gasoline. When you combine the fact that the additive is compatible with all engine types and all gasoline types, it's easy to see why it is so recognizable.
As the flagship product of the brand, STA-BIL Fuel Stabilizer truly stands out as a straightforward, dependable solution for any long-term storage you need you may have. In fact, it simplifies the process of storing your engines because you don't need to drain your tanks when you put them away; just pour STA-BIL Fuel Stabilizer into the reserve.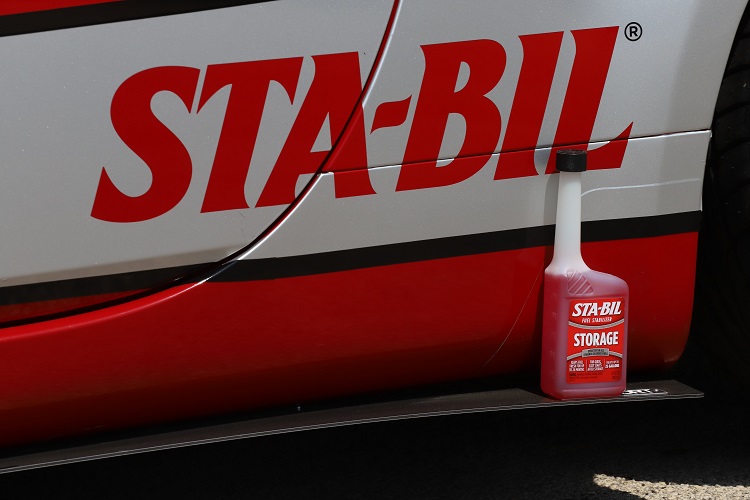 How to Use STA-BIL Fuel Stabilizer
STA-BIL Fuel Stabilizer works best if you top off your tank with fresh gasoline before treatment. When ready, measure out the amount of product you need to treat a full tank of gas. Keep in mind that one ounce of STA-BIL Fuel Stabilizer treats 2.5 gallons of fuel.
Pour the additive directly into the fuel reserve of the vehicle, generator, lawnmower, gas can, or whatever engine you are storing. The product is compatible with any type of gasoline-powered equipment you plan to stow away for a month or more, so if it holds fuel, it can be stabilized.
After putting the additive into your full tank, allow the engine to run idly for five minutes. Doing so will allow the product to run through the entire fuel system to keep every component of the engine protected.
By following these basic instructions, the fuel in your equipment will remain fresh for up to 24 months from the time of the treatment.
What Makes STA-BIL Fuel Stabilizer Work So Well?
Simply put, STA-BIL Fuel Stabilizer has everything an engine needs for a lengthy hibernation. The additive has a corrosion inhibitor that displaces water so rust never gets the chance to form. Additionally, if you ever drained your tank to avoid the unwelcomed performance of gum, varnish, and rust, we have some good news to share. STA-BIL Fuel Stabilizer prevents all of it from forming so you can rest easy knowing your gasoline-powered engine is protected.
Another helpful component that increases the additive's effectiveness is its metal deactivator attribute. Often times you will see major corrosion or damage in a metal gas tank, which is common in collector cars. If you let gasoline sit in that metal reserve without treating it with STA-BIL Fuel Stabilizer, moisture will settle to the bottom, leading to rust.
Lastly, the fuel additive is so easy to use and understand. It is universally compatible with all gasoline engines. So if you are on the fence as to whether or not you should pour the additive into the tank in question, we'll answer that question for you. Yes, you can!
STA-BIL Fuel Stabilizer FAQ
Even though STA-BIL Fuel Stabilizer has been around for a long time, some of the most commonly asked questions about the product haven't changed. Check them out for yourself because you, too, might be curious about the same things.
Q: Does it have a shelf life?
A: The product has a shelf life of two years from the time the bottle was opened.
Q: Is it really effective in all fuel types?
A: Yes! STA-BIL Fuel Stabilizer is universally compatible with all ethanol and non-ethanol fuels.
Q: How much do I need to use?
A: 1 ounce of STA-BIL Fuel Stabilizer treats 2.5 gallons of fuel.
Q: Can STA-BIL Fuel Stabilizer improve my gasoline?
A: No. It does not restore old gasoline to make it better. The product stops fuel from degrading further.
Q: Where can you buy STA-BIL Fuel Stabilizer?
A: Follow the "Learn More" button below to purchase from the product page.