Set Sail with 303 Marine Products
Many are captivated by the adventure and romance of sailing. More than a century ago, novelist Jack London set out from San Francisco aboard his custom-designed craft. He was so eager to embark on his adventure that he did so without a capable navigator. Fortunately, he, his wife and crew eventually sighted Maui's Mount Haleakala some 120 miles away.
The joys of sailing are endless. Along the coast, there's the experience of slicing through salty seas on a sunny, breezy day. There's also the unforgettable pleasure of gliding along the glassy surface of an inland lake at sunset.
Enhance your sailing experiences this season by maintaining your boat's "factory-fresh" look and feel. Enjoy a clean hull and a spotless deck. Keep your marine fabrics bright and water-repellent. Maintain the value of your investment.
Washing
When you wash your boat, you want to avoid harsh detergents and protect the environment. 303 Boat Wash is completely biodegradable and marine safe. The pH-neutral formulation is perfect for cleaning both fiberglass gelcoat and painted surfaces. Tackle dirt, grime, stains and salt. Protect against damaging UV sunlight.
Cleaning
You may have forgotten just how attractive your deck and hull once were. Use 303 Marine Citrus Cleaner & Degreaser on chrome, fiberglass, plastic and painted surfaces. Attack oily residue, greasy stains and plain old dirt. The innovative formulation is free of alcohol, ammonia and solvents. It is also UV-resistant.
Rejuvenate fabric and vinyl surfaces with 303 Multi-Surface Cleaner. It will remove soaked-in stains. There's no greasy residue to contend with.
303 Bilge Cleaner & Deodorizer takes care of grease, oil, sludge and gas. It also eliminates mold and mildew. The environmentally-friendly formulation is marine safe, non-staining and phosphate-free.
Protecting
Every sailing enthusiast wants to protect their investment. Select the right protectants for use on everything from fabrics to fiberglass.
Marine fabrics
If you are familiar with Sunbrella, you might already know that they are the nation's leading marine fabric manufacturer. 303 Marine Fabric Guard is the only product they recommend to restore water repellency to their fabrics. Sailing Magazine also recommends the product in its article, "How to Clean Everything."
Shield your Dacron sails and other marine fabrics from Mother Nature's assault. Protect them from pollution, bird droppings, spills, salt and other contaminants. Apply 303 Marine Fabric Guard to clean, dry surfaces. Restore stain resistance to "straight-from-the-factory" standards. The formula is safe for both synthetic and natural marine fabrics. Treatment will not change the color, breathability, feel or flammability of the fabric.
Use overlapping strokes to spray a surface until it's wet. To speed application, use a brush or roller where appropriate. Use it when the ambient temperature is at least 70 degrees F. Apply in direct sunlight to accelerate drying and curing. Keep treated material away from moisture until fully cured. Since 303 Marine Fabric Guard is flammable, you'll want to keep it and newly treated materials away from open flames, sparks and heat.
Periodically pour water on treated marine fabrics to test water repellency. Retreat as necessary.
Decks, hulls and more
For a clear matte finish with no greasy residue, use 303 Aerospace Protectant. Protect against the degradation of surfaces caused by the harsh effects of UV rays. Avoid fading and cracking while repelling grime and stains. To cover large surfaces, use a dual-action polisher. A rotary polisher is safe for use in experienced hands. Either way, buffing increases bonding and longevity.
Apply this water-based product to gelcoat, plastics, fiberglass, vinyl and rubber. Use it on vinyl boat seats to inhibit cracking and fading. It leaves a low-static surface that repels dust and other charged particles. It also resists sunscreen stains.
For a glossy, residue-free surface, use 303 Touchless Sealant. This new UV-resistant product works well on fiberglass gelcoat surfaces. Use it on plastic and painted surfaces as well. Save hours of waxing by using this touchless product. Simply spray it on and rinse it off. Watch sheets of water bead up on the water and stain-repellent surface!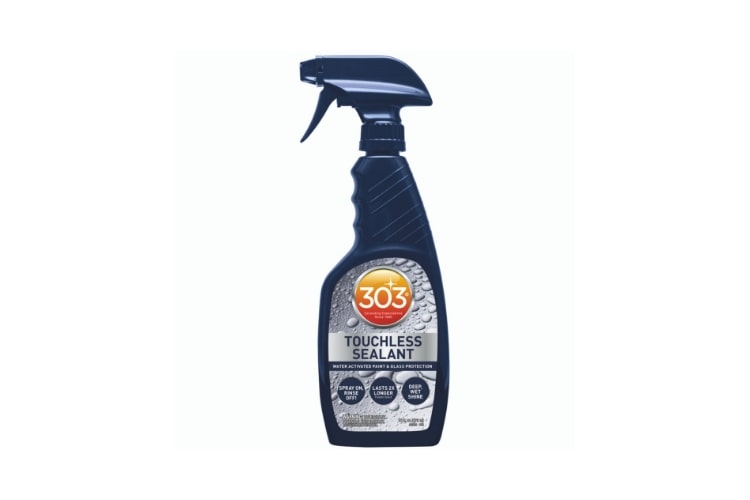 Make this sailing season one of the best yet with the use of premium 303 Marine Products.