Winterizing A Boat
Summer has come and gone, with fall upon us the chore of winterizing your beloved boat is upon us. Winterizing is well known to all boaters, but it does not have to be a dreaded adventure. Protecting your investment from corrosion, freezing, rodents and any other damage that can happen over a winter slumber is an important process.  Treating your interior and mechanical components to a little attention will keep your boat looking new for years along with preventing some costly repairs.
Unpacking the Boat
Remove all kitchenware, ice boxes, food items, and bedding. By removing all your kitchen items it gives you a chance to inventory what you have and what may need to be replaced. It also ensures that you have removed all food from the boat. Food on a boat is an invitation for mice and other rodents to take up residence in your pride and joy. Removing all bedding and linens is also very important because giving it a thorough washing will keep the boat from getting the musty odor as well as eliminating nesting ground for animals.
Finally remember to take out the fire extinguishers and keep them in the house during the winter. Check the extinguishers several times over the next few months to see if they need recharging.
The boat should be given a preliminary airing out before cleaning commences. Keep the lockers open and the windows ajar so that fresh air can circulate. This will remove some of the surface organics and make the cleaning job much easier.
Cleaning The Boat Interior
One of the most important parts of winterizing a boat is the interior cleaning. Mold and mildew will grow even in cold weather. All drawers and lockers should be scrubbed. Remove the curtains and have them cleaned professionally by a local merchant. Wood surfaces should be treated and resealed in the fall before the damp air begins to have an influence. Air out the boat once more after cleaning is complete.
Engine Maintenance
Winterizing a boat includes simple engine maintenance. The engine oil should be replaced in the fall. Otherwise, acids and particulates will accumulate and settle, making for sludgy oil that will cause problems the next spring.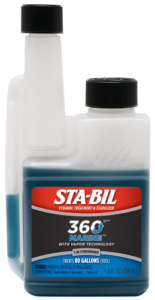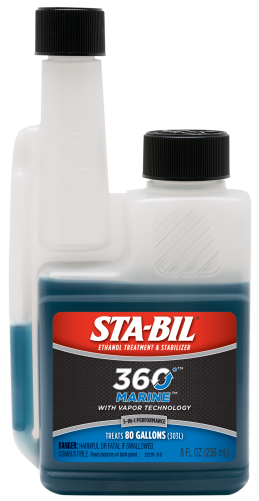 Engines that are water-cooled should be flushed completely. Special hose connectors can be purchased to create a steady stream of water passing through the engine while it is running. Flush until the normal operating temperature is reached. Once the Engine is flushed you need to make sure to run RV/Marine Antifreeze through the system until all of the water is removed. Doing this will ensure that you do not have any freezing issues which can crack engine blocks, intakes, cylinder heads and lower units.
The boat's fuel system requires specific attention. Many people do not realize that gasoline goes bad just like milk. It can go bad in as little as 30 days. Filling your tank completely with fresh gasoline-adding STA-BIL 360° Marine and running the boat for a few minutes will ensure that you have fresh gasoline for up to 12 months.
Fogging oil should be used to maintain a thin corrosion inhibiting protective layer on the internal engine parts. This helps to prevent metal-to-metal contact when the engine is started again next spring.
Use STA-BIL Rust Stopper to deliver a protective coating on all exposed metals, preventing rust and corrosion from forming throughout storage season. 
Cover The Boat
For many, boat winterization means storing it in an environmentally controlled setting. This may not be a financially feasible option, but covering the boat completely helps to minimize intrusion of moisture. A fitted boat cover will do the job, but shrink-wrapping is an even more effective procedure.
Use The Proper Cleaning Products
This is of prime importance, as many cleaners and surfactants are not recommended for marine vessels. 303 Products are the preferred brand for cleaning and Protecting of most any type of surface found on a boat.
303 Boat Wash is proven to remove dirt, grime, and salt accumulation with ease, taking your boat back to that brand new shine.
303 Marine & Recreation Aerospace Protectant is designed to keep plastic, vinyl, and rubber looking new for years to come with strong UV blockers. It will also restore lost luster to most surfaces. It is also great to keep trailer tires from dry rotting.
303 Marine & Recreation Fabric Guard is specifically designed to safely return fabrics water repellency. It is the only Fabric protector recommended by leading outdoor fabric manufacturer Sunbrella®.
303 Marine & Recreation Speed Detailer is designed for hard surfaces like gel coat, decals, chrome, stainless and paint. It quickly and safely provides UV protection and a long-lasting shine.
303 Marine & Recreation Multi-Surface Cleaner is designed to work in conjunction with 303 Marine & Recreation Aerospace Protectant and 303 Marine & Recreation Fabric Guard, the formulation provides strong cleaning power while being gentle enough for fabric as well as rinsing residue free. This unique combination leaves the surface ready for either 303 Marine & Recreation Aerospace Protectant or 303 Marine & Recreation Fabric Guard.
Winterizing a boat is a necessary part of yearly maintenance. Long-term storage requires simple maintenance procedures that extend the life of your boat's engine, interior surfaces, and decking. Prepare your boat for the long winter months before the temperature drops, and your boat will be ready for fun in the sun as soon as spring rolls around.