Protect Your Boat with 303 Premium Products
The marine environment is often harsh. Bright sun delivers damaging UV rays. Coastal boaters cope with the corrosive effects of salt. Waterborne and airborne contaminants are common.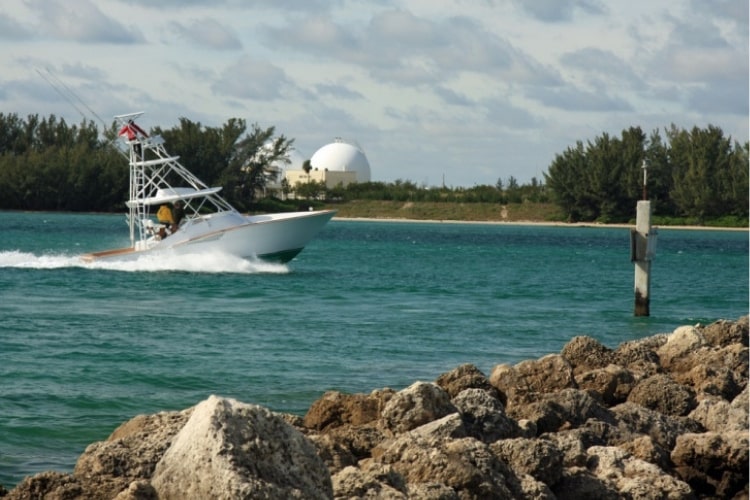 Think of 303 Marine Aerospace Protectant as sunscreen for your boat. Also, consider it an essential barrier against salt and other substances.
303 Marine Aerospace Protectant
303 Marine Aerospace Protectant came to the market in the 1980s. It was originally engineered for aviation and aerospace applications. The formulation prevented discoloration, embrittlement, fading and other surface damage in high-value aircraft.
Equally as important is ongoing protection against contaminants. 303 Marine Aerospace Protectant combats the adverse effects of staining, salt, mildew and airborne particulates. It contains powerful UV blockers that are critical both in the marina and out on the water.
Uses
Would you enjoy the convenience of protecting many surfaces with a single product? 303 Aerospace Protectant is safe and effective for use on many materials. Gelcoat, vinyl, leather, rubber, plastics, carbon fiber, stainless steel and chrome are some examples. One reason you can use it on so many surfaces is that the formula is free of petroleum distillates. It is also free of silicone-based oils that tend to leave a greasy residue behind.
Use it on every type of watercraft, including speedboats, sailboats, ski boats and fishing boats. Protect everything from hulls to windows and from seats to sails. Use it on Bimini tops and boat fenders too. Use it on inflatable boats, wet suits, tires and visors. Get extra value from every bottle by using it on boating equipment, outdoor gear and apparel as well.
Application
Prepare for an application of this advanced protectant with 303 Marine Multi-Surface Cleaner. It tackles stains on super-durable stainless steel, delicate fabrics and everything in between.
Apply 303 Marine Aerospace Protectant to a clean surface, out of direct sunlight. Use a drop cloth to protect against overspray. Spray it on, and wipe the surface completely dry. If necessary, use a wet towel to remove any excess product. To avoid streaking, always wipe the treated surface completely dry. Buffing is helpful. It actually enhances bonding and repellency.
Maintain advanced UV protection with repeat applications every three to five weeks. The clear matte finish is perfect for many boating applications. When you prefer a more glossy finish, use Gold Eagle's new 303 Touchless Sealant.
303 Marine Fabric Guard
Use 303 Marine Fabric Guard on marine canvas and other fabrics. When necessary, use 303 Multi-Surface Cleaner beforehand. 303 Marine Fabric Guard is the only such product recommended by Sunbrella. Restore that "fresh from the factory" water repellency. Use it on boat cushions, umbrellas, Bimini tops, boat covers, Dacron sails and much more.
Use this premium fabric guard and you won't have to worry about all those water-based or oil-based stains. Keep the look, color and feel of your natural and synthetic fabrics.
303 Marine Mold & Mildew Cleaner + Blocker
303 Marine Mold & Mildew Cleaner + Blocker is a valuable addition to your arsenal of marine cleaners and protectants. It's a key defense in warm, humid settings where mold and mildew can flourish. It's particularly useful in tropical and sub-tropical environments. You and your fellow boaters will enjoy the clean, fresh scent of this bleach-free product.