Granite & Stone Countertops: A Buying Guide
The kitchen remains one of the most important rooms in your home. Not only does your family gather there, potential buyers are attracted to or repelled by it. Your kitchen countertops play a big role in that room's appeal. When you are thinking about new counters, you should think granite.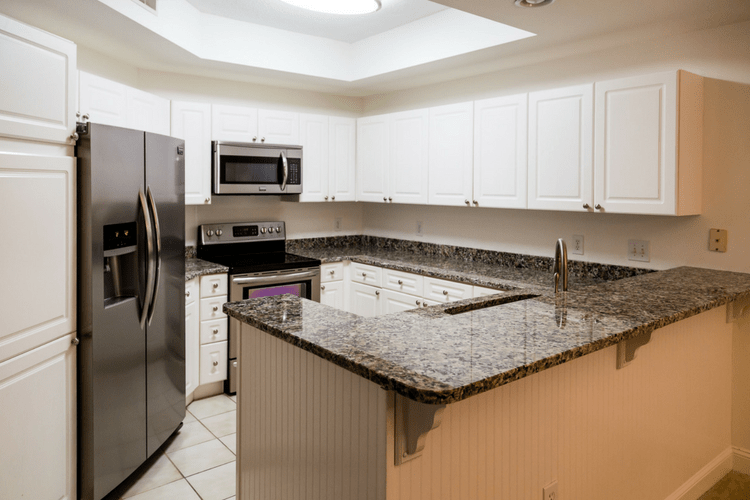 Homeowners and builders love the look of granite, particularly in the kitchen. That's why granite counters have remained popular for so many years. This stone adds dramatic flair to any decor and is extremely durable. Not all granite is created equal, though, so you need to consider several factors before you purchase your countertops. Color, thickness and cost are all important factors when you choose granite.
Choosing Colors of Granite Counters
When you choose the color of your granite counters, you need to find one that you can live with for many years. With proper care, granite countertops can last for decades, so pick a color that will work through a kitchen remodel or two. If a possible resale is in your future, focus on more neutral colors in order to attract more buyers.
You also need to consider the lighting in your kitchen. Granite retailer experts warn that a small, dark kitchen needs a lighter color choice. Predominately black or brown granite can easily make the space look tiny and dark. Instead, choose a lighter color that makes the kitchen seem roomier. If you are worried about the lighter granite showing dirt, pick one that features brown or gray streaks. You will get a stylish look, and your little ones' food streaks won't show.
If you are keeping your existing cabinets and other woodwork, you need to find a compatible granite color. Remember to factor in your appliance and wall color as well. Stainless steel appliances call for a different approach than the standard white stove and refrigerator do. Your granite dealer may have samples that you can take home to check for color compatibility. If not, take along a cabinet door and a paint sample so you find just the right granite color.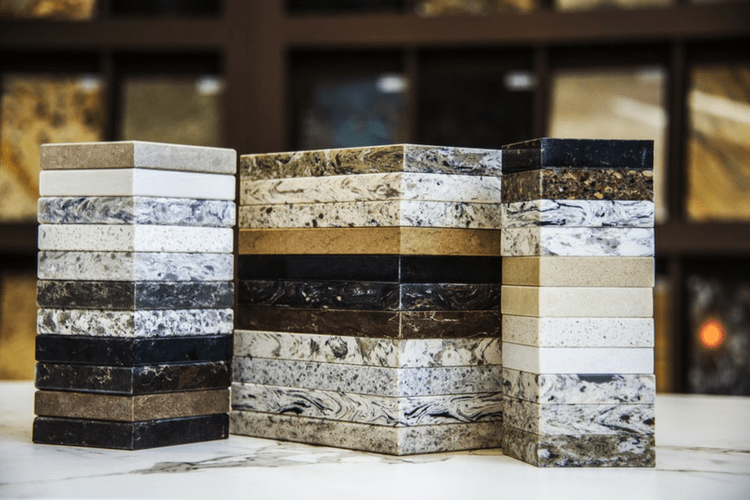 Basic granite coloring depends on the minerals present in the stone, so you will be able to choose from white, off-white, pink, black, brown, gold, and green colors. Each granite slab will be unique, another reason that this stone has so many fans. Your black granite will not look the same as your neighbor's.
Granite Counter Thickness
You also need to consider the thickness of your granite countertops because it helps determine durability, color, and price. In general, you will be asked to choose between 3/4″ and 1 1/4″ thickness. Usually, the thinner granite is reserved for bathroom use since it is not as durable as the 1 1/4″. Of course, the 3/4″ thickness is less expensive, which may tempt you to make an unwise decision. The thinner granite will require that you use plywood underneath the counter to raise it to an acceptable height. In some cases, this plywood might warp, requiring expensive repair. Also, the edges tend to look less finished, and the installation costs are actually higher for the thinner granite. If at all possible, purchase the 1 1/4″ granite counters.
Some consumers have turned to even thicker granite for kitchens. A 2″ thickness is more expensive but makes a strong decorating statement. Also, some darker colors are more often found in thicker slabs.
Buying Granite Countertops
Granite countertops will cost you approximately $45 to $200 a square foot. You can save money by making a few smart choices. For instance, some colors are rarer and thus more expensive than others. You can choose to mix granite colors in your kitchen, using the more expensive type as a focal point.
Another cost-cutting method is to use remnants, granite that is left over from a larger job. You probably won't be able to find a remnant that is large enough for your entire kitchen, but you might be able to use one for a kitchen island or some other small area.
Thinner countertops will cost less, but, as mentioned above, they are less durable. If you want to use granite but cannot handle the expense, you may choose granite tile instead. They are also thin, but they can be installed over the current tile in your kitchen.
You can further reduce the price of granite counters by using it only on the countertop and using another contrasting material for the backsplash. Also, be careful when choosing the edge. A fancier edge, like a beveled one, will add to your bill.
If possible, buy your granite from a local wholesaler. The initial price will be less expensive, and you'll save significantly on shipping. The weight of granite means transporting it can be extremely costly. Purchasing the perfect granite that is located 500 miles away will rock your budget.
If you love the look of granite countertops, you should consider having them installed in your kitchen. Granite offers you many color options, each with a unique mineral pattern. Once installed, granite countertops are easy to maintain and are quite durable. Despite granite's traditionally high cost, you can save money by shopping around. Contact wholesalers and consider using a combination of granite colors. By combining research with flexibility, you can have the granite counters that you have always wanted.