Fall Home and Yard Maintenance Tips
At the start of every season, you need to make maintenance a priority. You want to protect your investments, save yourself time and money, and extend the life of your equipment and property. Making sure you properly store your equipment for the season, it is important. You need to make sure you have your home's exterior, yard, fencing, and gardens ready for the remainder of the year.
You also want to make sure that patio equipment, outdoor power equipment, and other important items are stored away as they should be, so you can enjoy them again when warmer weather appears in the spring. When you do your regular home maintenance, you are basically giving your house a physical that ensures its upkeep and overall well-being.
Regularly inspecting your home's exterior, heating and cooling system, appliances, plumbing, and electrical system will save you time, trouble, and money while making sure your home looks its best and maintains or increases its value. Taking care of your landscaping and lawn will help improve your home's value and add to its overall appearance. Here are some tips for ensuring you have your maintenance needs under control.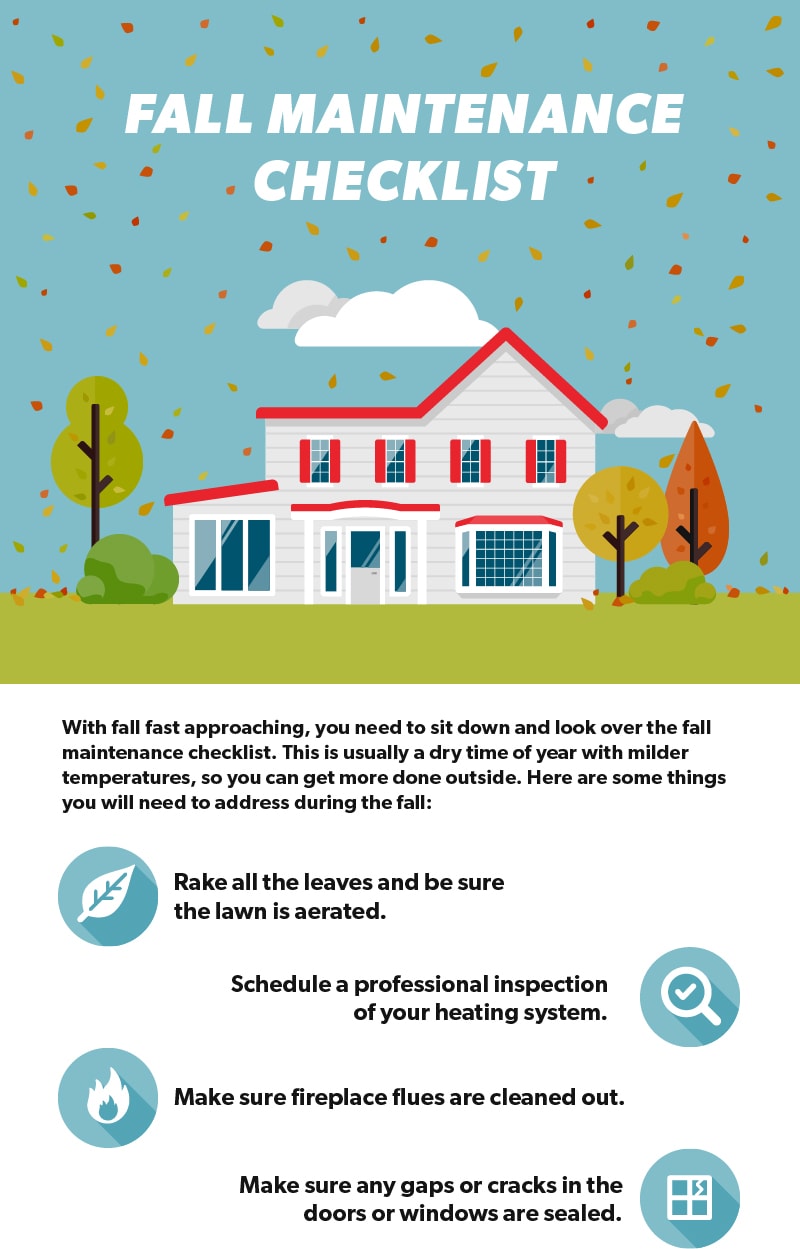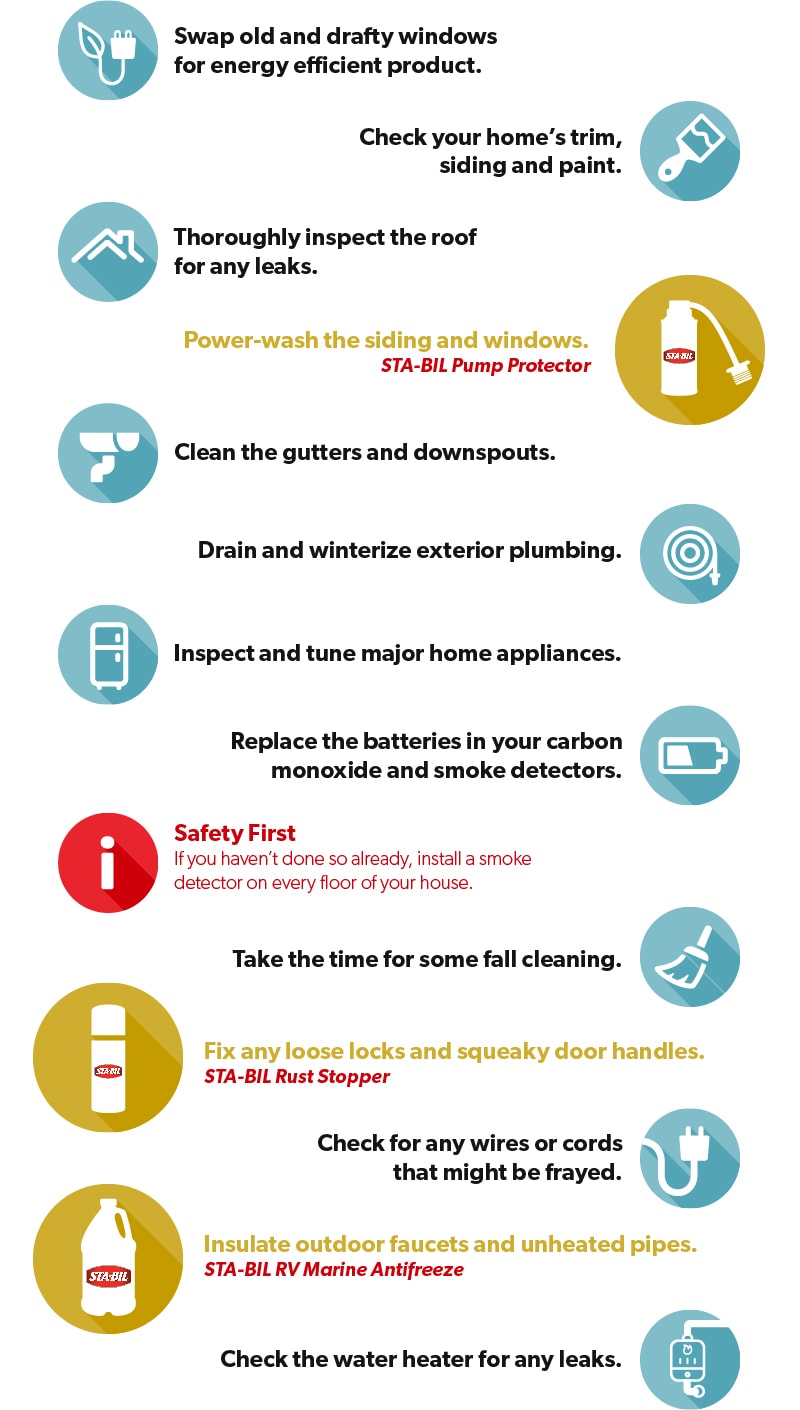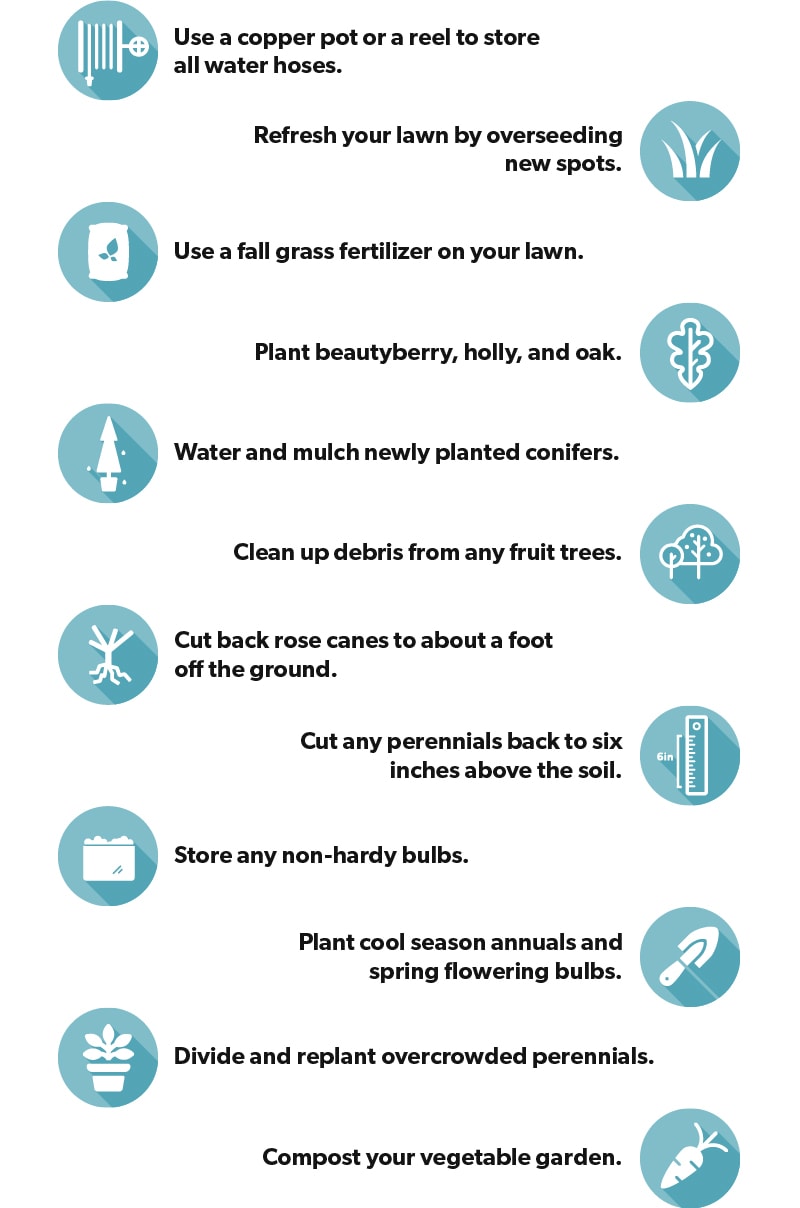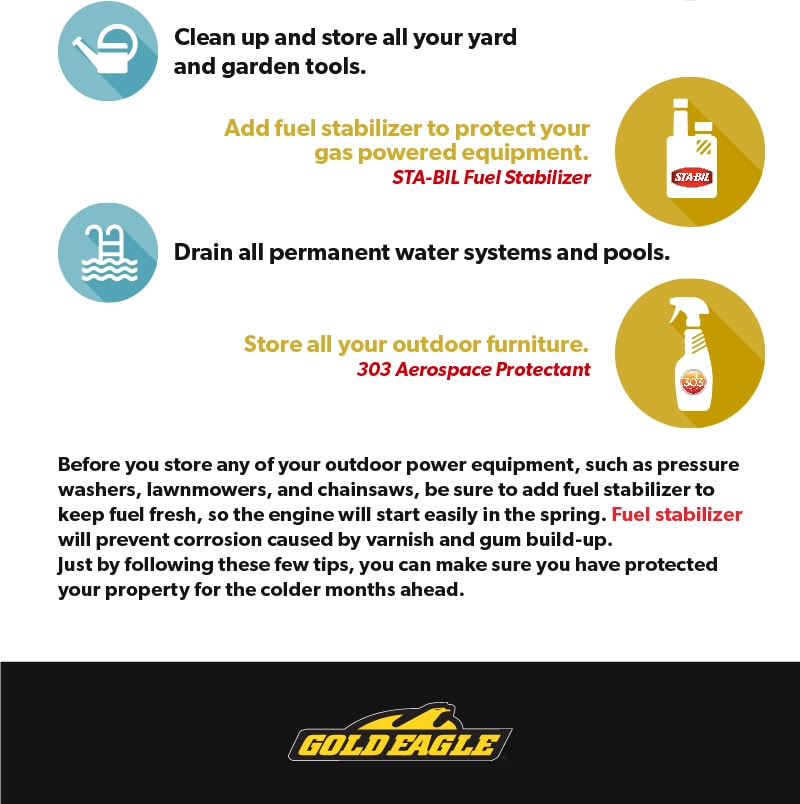 Fall Maintenance Checklist
With fall fast approaching, you need to sit down and look over the fall maintenance checklist. This is usually a dry time of year with milder temperatures, so you can get more done outside. Before going down the checklist and marking items off, carefully inspect both the interior and exterior of your home. If there are any problems, be sure to contact a home improvement specialist to assist you. Here are some things you will need to address during the fall:
Rake all the leaves and be sure the lawn is aerated. This is a great time to put your leaf blower to use.
If you have a forced-air heating system, be sure it is inspected by a professional. This should be scheduled at the end of summer or beginning of fall, so it is ready when you need it in the colder months.
Make sure fireplace flues are cleaned out and make sure there are no hazards or damage in and around the fireplace. Have a professional inspect your fireplace before you put it to use.
Make sure any gaps or cracks in the doors or windows are sealed with weather stripping and caulking as needed. If it is old and damaged, replace the caulk and the weather stripping.
If your home has windows that are older or drafty, be sure to swap out for more energy efficient products.
Check your home's trim and siding and touch up the paint as needed.
Make sure you thoroughly inspect the roof for any leaks and any shingles that might be loose, missing, or damaged. Repair as necessary.
Get out your power washer and use it to power-wash the siding and windows, so your home can be clean as it enters the colder months.
Be sure to get any debris and leaves out of the gutters and clean out the downspouts.
Drain exterior plumbing, such as outside connections for hoses, and winterize them.
Before the holidays get underway, be sure major home appliances are inspected and tuned up.
Check your home's siding and repair and replace it as necessary.
It is the time of the year to replace the batteries in your carbon monoxide and smoke detectors. Make sure there is at least one smoke detector on every floor of your home, even the basement.
Take the time for some fall cleaning. Clean the screens on the windows and doors, clean the carpets, and vacuum any lint from the dryer vent.
Check for any wires or cords that might be frayed. Have any problems repaired by an electrician.
Properly insulate outdoor faucets and any pipes located in garages that are not heated.
Check the water heater to see if there are any leaks. Repair as necessary.
Drain all water hoses and store them properly. There are many ways to store a hose. A copper pot can be used to protect the hose and keep it out of sight. Copper pots are rustproof and have heavy-duty handles for easy transport. Make sure there are holes at the base for drainage. You can use a reel to keep your hose tidy and then put the reel away in a garage or storage building.
You should overseed any new spots on your lawn that need to be refreshed. Cold-winter climates should be overseeded in mid-September while mild-winter climates should be overseeded in mid-October.
Be sure to rake any leaves as needed.
Use a fall grass fertilizer on your lawn.
Plant new additions to your landscaping, such as beautyberry, holly, and oak.
Water and mulch conifers that are newly planted.
Clean up any rotten crops, leaves, and other debris from any fruit trees.
Cut back rose canes to about a foot off the ground and in colder climates, cover them with soil. Use burlap to wrap the canes of tender roses, then lay the wrapped canes on the ground where you will cover them with mulch or soil.
Cut any perennials back to six inches above the soil.
Store any bulbs that are non-hardy.
Plant annuals for the cool season and plant spring flowering bulbs.
Divide up then replant perennials that are overcrowded.
Compost your vegetable garden.
Be sure to clean up all your yard and garden tools after use and store them for the colder months.
Store your gas engine mowers, leaf blowers, and gas power washers, but add fuel stabilizer to protect the equipment while it is stored for the next few months.
Drain all permanent water systems and pools. Drown ponds in cool climates when possible.
Store all your outdoor furniture, tools, and hoses.– 303 Aerospace Protectant
Before you store any of your outdoor power equipment, such as pressure washers, lawnmowers, and chainsaws, be sure to add fuel stabilizer to keep fuel fresh, so the engine will start easily in the spring. A fuel stabilizer will prevent corrosion caused by varnish and gum build-up.
Just by following these few tips, you can make sure you have protected your property for the colder months ahead.