How to Apply 303 Fabric Guard on Your Boat
When you spend most of your time floating in a lake or ocean, the ability to repel water is a big deal! That's why the interior of your boat needs a little help from products that were formulated specifically to improve water repellency. One such product is 303 Fabric Guard, which was made to protect marine fabrics from excess moisture and both water-based and oil-based stains. If you're wondering just how 303 Fabric Guard could improve your boat, here's what you need to know.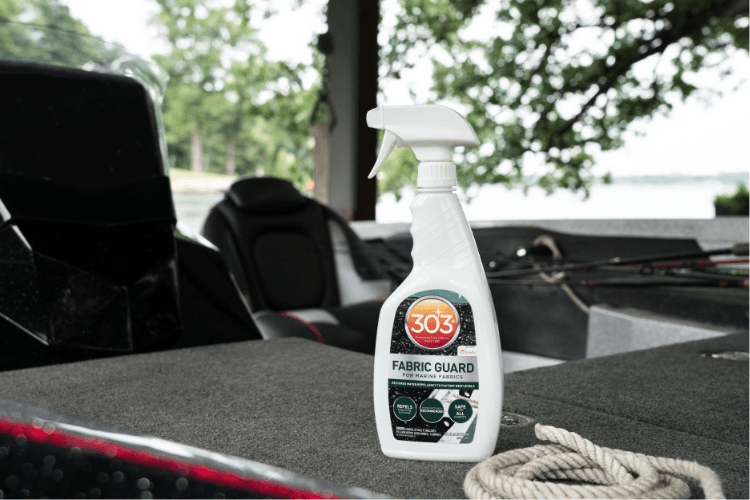 How Can Fabric Guard Help?
The point of this product is to make any fabric in your boat resistant to both water and stains. So if you worry about the cushions on your boat every time it rains—because you don't want them soaked or covered in water spots—303 Fabric Guard has you covered. When you spray this formula on fabric with either natural or synthetic fibers, you can rest assured the material will repel water the minute it splashes on the surface.
This also means the fabric will repel stains. So if someone spills food or drinks on your boat's cushions or pillows the next time you're out on the water, you don't have to worry about permanent stains on the fabric. The same goes for any umbrellas, awnings, canopies, sails, or boat tops you want to protect on your watercraft. In fact, the Sunbrella® brand recommends 303 Fabric Guard for most outdoor fabrics. After all, it won't change the comfort, color, breathability, or flammability of the fabrics you use it on. It will only make it easier than ever for you to keep the material clean and dry over time.
How Do You Apply It?
If being able to repel water and stains sounds good to you, it's time to find out how to apply 303 Fabric Guard to the interior of your boat. First, make sure the temperature outside is at least 70 degrees. A warm and sunny day will help the fabric dry as fast as possible. Also, don't smoke when you use this product—as it's flammable—and be sure the material is clean and dry before you get started.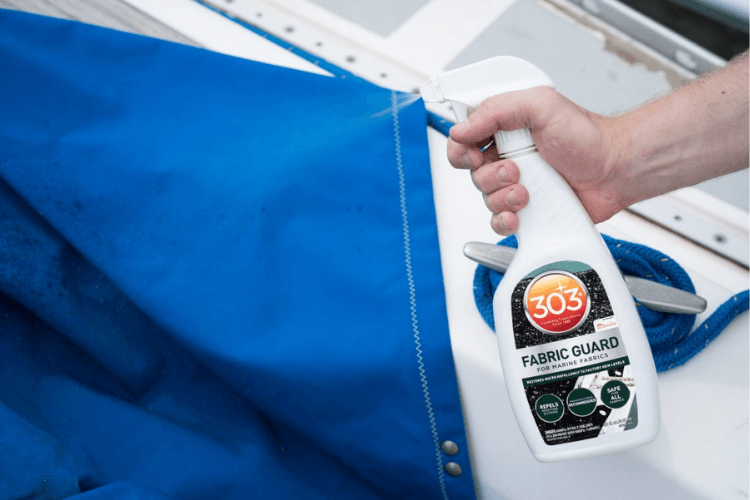 Once you're ready to apply 303 Fabric Guard, start spraying it on the fabric until it's evenly wet everywhere, overlapping in some areas if necessary. Then be prepared to let it dry for 12 to 24 hours. The warmer it is outside, the less time it should take to dry. You can test it out by pouring water on the fabric. If the water beads up immediately, the product is working. If it soaks into the material, you'll need to reapply. Also, you might need to reapply 303 Fabric Guard once in a while depending on how often the fabric is exposed to rain, sunlight, and other weather conditions. As soon as you notice the material isn't repelling water or stains as it should, it's time to reapply the product.
While you're working on protecting the fabric in your boat, take a look at how to improve other areas: How to Clean a Boat Interior. And if you have lots of vinyl in the interior of your boat, here are some tips on taking care of it: How to Protect Your Boat's Vinyl Seats.