7 Frozen Lake Activities To Enjoy This Winter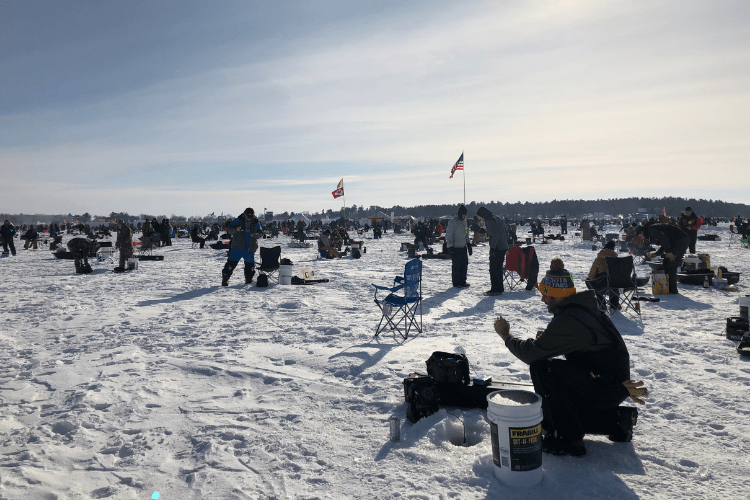 It's easy to become complacent when the weather is cold. Instead of walking to close destinations, we drive. In lieu of a weekend hiking trip, binge-watching a TV show from the comfort of the couch sounds much more appealing.
We get it. Nobody wants to feel that type of winter wind that cuts you straight to the bone, making you shiver like a leaf in the wind. Nonetheless, it is possible to enjoy the outdoors even when every fiber in your being is saying, "No way I'm getting out there today."
We're here to shatter the notion that winter is a time to be passive instead of active. As long as you bundle up, there are plenty of activities that will get you out of the house, get your body moving, and put a smile on your face. Check out seven ideas to try on the frozen lake over the weekend.
Pro Tip: Engaging in frozen lake activities is always precarious. Still, you can be as safe as possible as long as the ice is frozen four inches thick, you inspect the ice conditions yourself, and let people know where you are going.
Ice Skating
Play out your own version of the Winter Olympics by strapping on a pair of skates and doing your best Nathan Chen impression. The American figure skater is a three-time champion and has broken a number of records. We can think of no better way to salute the sport of figure skating than to try it out for ourselves. Realistically, any one of us will be happy not to fall unless one of our valued distribution team members is hiding a talent.
Snowshoeing
Winter's version of a hike part one. It's called snowshoeing, and frozen lakes are a perfect setting to try this storied activity. Whereas some winter sports like downhill skiing require a certain skill level, snowshoeing is more approachable because it is beginner-friendly. The activity is comparable to a straightforward hike as the only things you require are warm clothes, a pair of snowshoes, the ability to walk, and a curiosity to explore.
Fat Biking
Yes, you can absolutely get on the banana seat to enjoy cycling activities over ice. However, instead of using a standard mountain bike, you will want to go fat biking. These bikes are designed to traverse over snow and ice. It is always best to use a proper chain cleaner and lubricant in cold-weather conditions to prevent the mechanism from sticking. For an additional layer of protection, spray down the fat bike with a cleaner and protectant to prevent powerful UV rays from reflecting off the snow and fading the finish.
Ice Hockey
Does somebody hear an arena organ playing music, or do we have a hunger to play a little ice hockey? Set up a couple of goals on opposite ends of a small area and get a game of pickup hockey going. Even if you don't have 10-12 people to set up a full game, split up teams evenly for a recreational game that's supposed to be about fun. You can even skate around yourself with a puck and a stick to practice your handling and shooting skills.
Cross Country Skiing
Winter's version of a hike part two has got to be cross country skiing. Similar to snowshoeing, the activity is enjoyed at a much more relaxed pace than snowboarding or downhill skiing. It will require some level of physical exertion from your legs and arms to propel forward across a level surface. However, the activity is beginner-friendly, and getting started is easier than you might think. You'll be enjoying yourself once you find that rhythm and groove.
Ice Fishing
One of, if not the most common, frozen lake activity is the past time of ice fishing. This hobby is comparable to the standard form of fishing you're used to during the summer months. Only this time, you don't need a boat to float atop the water. You'll still need a fishing rod & line, tackle box, bait or lure, and plenty of your favorite beverages, but you will also need to remember to dress warmly this time. You can also bring a portable heater and/or shelter to fend off the cold.
Curling
We're closing out our list of suggestions with another staple from the Winter Olympics since this one seems way too good to pass up. Now, there are different levels of curling you can get into based on your interest level. The first is what we see in the Olympic games with three players per team, a stone, a target, and brushes for the ice. If you see no need for brushes, you can simply use a stone to push it towards the target like a game of shuffleboard.
---
Is there anything we might have missed? Let us know some of your favorite ways to spend winter days out on the ice by leaving a comment below. We're always interested to hear creative ideas to enjoy the small window of time when lakes and ponds are frozen solid. After all, it's the closest you can get to walking on water.