STA-BIL SPORT Bike Chain Cleaner & Lubricant: What You Need to Know
Chain-cleaning is an essential part of bicycle maintenance but it can feel like a daunting task if you don't know where to begin. In fact, it's completely natural for bike owners of all ages and experience levels to have a few questions on the matter. For example, "Do you move the pedal while you clean it?" or "How am I supposed to know that I'm doing it correctly?"
If this sounds like you, trust us when we say that you are not alone. Bike chain maintenance requires a certain knowledge of how the mechanism works. It is also beneficial to have a product that can keep your chain clean, lubricated, and protected from all the time spent on trails and roads. That's why we created a product that makes it easy to keep your bicycle chain in great shape.
Read on to learn all about STA-BIL Bike Chain Cleaner & Lubricant to protect your investment and love your bike for longer.
STA-BIL SPORT Bike Chain Cleaner & Lubricant Explained
Every time you hop on your bike to go for a ride, you are putting the chain to the test. It's the hardest-working mechanism of the bicycle. More importantly, the chain is actively exposing itself to elements that directly challenge its integrity. We're talking about dirt, grit, and even moisture. All of these factors can negatively impact how well a bike chain moves through the sprocket and derailleurs. When gone unchecked for too long, each rotation feels much more labored than the first time you took the saddle.
The solution to improving bicycle performance lies in properly cleaning and lubricating the chain. For this reason, the STA-BIL SPORT line carefully crafted a cleaner and lubricant that is designed specifically for bicycle chains. The formula loosens dirt and grit from the chain's surface, making it easy to wipe away. Once clean, STA-BIL Bike Chain Cleaner & Lubricant leaves a thin, protective layer to resists dirt and rust from accumulating. In essence, a clean bike chain is a happy bike chain. And this product takes it one step further by keeping the chain system lubricated for a silky ride.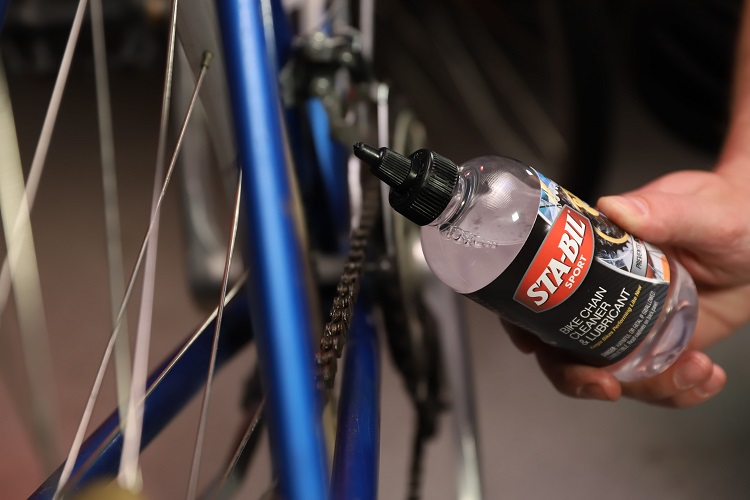 How to Use STA-BIL SPORT Bike Chain Cleaner & Lubricant
Apply STA-BIL Bike Chain Cleaner and Lubricant directly to the chain while moving the bicycle pedal to keep the chain rotating. Allow for a full rotation so the product is evenly spread across the entire chain mechanism of your bicycle. After you've done this, simply take another clean rag to wipe away any excess product that is clinging to the surface. Following these steps will keep the chain clean, lubricated, and protected each time you go out for a ride.
Extending Bicycle Life With STA-BIL SPORT Bike Chain Cleaner & Lubricant
A clean chain that stays properly lubricated is the key to enjoying a healthy bike. It's pretty easy to understand why. A bicycle's drivetrain is what ultimately determines what your riding experience is like. If the chain is dirty or disconnected from the derailleur in any areas, you will begin to notice some problems. For instance, peddling is more difficult or there's a loud grinding noise every time you complete a full rotation.
STA-BIL Bike Chain Cleaner & Lubricant satisfies two services (cleaning and lubricating) that are central to bicycle chain health. Keeping a bottle handy is a great idea, especially for casual riders who don't want to spend too much time on maintenance. Even if you only apply the product once in awhile, you are doing more than you know to keep the drivetrain functioning at a high level. In fact, you prolong and preserve the stability of your bicycle with only one application.
We hope this helped to educate you on simple bike chain maintenance. Follow the button below to learn even more about STA-BIL Bike Chain Cleaner & Lubricant to see if it's right for you.