What Do You Need To Go Ice Fishing?
Ice fishing requires specific weather conditions, equipment, and strategies to stay warm. Here's how you can find success out on the frozen lake (or pond).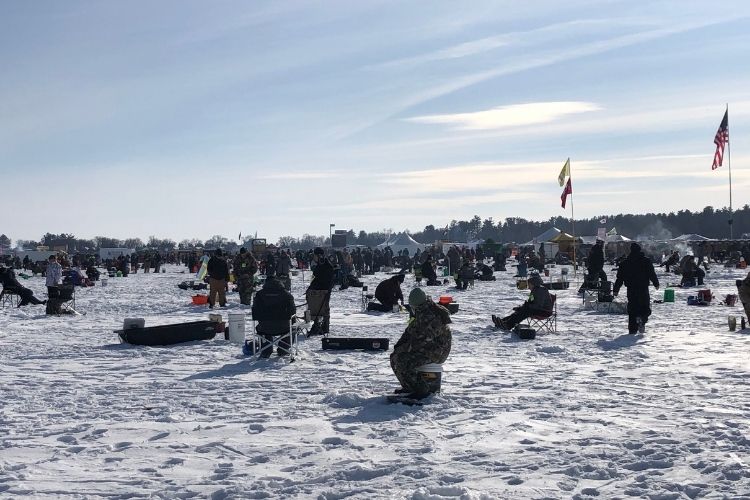 It's not uncommon to spend more time indoors during the winter months. The combination of snowy weather, shorter days, and cloudy skies all feel like an excuse to hunker down inside where it's warm. But if you are feeling anxious to get outdoors, ice fishing is an activity that can offer sweet relief before cabin fever sets in and you start impersonating Jack Torrance.
Ice fishing is a recreational sport that involves catching fish through a frozen lake, pond, or river. The activity can only be done during the winter months when the body of water has at least four inches thick. People from all over the world enjoy the past time for the challenge and solitude. It also doesn't hurt that you receive a natural reward in the form of fish to eat or toss back, based on your personal preference.
Before you jump in your truck and head out to the nearest frozen lake, there are a few things you should keep in mind to make the most of an ice fishing expedition. Read on to learn about ideal weather conditions to safely fish, the equipment you will require, and how to keep warm in cold temperatures for an extended period of time. Understanding all three is essential to enjoying your time as an ice angler.
Weather Conditions & Finding the Right Spot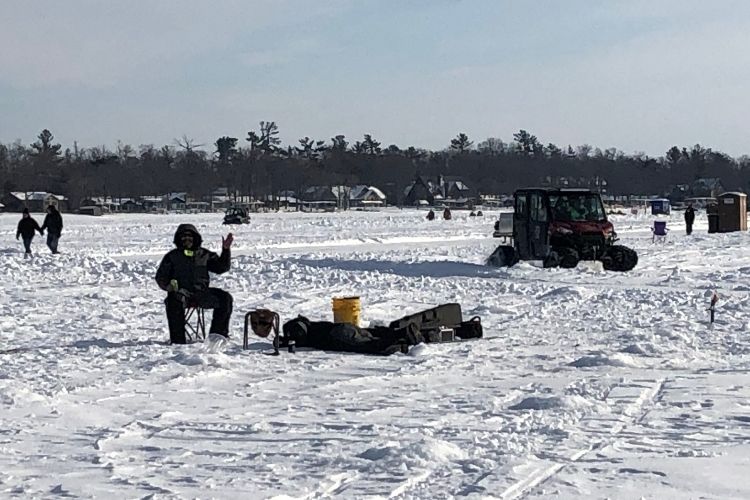 Always go ice fishing when there is no snow in the forecast. Ideally, you'll go on a sunny day with clear skies and minimal wind chill. But this is winter, and beggars can't be choosers. Ice fishing is a cold-weather activity, so as long as you pick a decent day absent of any winter storm warnings, you should be okay.
Ice thickness is the single-most-important detail you must consider for safe ice fishing conditions. As a general rule of thumb, ice is safe enough for fishing when frozen at least four inches. Additionally, ice should be at least 12-15 inches thick if you plan to drive a vehicle on top of it. As the saying goes, "Thick and blue, tried and true. Thin and crispy, way too risky."
Once you've made your way onto the frozen body of water, you'll have to know how to find the right spot. Keep your fishing site within 50-100 yards of the shoreline. If you are ice fishing on a lake, you'll want to find water about 10-15 feet deep to catch a wider variety (panfish, bluegills, and pike). Ice fishing is a very welcoming community so if you are lost on where to start, look for other shelters or setups because chances are you can meet new friends who know the hot spots.
Ice Fishing Equipment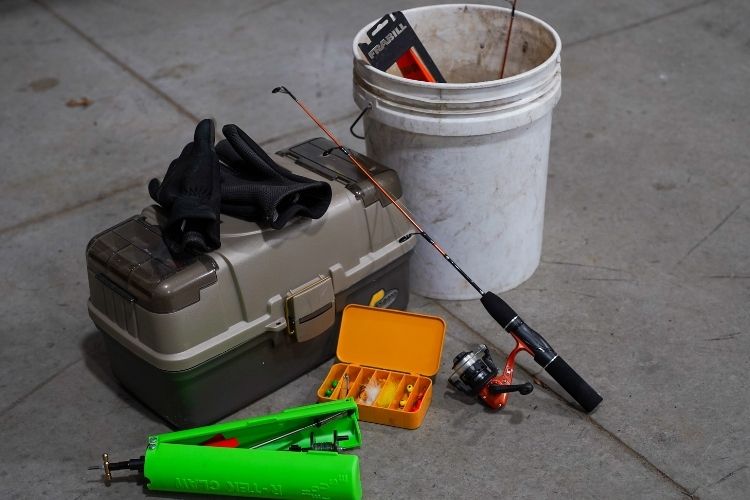 Much of the equipment you'll need is similar to traditional fishing, with a few subtle differences and supplementary items. Some hardcore ice anglers might argue that all you need is four inches of ice, a drill, and a determined attitude. However, the greater ice fishing community recommends packing the following essential equipment, like a rod, so you aren't grabbing fish with your bare hands in cold water as the more extreme fishers might try.
Lastly, keeping your ice fishing rod clean and protected is necessary to avoid breakage. You can use an auto protectant or marine protectant as either one will prevent the line from cracking and bolster its overall durability. Coating one layer over the equipment makes it easier to hose off blood, fish scales, and lingering debris from the bait. Make sure to do this ahead of time so you can spend more energy catching fish and less time scraping grime off the metal rod.
Staying Warm
The combination of your warm clothing and portable shelter will do a great job of cutting down the wind to keep you from getting too cold. Nonetheless, you can take your comfort to the next level by bringing a couple of additional items with you. You might even find that they will allow you to stay out there with your rod for hours at a time.
For example, pack single-use or rechargeable hand warmers to keep your fingers feeling nice and toasty. Even if you keep your hands covered and stay inside the portable shelter, it takes effort for your heart to pump blood all the way to your fingertips. Hand warmers easily fit inside your mittens or gloves, protecting your extremities from feeling cold, or worse, frostbite.
Another great piece of equipment to bring with you on the ice is a propane heater. Set the portable heater up inside your shelter and have it face your chair, as well as the fishing hole. Having this extra warmth will not only keep you more comfortable. It will also prevent the hole you cut with your auger from freezing back up. It becomes challenging to keep an intended fishing hole open in particularly cold temperatures.
---
Now that you've received a comprehensive overview of the best way to go ice fishing, you are well on your way to seeing how far you can take this new hobby. There are ice fishing competitions all over the country, and you can follow a list of tournaments and events by visiting the US Ice Fishing Association (USIFA). Even if you feel like a novice, it's an all-inclusive sport meant for people of all ages and experience levels to enjoy.