303 Automotive Protectant: What You Need to Know
If there is one product outside of the aftermarket automotive industry that's comparable to 303 Protectant, it has to be Frank's RedHot Buffalo sauce. We say that because you can put this *expletive* on everything, and we mean it. Whether you utilize the 303 Automotive Protectant spray bottle or individual-use wipes, the protectant provides unparalleled preservation for nearly every surface of your vehicle that lasts up to five weeks. Interior dashboard? Go ahead and spray or wipe. Tires? Spray or wipe. Under the hood for the plastic in the engine compartment? Go spray happy with a bottle of 303 Protectant. Seriously. We're not bluffing when we say that it works on any rubber, vinyl, or plastic surface of your vehicle. But that's only the beginning.
303 Automotive Protectant Explained
There's a long history behind 303 Automotive Protectant that reaches back to 303's origins as a protective agent for aviation engineering. As you can imagine, planes are heavily exposed to UV rays from the sun at high altitudes, and 303 Protectant was engineered to safeguard materials used on aircrafts (specifically rubber wingboots). Using that ingenuity, 303 Automotive Protectant brings that same level of protection to cars, SUVs, trucks, and even off-roading vehicles like ATVs and UTVs. Any set of wheels you call your pride and joy, 303 Automotive Protectant is there to help preserve it.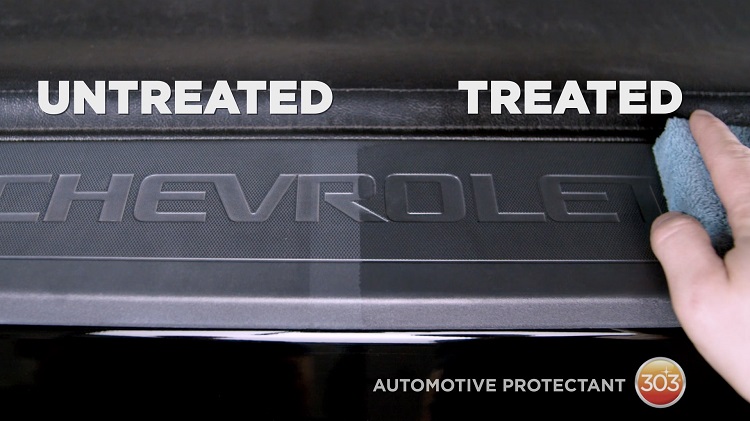 How to Use 303 Automotive Protectant
First and foremost, it's essential that you only use 303 Protectant on areas that have been cleaned and dried. So the next time you want to take advantage of a nice day, give your car a thorough washing so it's ready to be protected.
Following this prerequisite, use the following three easy steps to use the 303 Protectant spray bottle the right way.
Step 1:
Spray product directly onto the surface or onto a microfiber cloth.
Step 2:
Apply product evenly onto the vehicle and work it in one section at a time.
Step 3:
If needed, wipe area with a clean, dry microfiber towel.
Step 4:
Take a step back to evaluate your results. Some extra buffing may be required for optimum protection. If there is any excess product on the surface, use a wet towel to remove it.
After properly following the preceding steps, the surfaces of your vehicle will be protected for up to five weeks, so it's recommended to re-apply every 30-45 days.
If you elect to use 303 Protectant wipes, simply use them on any surface of your vehicle as you desire. Just remember that the areas you plan to protect have already been cleaned and dried before you apply.
What Makes 303 Automotive Protectant Unique
One aspect of 303 Protectant that makes it stand apart is the fact that it provides unparalleled protection from UV rays even though the solution is water-based. By absorbing into the treated material (leather, rubber, vinyl, or plastic), 303 Protectant creates a protective shield on the surface layer to absorb harmful rays. This way, when the rays from the sun hit the surface, they bounce off of the material. With regular treatment, you can prevent the materials of your vehicle from cracking or fading to keep them looking newer for longer.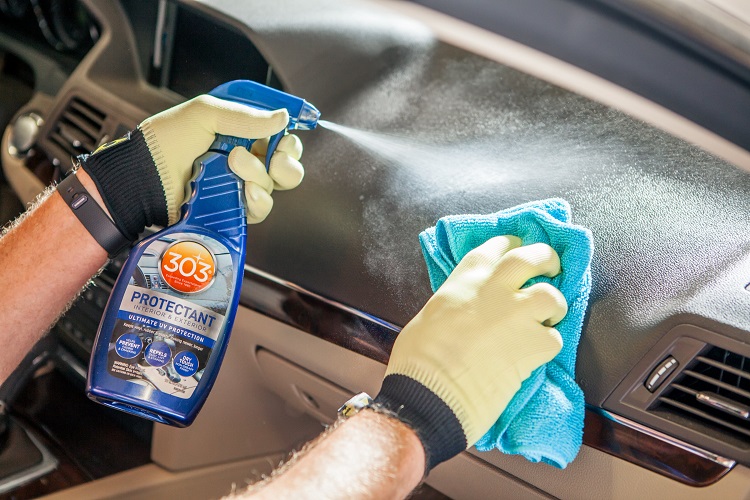 303 Automotive Protectant – FAQ
To this point, we've covered the ins and outs of 303 Protectant. But that doesn't necessarily mean that all of your questions have been answered. Take a look at some of the most common inquiries customers have about the product in case you have the same curiosities.
Q: Does 303 Protectant contain any harmful silicones?
A: No. 303 Protectant does not contain any harmful silicones. These can dry out and damage surfaces, which would be extremely counterproductive in protecting the surfaces of your vehicle.
Q: Can I really use 303 Protectant on all surfaces of a vehicle?
A: 303 Protectant is extremely versatile and works great on vinyl, plastic, synthetic and natural rubber, PVC, finished leather, colored gel-coat fiberglass, and more! However, you should not apply 303 Automotive Protectant on unfinished leathers (such as suede), fabrics, floorings, clear plastics, gauge panels, or headlights.
Q: How will I really know how often to re-treat my vehicle with 303 Protectant?
A: If you wait too long between treatments, the surfaces of your vehicle can become cracked or damaged from harmful UV rays. That's why you should re-treat every 30-45 days based on the chemistry of the formula used in 303 Automotive Protectant.

If you're ready for the ultimate companion that will keep your vehicle looking newer for longer, head to the product page below for more info, including customer reviews.