303 Graphene Detailer: What You Need to Know
Sometimes a product comes along that is so impressive you say, "wow," when using it. That's not to say that people are difficult to impress. It's the fact that the aftermarket auto industry is flush with well-researched, high-performing solutions, so those moments of fascination seem to happen less often.
303 will never lose sight of the importance of creating these products. We know because we live to take care of our cars, and we rely on our cleaners, protectants, and detailers to make it happen. But we find it equally important to innovate to the point where you can't help but utter that three-letter word the first time you try a new product.
We believe 303 Graphene Detailer accomplishes that goal. The detailer is our second product made with graphene oxide, giving users plenty to ooh and aah about, especially when paired with 303 Graphene Nano Spray Coating. Check out the information below for a quick snapshot of the product, specifically what makes it effective as a topper and in-between washes.
303 Graphene Detailer Explained
Using graphene oxide, 303 Graphene Detailer is a forward-thinking auto detailing product designed to level up existing coatings.
Versatility is the cornerstone of the detailer since you can use it either wet or dry, and it is effective on most surfaces, including paint, chrome, glass, plastic, and wheels. Therefore, you can feel confident knowing everything the detailer touches will enhance the slickness and gloss of that surface.
In order to get the intended results, the product works best on a clean or slightly dirty vehicle. For this reason, we recommend giving your car a proper bucket wash if you have signs of caked-on dirt, or there is excess grime present beyond fingerprints or dust.
It's important to note this detailer is number two in our graphene line, and there is a reason for that. Using the same fundamental ingredient (graphene oxide) as 303 Graphene Nano Spray Coating, the detailer reinforces protection for existing coats. That's why we recommend using the two products in tandem for the best outcome possible.
If you have any doubts, the ideal three-step process should go:
Clean your car with a bucket wash
Apply a base layer of 303 Graphene Nano Spray Coating
Top with 303 Graphene Detailer for added protection, slickness, and shine
When you are in between washes, skip the first two steps because the detailer works well for spot cleanups of fingerprints and dust.
How to Use 303 Graphene Detailer
Always start with a clean or slightly dusty vehicle. When ready, spray 303 Graphene Detailer onto a clean, dry microfiber towel. You will notice the formula's color is black on account of the graphene oxide powder, not because of artificial dyes.
When ready, wipe the towel directly onto the surfaces of your car one section at a time. We recommend starting with the paint before moving on to plastic, chrome, glass, and wheels. Make sure to cover each aspect of your ride to ensure total coverage.
Once you've gone over each area of the vehicle, use a separate microfiber towel to buff off the product. And that's it! You can now enjoy the enhanced gloss, smoothness, and added protection made possible by 303 Graphene Detailer.
Using 303 Graphene Detailer as a Topper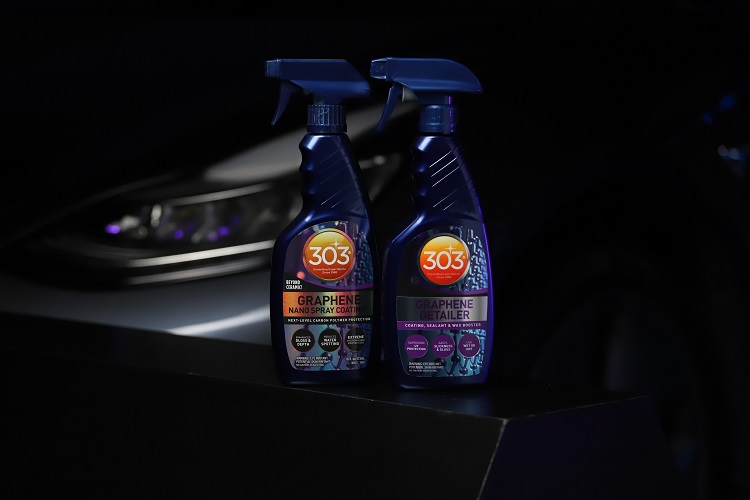 303 Graphene Detailer reinforces protection created by existing sealants, waxes, and coatings, making it the perfect topper. This concept is especially true when used on top of a 303 Graphene Nano Spray Coating base layer.
One layer of 303 Graphene Nano Spray Coating is enough to protect the surfaces of your vehicle effectively. However, 303 Graphene Detailer adds more protection while introducing more slickness to the touch and improving the shine in its appearance,
We conducted our due diligence to get the 303 Graphene Detailer formula exactly right. It is the perfect follow-up to 303 Graphene Nano Spray Coating, and you will love how well the products work together.
303 Graphene Detailer FAQ
Still unclear about the way 303 Graphene Detailer works? Sometimes it helps to break it down in a plain Q&A format to get quick answers to common questions. Check out the following queries that are sure to tie up any remaining loose ends.
Q: What are the primary benefits of the detailer?
A: 303 Graphene Detailer improves existing coats for more gloss, clarity, slickness, and protection. The formula works best with 303 Graphene Nano Spray Coating but can safely be used with the coating of your choice.
Q: What is a unique use for the detailer?
A: The product can be used as a drying agent. Therefore, you don't have to wait around for your car to dry, cutting down on the time it takes to perform your detailing routine.
Q: Can you layer the product on top of itself without causing harm?
A: Yes, you can effectively apply three layers of the detailer to continue adding more protection. We have found that you add little or the same value if you continue applying any more layers after three.