What Vehicles Work Best for Overlanding?
An overlanding expedition calls for an adventurous spirit; there's no doubt about that. But the trip also requires a vehicle that's reliable, capable of traversing rugged terrain and has enough room for everything you plan to bring (gear, food, clothes, equipment, etc.).
We briefly touched on ideal vehicle types in our beginner's guide to overlanding by breaking them out into three categories: pickup trucks, compact SUVs, and standard SUVs. Now that we have established the fundamentals, we can dive deeper with examples for each vertical.
Keep in mind the following list calls out specific brand and model types. However, these recommendations are based solely on our experience and research. These mentions are not a licensed endorsement but a subjective opinion to aid you in your overlanding research.
Without further ado, take a look at the following nine vehicles that are well-suited to overlanding with a bonus option for good measure. There's no doubt you will leave with plenty of inspiration for all of your outdoor adventures.
---
Pickup Trucks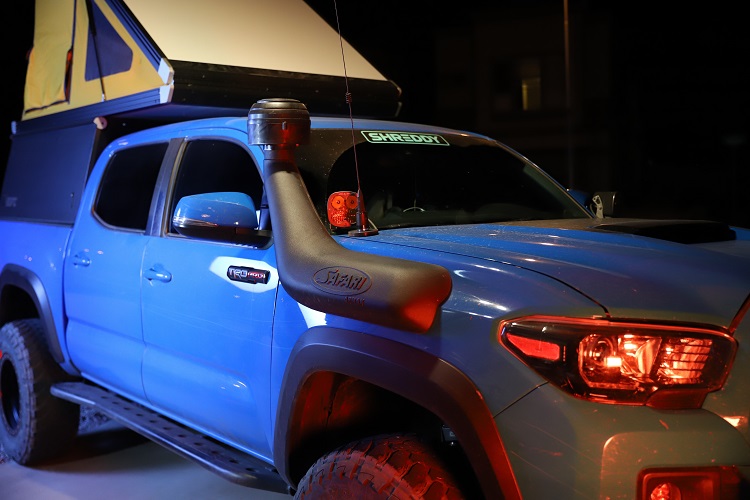 Toyota Tacoma
The Toyota Tacoma has a firm reputation for being a reliable pickup truck. For that reason alone, novices gravitate towards this model because it is dependable, giving you added peace of mind in unfamiliar territory.
Transforming a Tacoma into an expert overlanding vehicle starts with building a platform on the truck's bed. If you take a look at the photo of the Smurf blue Tacoma above, you can see the vehicle owner set it up with a rooftop tent so you can use the space below to store your gear away from your sleeping headquarters.
One knock overlanders have about this model is its limited room between the interior cabin and truck bed. Its smaller design limits how much you can bring, but it allows you to fit in tighter spaces and narrow paths. However, you can make it work if you don't overpack.
Verdict: The Toyota Tacoma is safe and more budget-friendly compared to similar models. If you pack lighter than most, it's a good option with limited downside.
RAM 2500
We like the RAM 2500 because it fits right in the sweet spot between the 1500 and 3500. The 2500 is more spacious than the 1500, which gives you enough room for your equipment. Additionally, you don't need the 3500's heavier tow rating for overlanding purposes, so going with that model is overkill.
So what makes RAM pickups like the 2500 so good for expeditions? For starters, the truck bed is as long as other models in its class, which means more room for essentials like your toolkit, first-aid kit, waterproof blanket, spare vehicle parts, clothes, and other gear.
More importantly, a RAM 2500 is a safe investment because you can elect to spend as much or as little time as you want to convert it into an overlanding vehicle, and it will still get the job done. Take a look at the following video from WolfPac-Outdoors to see so for yourself.
Verdict: A RAM 2500 has the engine power, drivetrain, amenities, and space to make for one fantastic overlanding vehicle. But similar to other models on this list, you will have to invest additional time and resources to truly turn it into your own.
Chevrolet Silverado
When it comes to American-made pickups, the Chevrolet Silverado is arguably the best economical option you can find to convert into an overlanding vehicle. Specifically, the Silverado 1500 Custom Trail Boss edition is the least expensive off-roading spec you can buy with the biggest engine Chevy has to offer, according to PickupTrucks.com.
Features like electronic hill descent control, skid plates, monotube shocks, and heavy-duty air filters work wonders on long trips through unfamiliar terrain. Your travels will also be more enjoyable when you have a pickup equipped with a low range transfer case, automatic locking rear differential, the trailer-tow package, red tow hooks, and the option to include an EZ lift tailgate.
It's nice to know you can combine all of these features without having to dive deep into your wallet. However, keep in mind that the more affordable price tag comes at the expense of its design. The Chevy Silverado has a double-cab configuration instead of a larger crew cab, so you sacrifice space (mostly headroom).
Verdict: The Chevrolet Silverado is budget-friendly compared to the RAM 2500, but similar to the Tacoma in price. If you are on the taller side, you might bump your head when moving around the rear cabin, so be mindful of that one drawback.
---
Smaller SUVs, Compact SUVs, & Crossovers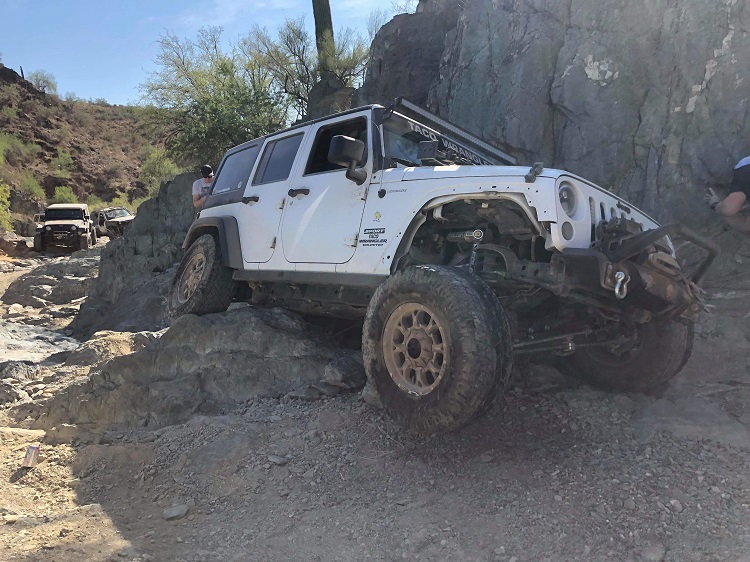 Jeep Wrangler
Many people think of Jeep Wranglers for overlanding, and there is a good reason for that. These models are ideal for remote expeditions because they already come equipped with 4WD, above-average suspension, and adventure-ready tires.
Additionally, this model is made for customization, so you can include things like a roof rack for your sleeping tent, rock sliders, and more to make it an ideal overlanding vehicle. The only downsides come in its smaller payload capacity and limited cargo volume, so packing light is a must.
Due to its shorter wheelbase, a Jeep Wrangler can fit into smaller areas, giving you more freedom when exploring remote areas. For example, if you want to venture further into a highly wooded area of the forest, the model has the 4WD power and adaptability to go where bigger SUVs and pickups can't fit.
Verdict: With so many customization options and the ability to navigate tight spaces, the Jeep Wrangler is an excellent choice. Therefore, if you want to make overlanding a big part of your life, you will feel confident choosing this model.
Ford Bronco
After a long hiatus, the Ford Bronco is officially back and ready to challenge the Jeep Wrangler in the customizable SUV space. As we mentioned earlier, personalization is a crucial aspect of the overlanding experience because you genuinely want to make your vehicle your own. And if you aren't keen on Jeeps, the Ford Bronco offers an excellent alternative.
Since tires are a huge part of the overlanding experience, picking the right set is crucial to your success. One benefit of the Bronco is that you have options in this department. Car and Driver reports the Ford Bronco offers five distinct tire options from four different manufacturers, so you can pick a set that matches up with your expedition plans.
Similar to the Wrangler, the Ford Bronco easily converts into an adventure vehicle with a swingable tailgate, exterior lighting options, roof rack for your tent, and more. Check out a video from The Bronco Nation below to see an example of a completed overland build.
Verdict: With a bit of planning and the right options, the Ford Bronco provides the drivetrain and features you need to be comfortable on any overlanding expedition.
Toyota 4Runner
While the Wrangler and Bronco give you customization options, the Toyota 4Runner takes the opposite approach. This model "does the thinking for you" in a way because it is user-friendly in the best possible ways.
The two most important of these traits lie in the comfort and driveability of the 4Runner. For example, the SUV is easy to drive in rugged terrain (compared to other models), and you don't need to make extensive modifications to turn it into a good overlanding vehicle.
When it comes to sleeping overnight, you can either fold down the backseats to make room for a bed or go the rooftop tent route. That depends on where you plan to pack your gear, but we recommend a roof tent to optimize your interior cabin space.
Verdict: The Toyota 4Runner is great if you want to spend less time and money converting your vehicle. The SUV is already designed with a smart layout and optional trim levels that do the heavy lifting so you can be on your way faster.
---
Standard SUVs & Full-Size SUVs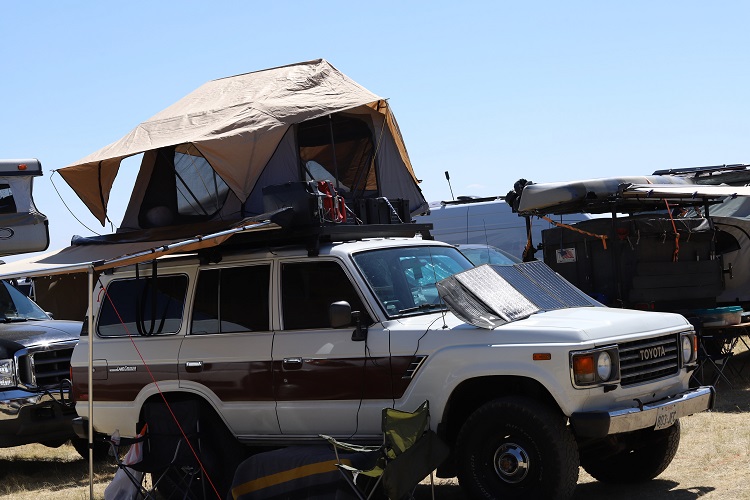 Toyota Land Cruiser
The Toyota Land Cruiser is one of the most sought-after model types amongst experienced overlanders. This full-size SUV has a reputation for being incredibly strong and durable, with a quality suspension that offers plenty of forgiveness on rocky roads.
When you combine all of these components, the Toyota Land Cruiser offers a comfortable ride ideal for traveling long distances through unfamiliar territory. Additionally, this model is globally known, so you can get it serviced more easily when traveling outside the country.
You got options to outfit the vehicle with a comfortable sleeping arrangement. As the photo above indicates, you can equip your Land Cruiser with a rooftop tent if you like, but the cabin offers plenty of interior space if you want to sleep inside, next to your equipment.
Verdict: The Toyota Land Cruiser is a tried and tested SUV that offers ample room to fit all your gear, and it's endorsed by those who know overlanding best. The model makes frequent appearances at community events such as the Overland Expo® (pictured above), giving it a sterling reputation.
Ford Expedition
Like Chevrolet, Ford is another domestic car manufacturer that produces overlanding vehicles in different sizes. Therefore, if you want an American-made SUV bigger than a crossover, the Ford Expedition should stand at the top of your list.
While different packages are available for the model, the Timberline Trim level comes with off-roading capabilities and plenty of power, thanks to a 3.5-liter V-6 engine. Car and Driver state the model is made for long outdoor adventures, especially with the EcoBoost option to maximize fuel economy.
The folks from All-Terrain Family will show you how to convert a Ford Expedition with a minimalist approach in the video below. As you know, minimalism is big in the overlanding community, and the Expedition is as simple as it gets.
Verdict: Overlanding trips are called expeditions, and this model has the same name. That reason alone should tell you that you won't go wrong with the Ford Expedition. Its rugged frame and off-roading capabilities provide everything you need to get off the grid and do it in style.
Land Rover LR4
Land Rover earned a reputation for providing outdoor exploration capabilities without sacrificing the conveniences and amenities you'd expect in a luxury vehicle. Out of all the UK-based manufacturer's models, the LR4 is best for an overlanding conversion.
The Land Rover LR4 has an air suspension and rear locking differential, making it easy to handle jagged terrain. Additionally, this model is more reliable than other luxury SUVs you see on the market. Therefore, you can enjoy features like Terrain Response and Gradient Acceleration Control without worrying so much that they will give out on you.
Again, you have the option to sleep inside the cabin if you like. But most overlanders choose to outfit their Land Rover LR4 with a rooftop tent so you can utilize the space inside for things like a mini-fridge, safety gear, clothing, and tools.
Verdict: Luxury comes at a price that some folks might consider too high. Sure, the Land Rover LR4 has plenty of nice amenities that will keep you comfortable, but you end up paying for it in quite the literal sense. If you have the capital, you will be happy you went with a Land Rover.
---
Honorable Mention – Vans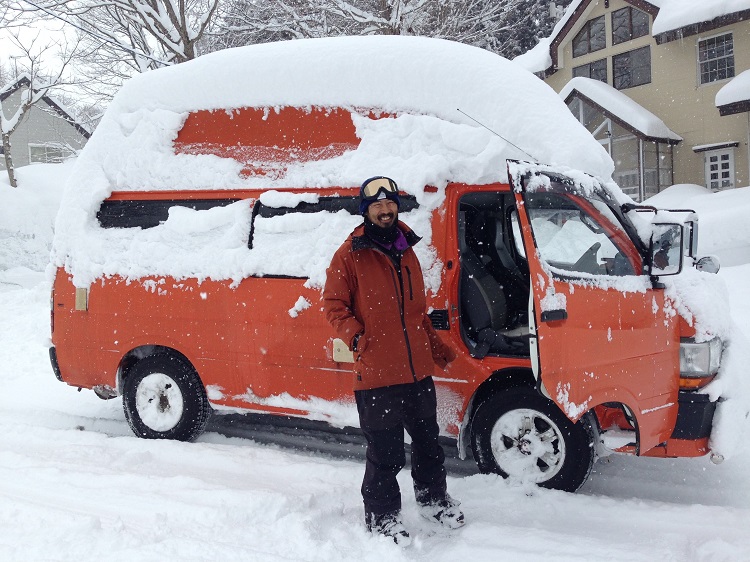 We don't have a specific model in mind because it's more about the drivetrain and engine that make the van a suitable overlanding vehicle. Therefore, if you can find a used or new van with 4WD capabilities, that is your first step!
Once you locate a good 4WD van, it's not that difficult to convert. With so much headroom, sliding doors, and usable space, you can outfit your van with more amenities than other models offer. Vans are conducive to bigger kitchen appliances and a better sleeping arrangement. You also don't have to worry as much about "packing light" because you have the room.
Most of your attention with an overlanding van build will be concentrated on improving its performance. For example, you will want to upgrade the tires and suspension at a minimum to ensure you don't get stuck in mud or snow. Having both functioning is crucial to keep a smile on your face while driving through harsh weather, like the picture shown above.
Verdict: Vans are a comfortable option but not the most practical. Even with 4WD, vans do not offer the same amount of power that trucks and SUVs supply. Still, vans are a great model option if you plan to go on tame trails with a lower level of difficulty.
---
While the models mentioned above are not exhaustive, they should serve as a great point of reference if you hunt for a capable overlanding vehicle. Regardless of which one you go with, we wish you happy travels on every expedition you take.