A Beginner's Guide to Overlanding
It's not about the destination. It's about the journey.
We've all heard this phrase, or some variation of it, at some point in our lives. The philosophy can be applied to a student's venture through school. A relationship with a significant other. Or even a well-earned vacation.
In each scenario, the individual is trying to realize a goal. A degree for the student, a civil union for the romantic, and perhaps unwinding at the pool for the hard-working employee who stashed away their paid time off.
The idea of remaining present is key for all three individuals to realizing their objectives. For if you actually enjoy every action it takes to achieve your end goal, you forget about the stresses that come along the way.
For example, it is entirely possible for the student to enjoy the act of learning on their way to the graduation ceremony. You can genuinely appreciate your partner on an ordinary Tuesday evening even if you have been patiently waiting for them to pop the question. You can choose to revel in your workload instead of scoffing at it because it's (hopefully) what you like to do anyway.
Overlanding encapsulates this idea because the journey truly is the primary goal. It's not quite camping, nor is it four-wheeling. It's a niche form of travel that is gaining a lot of popularity because it is both accessible and has the ability to change your life perspective.
In this blog, we will go over the subjective nature of overlanding to explore what it is, the basic equipment you will need, and how to get started with your very first expedition. How exciting is that?!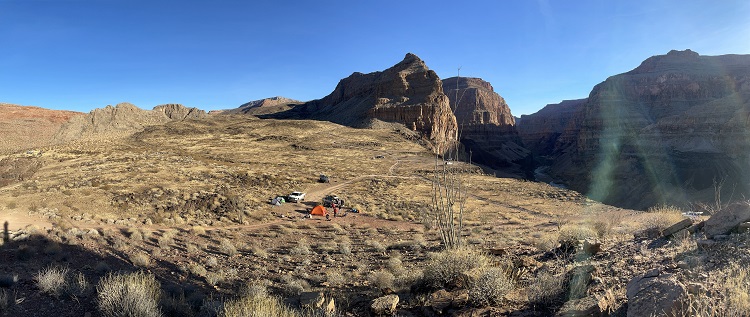 What is Overlanding?
Before we can dive into the ins and outs of overlanding, we must first define it. The folks at Overland Journal, one of the most respected authorities on the topic, claim that it is a form of self-reliant travel to remote destinations where the journey itself is the goal.
Overlanding expeditions can span any length of time, but they typically last for weeks or months. A quick weekend away where you stay in your vehicle does not qualify as overlanding but more closely resembles car camping. However, it's not a bad way to get started because you are acclimating yourself with the idea, almost like an "overlanding light" trip.
While that may sound confusing, consider the differences between overlanding and camping. The latter is for a shorter time, has a more rigid itinerary, includes a planned destination site, and is usually done on somewhat familiar or mapped-out terrain.
Overlanding varies drastically because the adventurer is completely self-dependent and stops at multiple destinations. These trips also usually include interacting with other cultures. It takes travelers out of their comfort zone to see what they are capable of, and every trip can be as spontaneous as you want it to be.
You can explore remote locations of your home state for weeks at a time. You can take a trip from New England across the entire country and venture up into British Columbia in Canada. Both are considered overlanding expeditions so long as you are seeing and learning about parts of the world that are new to you.
But in order to get started, you will need the right kind of vehicle, which brings us to our next question.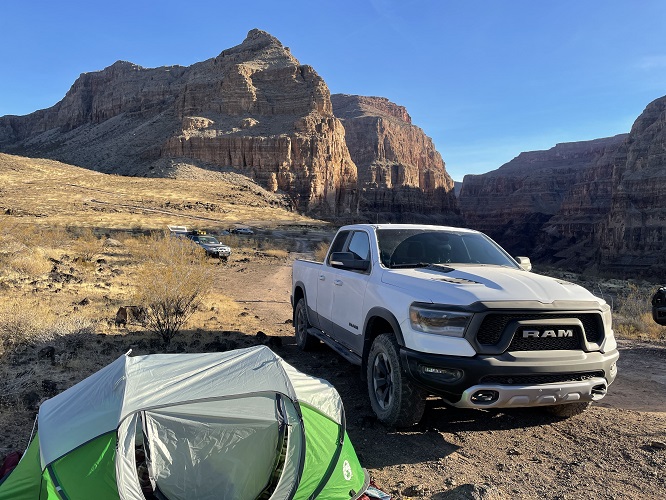 What Type of Vehicles Work Best for Overlanding?
Having the right type of vehicle is essential to a productive overlanding expedition. Remember, you will be navigating unfamiliar roads and trails, so having a means of transportation with off-roading capabilities is critical.
When considering which types of vehicles are best suited for off-roading, you will want one with a high torque rating, four-wheel drive, undercarriage protection, off-road tires, and an upgraded suspension. Having an improved suspension beyond typical factory settings leads to a more seamless experience when navigating through rough, uneven terrain.
Customization is king (or queen) in the world of overlanding so don't be shy when it comes to outfitting your rig with the parts you want. For example, roof racks, pop up tents, and over-the-wheel bedslide bins are three of the most common accessories that will add a tremendous amount of value to your expedition. Just keep in mind that you must already have a full bedslide installed to make use of those bins.
With these points in mind, let's look at three of the best vehicle options and uncover why each one is cut out for overlanding.
Pickup Trucks
If there were a "go-to" vehicle type to make your first overlanding expedition a gratifying experience, it's a pickup truck. Pickups come in all shapes and sizes, but they offer everything you need to make the best use of your time on unfamiliar terrain.
Pickups are unique because they allow for so much extra space to store your equipment and provisions. Furthermore, installing a bedslide on your pickup is a great way to maximize your space when setting up camp each night.
In a perfect world, you will equip your pickup with a camper top because it will ensure that the bed stays covered. You never know what mother nature has in store and you don't want inclement weather to damage your essentials.
Between your bedslide and camper top, you are giving yourself ample surface area to install a roof nest or attach a pop up tent. Remember, setting yourself up for success is half the battle. The more effort you put into preparation, the better your expedition will be.
Compact SUVs
If you are looking for something a little more nimble and affordable than a pickup truck, compact SUVs (or crossovers) are a great option. One model that fits into this category is a Jeep Wrangler, but before you go ahead and say "boring" or "overrated," there is a lot for the overlander to like.
Wranglers, or other similar models, have a shorter wheel-base in comparison to the other vehicle types mentioned here. These shorter wheel bases offer more off-roading capabilities so you can more easily go off the grid. Whereas a pickup might have a tough time navigating through densely wooded areas, a small SUV will be able to fit and have the performance abilities to push through.
While that may sound great, the tradeoff here is that you have less space for storage. For this reason, consider taking a compact SUV out for expeditions that are shorter to moderate in length.
Standard & Full-Size SUVs
If you plan to go on an expedition with a party of two or more, larger SUVs will give you enough room to ensure everyone is comfortable. With that being said, a big luxury SUV is not an ideal choice because they are primarily concerned with comfort features instead of the essentials.
Outfit your SUV with the things that matter instead of appealing features that won't help you in the wilderness. For example, you can have a top-of-the-line ride with expert navigation, but it will only get in the way if you are trying to rely on it when there is no signal to be found.
Aside from that, as long as the model comes with the right off-roading capabilities mentioned at the beginning of this section, you will be in good shape. It also doesn't hurt that most full-sized SUVs come with roof racks as standard, which is a nice added bonus so you won't have to buy them later.
How Can I Start Overlanding?
Now that you have received a crash course in overlanding, the only thing left is to get started. The community has several helpful resources that can give you an idea of where to begin. Therefore, you can do a quick search to find "overlanding routes near me" or reference this helpful article from Overland Discovery, which gives you ideas by trip length, time of year, and more.
But before you whisk yourself away into the world of the unknown, you need to have the right materials, equipment, and products to set yourself up for success. First, you have to pack enough food, water, gas, and clothing to last the entire duration of your expedition. We say that because it will lead to a much better experience away from civilization.
If you ever get caught in a bind and need to make a supply run, make sure you have enough essentials to hold you over. Plan, prepare, and always think that you can never have too many indispensables stored away.
Other helpful items you want to include are as follows:
Spare vehicle parts (especially a tire)
There is so much more you can take with you beyond the basics to make your trip that much more comfortable and enjoyable. Maybe you want to take a portable stove to make warm meals or your iPad with preloaded movies that don't require an internet connection.
But before you get ahead of yourself, remember that you are placing an enormous amount of faith in your vehicle every time you go out on an overlanding expedition. That's why you should take care of it as best as you can with the right cleaners and protectants for the exterior and interior, as well as the tires and wheels.
That should be enough to help you dip your toe into the exciting world of overlanding. You are now ready to take on your inaugural expedition like a seasoned pro.
---
SOURCES: