What is the Best Way to Apply 303 Fabric Guard?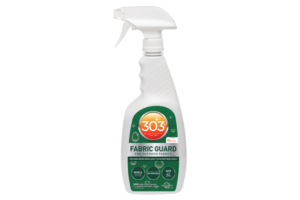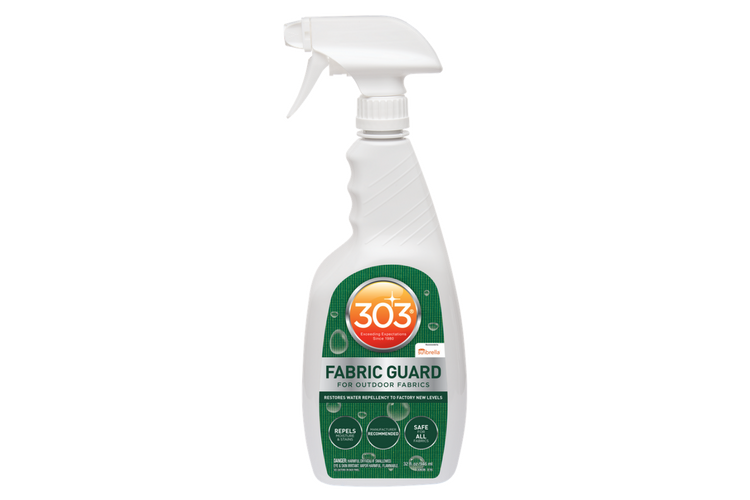 Outdoor fabrics are specially designed materials that are often used on patio furniture, boats, and RVs. Outdoor fabrics help make it comfortable to enjoy the great outdoors.
These outdoor fabrics are treated during the manufacturing process to make the material water repellent. The water repellency makes the fabric more comfortable to use (it's not still wet several days after a summer rain), but also helps to protect the fabric from unsightly water stains, oil stains, and mildew formation.Water repellency also extends the life of fabrics by protecting it from degradation caused by water.
Treating outdoor fabric the easy way
Unfortunately,water repellency doesn't last forever. The water repellent coating on outdoor furniture becomes less effective over time. Outdoor fabrics need regular maintenance to keep them in good condition. Regular cleaning as well as periodic re-treatment is essential.
A quick and easy way to protect your outdoor fabrics and restore its water repellency is to use 303® Fabric Guard™. This simple maintenance can add years to the life of your favorite outdoor fabrics.
How to apply 303® Fabric Guard™
Start by cleaning the fabric thoroughly before applying 303® Fabric Guard™. Make sure the fabric is not soiled, and also does not have any residue from cleaning agents. It is important to allow the fabric to dry completely before using 303® Fabric Guard or the product may not adhere to the fabric.
Apply 303® Fabric Guard™ when the temperature is above 70 F. For best results, retreat your outdoor fabric on a hot day with full sun.
Test the fabric for colorfastness before treating visible areas. Spray an area of the fabric that is not noticeable first, then wipe the fabric with a white cloth to see if any color wipes away. Do not treat the fabric is color comes off during this test.
Spray 303® Fabric Guard™ onto the fabric until it is evenly wet, overlapping the sprayed areas. Allow the fabric to completely dry before use.Be sure to immediately clean any surfaces that were accidentally sprayed.
The fabric needs to be protected from rain or dew until it has completely cured. Curing typically takes from 6-12 hours, depending on the temperature.
When to reapply 30 ® Fabric Guard™
Cleaning your treated outdoor fabrics with plain water once each month will help to keep the fabric clean and will reduce the frequency with which you need to retreat the fabric. Friction will cause the water repellency to diminish faster, which is why it is important to keep fabric clean and free of dirt. Fabric that is used more frequently will also need to be retreated more frequently.
Fabrics that are kept clean and receive low wear will last the longest between treatments. In this case, a treatment with 303® Fabric Guard™ can last as long as three years.
An easy way to test whether your outdoor fabric needs to be retreated is to lightly mist the fabric with clean water every few months. If the water beads up and runs off then the fabric is still protected.
Treat many outdoor fabrics with 303® Fabric Guard™
303® Fabric Guard™ is designed to be safe for use on all natural and synthetic textiles and blends. It should be safe for solution dyed acrylic, polyester, nylon, cotton, wool, silk, and fine leathers like suede.
Do not use 303® Fabric Guard™ on vinyl, clear vinyl, plastics, rubber, fiberglass, or imitation suede. Consider 303® Aerospace Protectant™ instead to protect and beautify these materials.