Top U.S. Cycling Destinations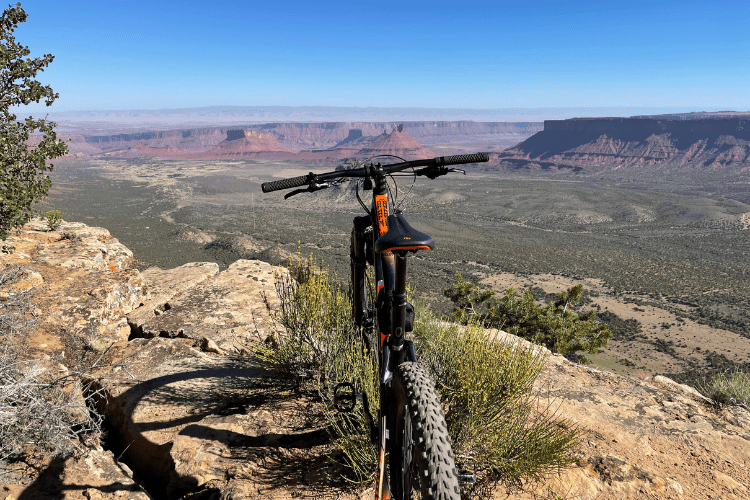 America is a massive country with different styles of terrain that make up for some fantastic cycling destinations. From the awe-inspiring cliffs and ocean side views of the West Coast to the gorgeous foliage on the upper East Coast, there is no shortage of beautiful places to ride.
Chances are you've landed here to spark some ideas to plan your next biking destination. Without further ado, check out some of the best cycling destinations in the U.S. with pros and cons to help you plan your next pedal-pumping adventure.
But before you dive in, know that we outlined the following trail suggestions with a five-star difficulty rating, length, and the time it should take to complete. Keep this in mind before tackling the list, and remember to keep essential bicycle products with you for better performance.
Big Sur – California
Difficulty: ⭐⭐⭐
Length: 7.2 miles
Time: 45 minutes
Trail Stretch: Ragged Point to San Simeon
Biking the Big Sur coastline on Highway 1 in California is popular with beginners and seasoned cyclists alike because of the raw beauty of the trail. Riding between Ragged Point and San Simeon will make you forget that you are exercising while going through the long open stretches of flat land. But gradual inclines peppered throughout the trail will snap you back as you have to work that much harder for brief moments throughout the ride. Ultimately, the energy spent is well worth it, giving you a challenging yet inspiring experience.
Plan your ride with Google Maps.
Natchez Trace Parkway – Mississippi
Difficulty: ⭐⭐
Length: 10 miles
Time: 47 minutes
Trail Stretch: Old Saltillo Road Entrance to Twentymile Bottom Overlook
The Natchez Trace Parkway runs North-South through three states, but we are focusing on a specific stretch of Mississippi that is very pretty. It's also the most accessible option listed, as you can see that it's three miles longer than the Big Sur route but will take you nearly the same amount of time. This is because the Natchez Trace Parkway is mostly flat, and it's easy to get in a groove because the pathway doesn't contain a single stop sign, nor will you be disrupted by motor traffic. Beginners will like easing into the cycling world with this route, but more advanced cyclists will feel unchallenged.
Plan your ride with Google Maps.
Skyline Drive Scenic Highway – Virginia
Difficulty: ⭐⭐⭐⭐⭐
Length: 21.1 miles
Time: 2 hours 56 minutes
Trail Stretch: Shenandoah National Park Entrance to Hogback Overlook
This is the most challenging biking trail on the list and the only one we've rated a full five stars. Skyline Drive Scenic Highway is known for giving even the most advanced cyclists a difficult time with its constant elevation changes. These climbs and descents make up most of the ride, so there are few stretches of flat land. If one thing is for sure, you will not be bored on this trail considering its layout combined with the beauty of the surrounding scenery. As a pro tip, keep your chain clean and lubricated if you want to find success on this behemoth of a trail.
Plan your ride with Google Maps.
U.S. Highway 313 – Utah
Difficulty: ⭐⭐⭐
Length: 14.8 miles
Time: 1 hour 26 minutes
Trail Stretch: Navajo Rocks Main Parking Lot to Dead Horse Point
View this post on Instagram
Located a few miles southwest of the Arches National Park, this stretch of UT-313 is a cyclist's dream. The entire ride is filled with stunning views of Utah's landscape, featuring contrasting colors from the twisting canyons and naturally formed arches. You will invest about an hour and a half to take this route as we've outlined it. But if you want to go off the beaten path, the dedicated Intrepid Mountain Biking Trail is located a mile north of the end destination at Dead Horse Point. As a word to the wise, make sure you have the right bicycle with you if you are interested in testing it out.
Plan your ride with Google Maps.
Cherohala Skyway – Tennessee
Difficulty: ⭐⭐⭐⭐
Length: 15.9 miles
Time: 2 hours 3 minutes
Trail Stretch: Cherohala Visitor's Center to Turkey Creek Overlook
Taking the Cherohala Skyway by bike is a wonderful way to experience the rolling mountaintops of the Volunteer State. This particular stretch is best experienced during the fall as the path is enveloped by trees that change colors, providing a perfect backdrop for a crisp autumn ride. The climbs and descents are gradual on the Cherohala Skyway, so it's an excellent option for beginners and intermediates who want the challenge of a two-hour ride. You will gradually ascend by the time you've gotten to the overlook point so you can enjoy the views without feeling completely wiped out.
Plan your ride with Google Maps.
—
If you are interested to learn about more top trails or you feel like expanding your horizons by taking a multi-day trip, check out REI Co-Op. The group organizes rides throughout the country so you can link up with like-minded people who share the same passion for cycling. Each event is broken out by the number of days and difficulty level and includes pricing for members and non-members alike. Either way, this initial list of five is more than enough to get you started, so the only question is, where are you headed first?