Ski Boat Maintenance
Hitting the lake on long summer days, cutting through the water at high speed, spending quality time with friends and family; for many people, it doesn't get much better than this.
Ski boats are loads of fun. But despite this (or perhaps because of this) they also need regular upkeep. Some things are only needed at the start or end of the season – and others are required more frequently.
It isn't just about having fun and avoiding downtime. If you ever come to sell your boat – you'll thank for previous self for putting in the hard work.
Today we're going to run you through the what, how, where, and why of ski boat maintenance.
Ski Boat Engine and Mechanical Maintenance
It's a no-brainer that your engine needs regular attention if you want to stay out on the water. Ski boats are constantly stopping and starting – and this puts extra strain on your engine.
Like a car, many people don't know (or don't care) about the engine – they're more than happy to let a mechanic take care of it. And that's totally fine – but it's still handy to have an idea of the areas that will need regular attention.
Change the oil and filter every 50 hours or 120 days of use – whichever comes first.
Have your engine alignment checked every 200 hours or 2 years of use – whichever comes first.
Check your fluid levels at the start of every season. This includes oil, power steering, power trim reservoirs, and coolant.
Ensure your cutlass bearings are checked every 300 hours of use.
Have the stuffing box checked at the start of each season, to ensure the seal around the prop shaft is tight.
Use an Ethanol Treatment to clean your fuel system. This can be at each fill-up, or when you're putting your boat into storage.
If you have your own boat trailer – change the brake fluid every 2 years. Typical glycol-based brake fluid absorbs water, so this needs to be changed to avoid corrosion.
Naturally, the engine of your ski boat is a complex machine. Be sure to have regular checkups with a trained mechanic and to keep everything in great shape.
Don't let a small problem now become a big problem next week!
Ski Boat Exterior Maintenance
At the start, middle, and end of the boating season, you should completely wax the exterior of your ski boat. This will prevent color fading, avoid the buildup of water spots, and generally keep everything looking shiny.
Use specialized marine wax, which is easy to use and provides a protective UV layer. Always apply wax out of direct sunlight, and don't use it on areas that may become slippery – such as steps, grips, controls, and non-skid surfaces.
Wash your boat after use, wiping it down thoroughly with a cloth, or using a long-handle, soft-bristle boat brush. This is especially important if you're out on salt water.
Regularly inspect your propeller for dings or cracks. A damaged propeller can cause vibration – as well as damage to your drive train.
Ensure all life jackets are in good condition – and that there is one jacket for every person. Also, make sure the life jackets are the right size!
For further help, the US Coast Guard offers free boat inspections for compliance and safety. They take less than 30 minutes – and will protect you and your family from any potential danger.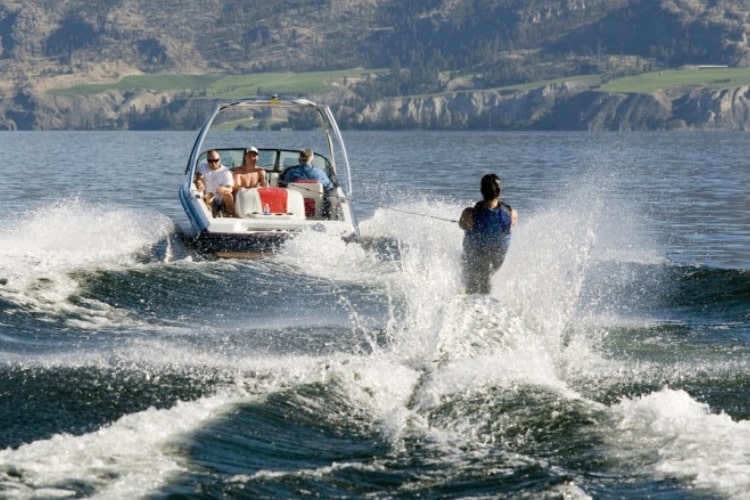 Ski Boat Interior Maintenance
The interior of your ski boat also needs special attention to keep everything looking (and feeling) like new.
Those hours spent out in the glorious sunshine can also fade, crack and tear your upholstery. Luckily, with a bit of attention – it's easy to avoid.
Use a high-quality UV protectant on all leather, plastics, rubber, vinyl, Plexiglas and carbon fiber areas. It's an easy spray on/wipe off application – and will preserve the lifespan of all your interior and seating.
Wipe down the boat completely after each session.
If your boat has carpet, make sure it's completely dry before you cover up. This avoids the buildup of mold and a funky smell!
When the boat is not in use, ensure it's either housed in storage – or completely covered over to prevent sun damage.
If you're looking for more tips on maintaining your upholstery, we're here to help. We've written a detailed vinyl maintenance article so that you'll know exactly what to do – and how to do it.
It's clear that owning a ski boat is a wonderful thing – provided it's maintained correctly and it's safe.
There may seem like a lot to do. But with regular attention, you'll avoid problems down the road – and have more fun on the water!
With our range of marine waxes, cleaners, and engine care products – the inside and outside of your ski boat will look better than ever.