REVVING UP™ – LAYING THE GROUNDWORK
SYNOPSIS:
The journey begins. Brand Managers Bob Galuska of STA-BIL® and 303®'s DJ Goodson spend a full day cleaning and prepping a 2003 Nissan 350Z to set up a smooth re-build.
Dive into Revving Up™ Episode 1 to see how the pair properly cleans the exterior and undercarriage to remove loose dirt and grime before making room for new parts that will be used to modify the coupe.

BACKGROUND
Getting our hands dirty is in our DNA at STA-BIL® and 303®. So is taking on a project car.
In 2018 we purchased a 1958 Chevrolet Apache pickup for STA-BIL's® 60th Anniversary. After touring the country with it for a couple of years, we auctioned it off at Mecum Indianapolis in July of 2020 for $62,000, with all proceeds going directly to Curing Kids Cancer.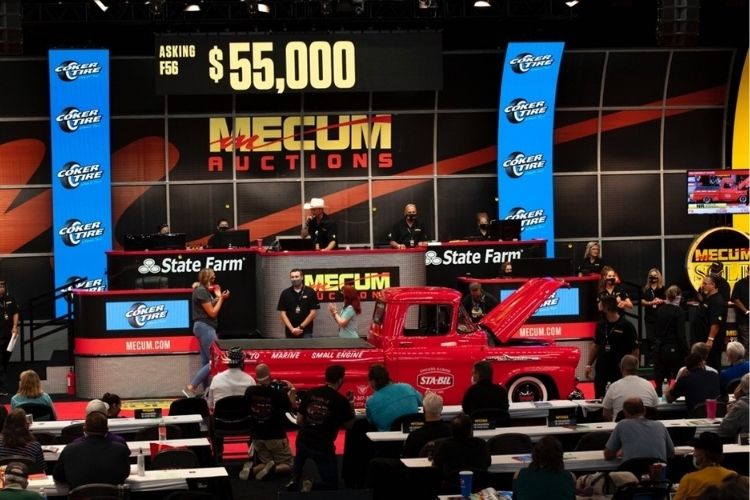 It was a fun journey with a lot of real money going to a great cause, but it left us with a dual-sided problem. We had nothing new to work on, nor did we have anything to take to the parking lot so we could perform burnouts to our heart's content.
That's now changed in 2021.
MEET THE MODEL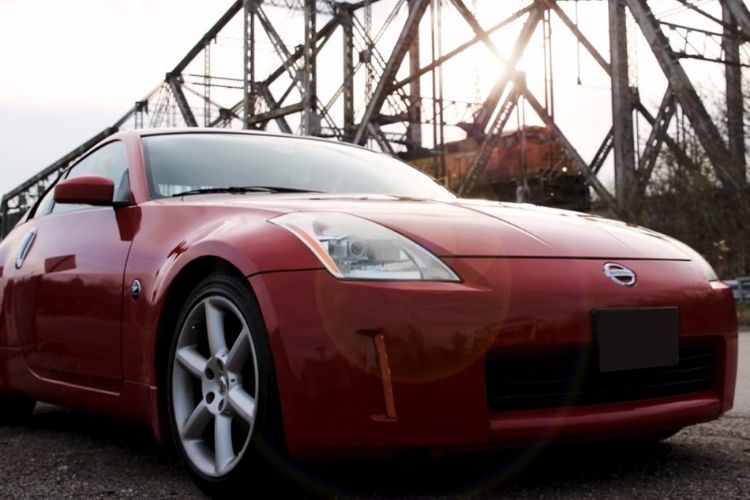 We set out on a mission to modify a 2003 Nissan 350Z with one goal in mind: to show anyone that loves cars they can take on affordable projects at home and turn them into something truly their own.
To demonstrate, we set ourselves a $25,000 budget to turn the 350Z into a fun daily driver/weekend track car. That includes the car purchase, insurance, and all the parts.
With basic tools, a jack, and some jack stands, we're going to show you how to build an enjoyable car in your driveway or garage.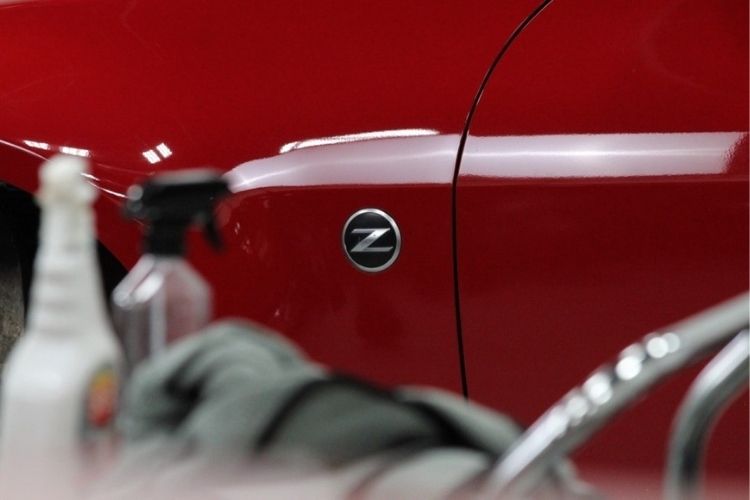 Over SEVEN Episodes, we're going to be tackling:
Bolt-on Engine Modifications
A Fully Adjustable Suspension
New Brakes, Rotors, & Wheels
Chassis Bracing
Front and Side Aero
A New Radio
Minor cosmetic changes
In the end, we're going to be using the 303® Automotive line of premium detailing products to make our 350Z shine at car meets and track days with our partners at #Gridlife.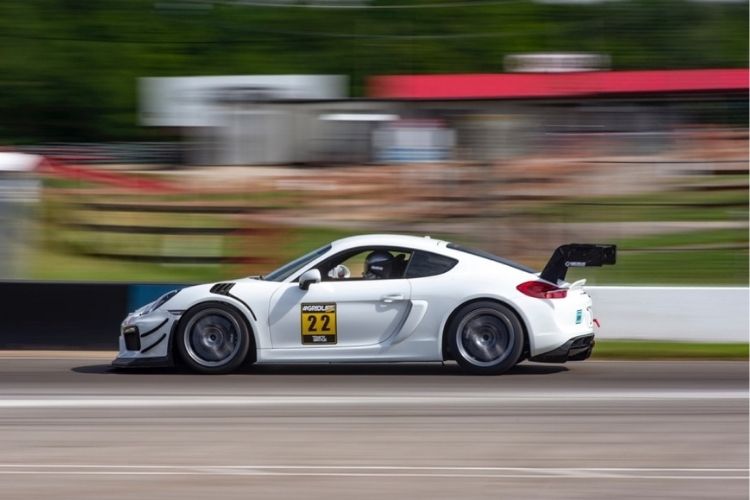 GALUSKA & GOODSON, LICENSED GEARHEADS
So, where do we begin?
Let's start with who's doing the work.  STA-BIL® Brand Manager Bob Galuska and 303® Brand Manager DJ Goodson have plenty of experience taking on car projects and will be our guides throughout this process.
Galuska has been into anything with wheels since a young age. Growing up in rural Pennsylvania, his favorite pastime was wrenching in the garage with his grandfather and friends, an activity that has continued to this very day.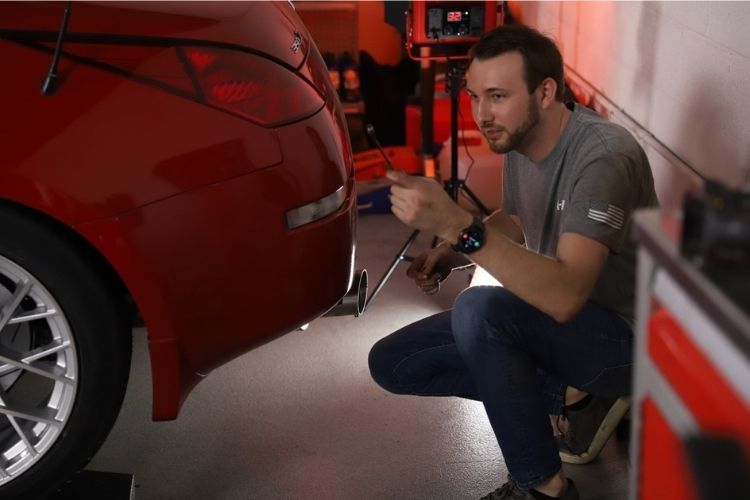 When he was younger, Goodson would help his dad clean his Camaro. Once he was old enough to get his license, he put that experience to good use as he was busy dirtying up the tires of his Jeep Wrangler. It's safe to say that the car enthusiast has always had a soft spot for automobiles, which is why he takes an enormous amount of pride in keeping them maintained.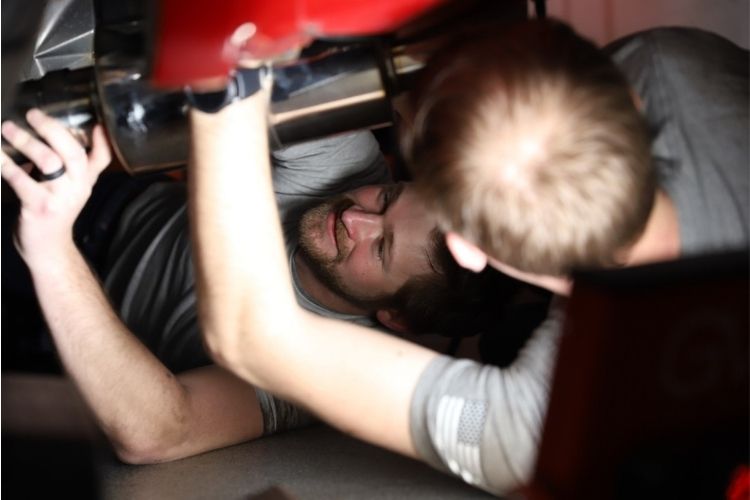 CLEAN CARS MAKE GOOD CANVASES
We ended up finding this 2003 350Z not far from STA-BIL and 303's headquarters in Chicago. The car is untouched and all original with only 60,000 miles on it. The main reason this particular car stood out to us was that it was completely stock. Finding a completely stock car in this condition is no easy feat, so we were ecstatic to get our hands on a popular vehicle that we can modify on the cheap.
We agreed on a price and began the journey by giving the car a quick wash. Since we didn't need to do much with the 350Z after making the purchase, bathing the coupe seemed like a logical first step before diving into the rebuild.
Next, we needed to get the car on jack stands. For instances like this, it's a huge benefit to have a second person alongside you. Another set of eyes and ears helps ensure the vehicle remains level while propped up on the elevated platform. Luckily, it only took a few adjustments to get there.
"When jacking up the car, it's best to have a partner for safety," Galuska suggests. It helps to ensure that "the car is equally balanced on all four corners." Goodson, playing the role of partner, says he is happy to get his hands dirty, adding, "it just makes the whole job easier having two people."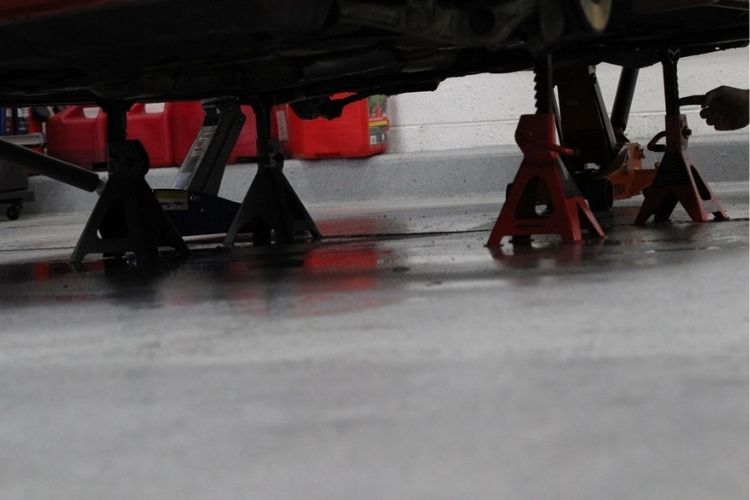 "We took off the wheels this early because One: We're going to be replacing them; Two: we have a lot of parts behind them that we're going to be replacing on the suspension, the brakes, and so on," says Galuska. He adds, "we really wanted to degrease everything under there to make sure everything was clean when we started to take it apart."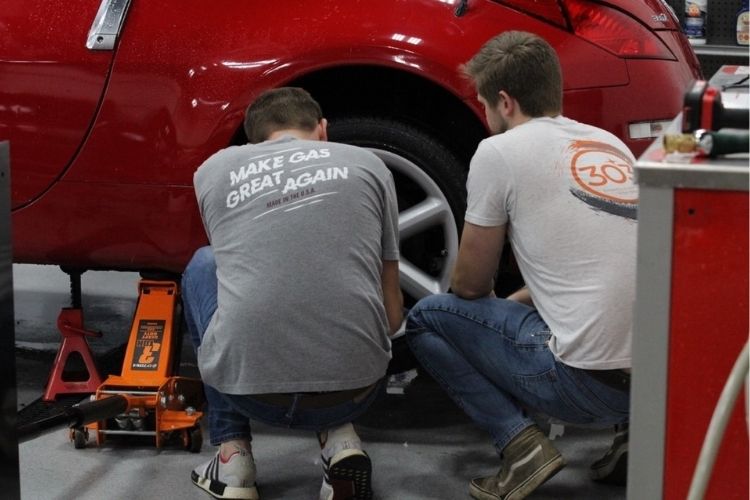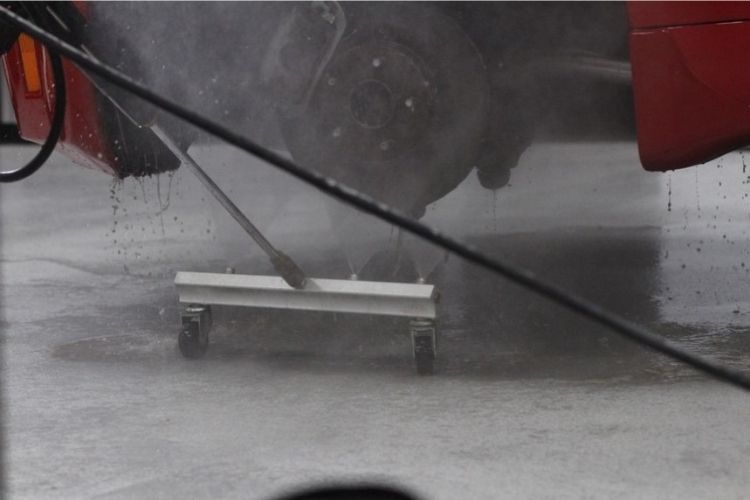 Once the wheels were off, we also used a pressure washer extension piece to make cleaning the undercarriage a lot easier. We're going to spend a lot of time under there, so removing excess dirt, grime, and rust is a great place to start. The extension we used was under $100 and can be found easily on Amazon. "It's definitely a nice to have, but don't need it," Goodson says. "It just makes the whole process cleaner."
PULLING OUT THE PIECES
"We took off the front bumper because we're going to be installing an oil cooler behind it," said Goodson.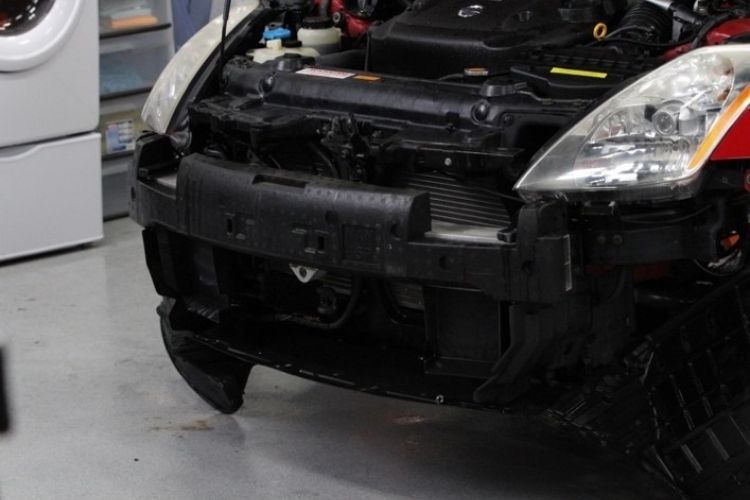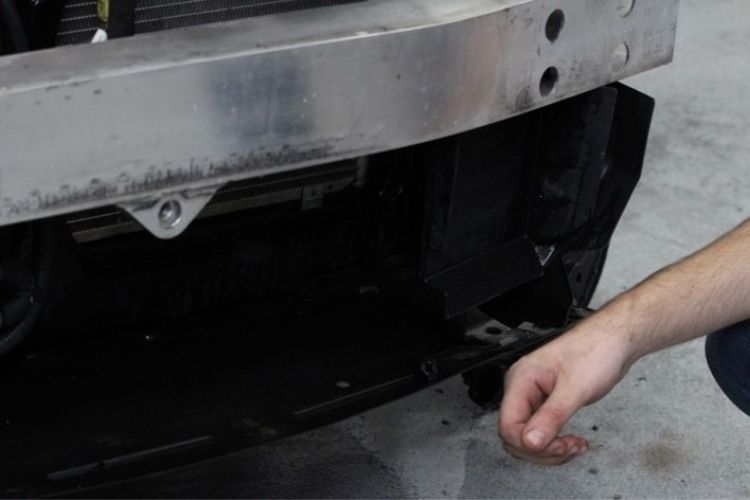 "We're also going to be installing new headlights," Galuska continues. "The ones that were on the car were full of condensation, so it just easier to replace them than fix the old ones."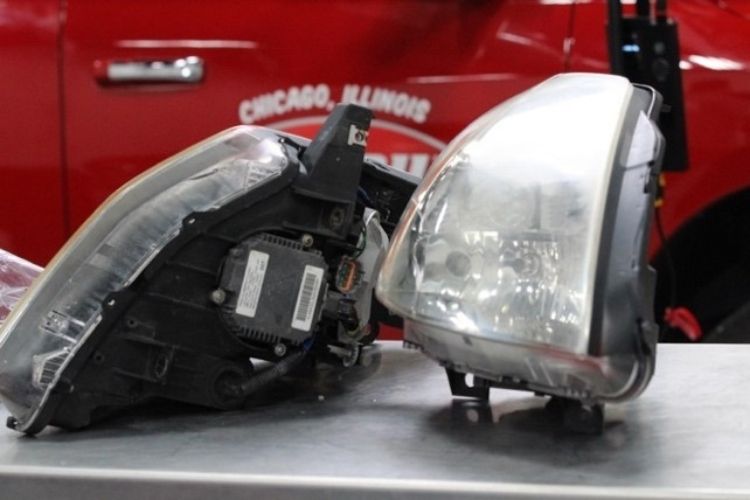 When it comes to deciding whether to get rid of your headlights, Goodson says there is a way to salvage them. "If there starts to be oxidation on the outside, you can always polish and correct those to make them brighter." But he concedes sometimes it's time to bite the bullet and move on, "if you're still having that blurry vision from your headlights, it's time to replace them, and you're going to need to take them out."
PATIENCE IS A VIRTUE
After disassembling the front end, it was time to head under the hood and start the process of removing the air intake. To make that job a little easier, we used 303® Protectant.
"303® Protectant has a lot of interesting side uses," Goodson says. "When we were taking the air intake off, we used it on the rubber hose to help loosen that up and let it swell a little bit and then help lubricate it to get the air intake off and make that job easier."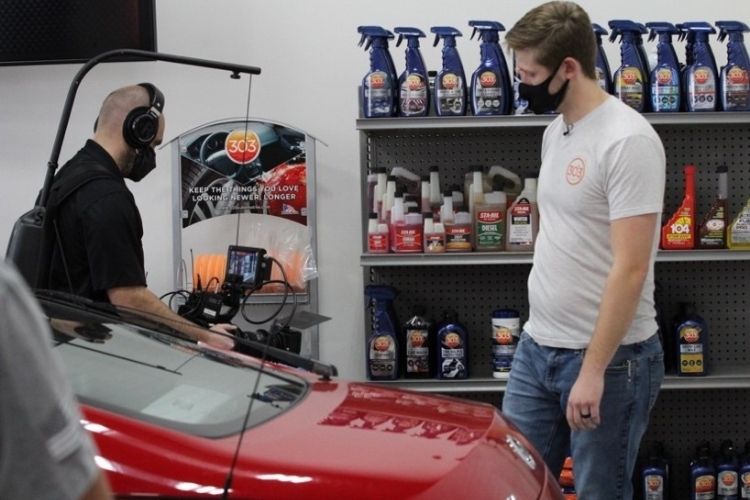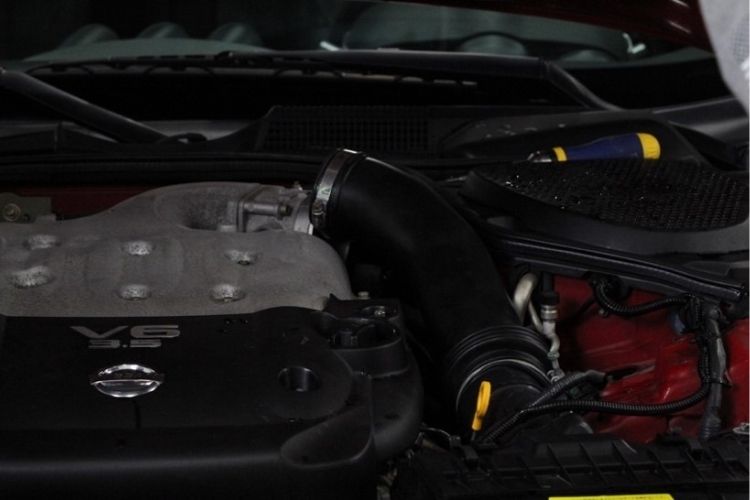 Once the intake was out, we needed to head under the car to remove the old exhaust to make room for our new one. "There's going to be a lot of rust and debris falling from the car when you're under there," Galuska said. He advises using safety glasses whenever heading under the car. "We knew we were going to be using a grinder and a Sawzall, so it was just a safety precaution."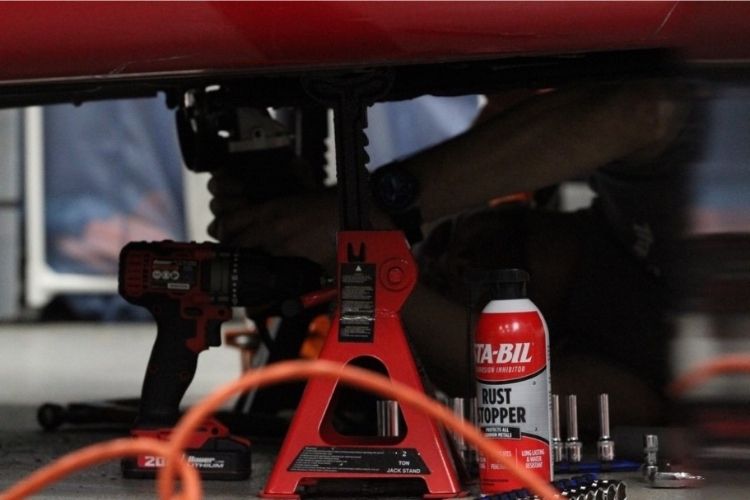 Ideally, we can remove the OEM bolts to get the parts out. STA-BIL® Rust Stopper can help in this type of situation. Galuska says Rust Stopper works well as a penetrant to "loosen things up." He points to two specific areas when dealing with removing an old exhaust. "The rubber on the exhaust hangers gets dry over the years and makes it hard for things to come out of it, so [Rust Stopper] lubes them up a little bit. And then the bolts, it's a good penetrate to loosen them up."
Despite the best plans, sometimes working on a car doesn't go the way you anticipated. According to Galuska, some bolts were so rusted that it was "a time saver to cut the exhaust." Since the tag team didn't plan on reusing anything under that part of the car, it made more sense to ditch it altogether.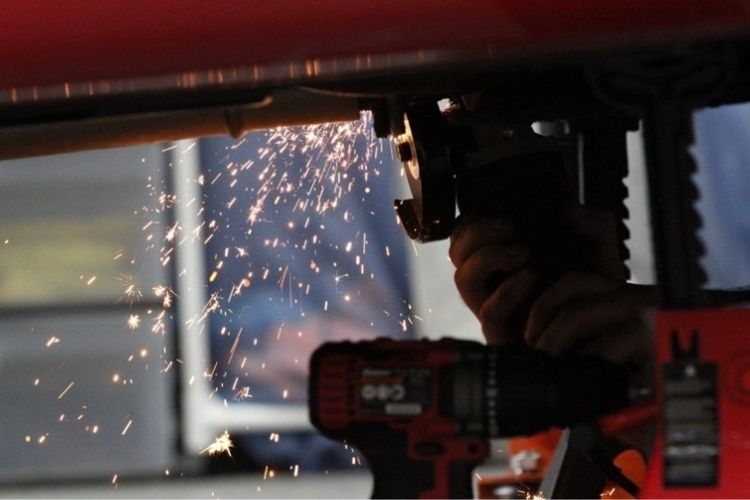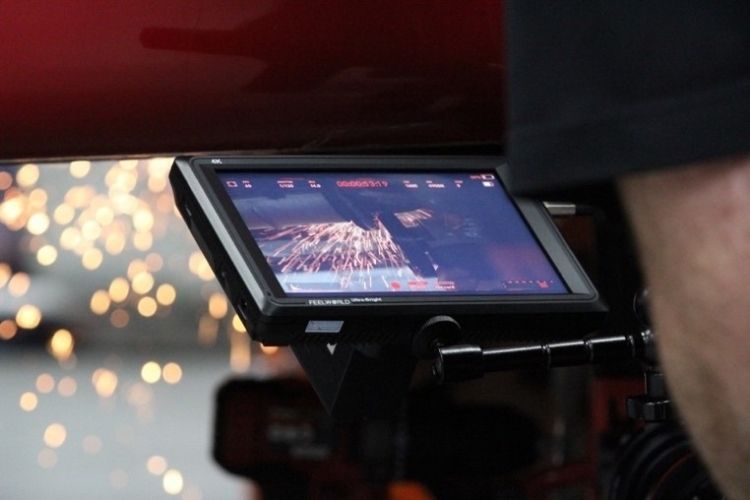 "When you're doing projects on cars, something that always tends to occur is it takes a lot longer than you would typically think it would take," Goodson explains with some levity. "You're going into it thinking it's going to take four hours… It's going to take eight hours. You can kind of bet on that."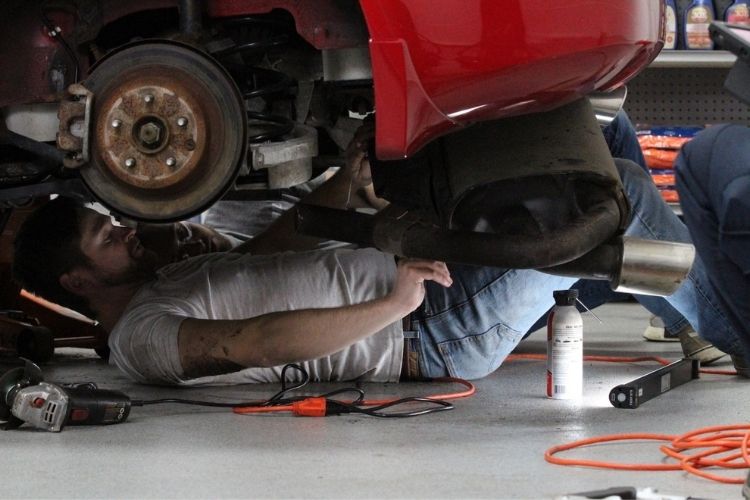 "I expected it to be a little bit of trouble," Galuska adds. "It was just the way it was rusted in there. It ended up being trickier than we imagined."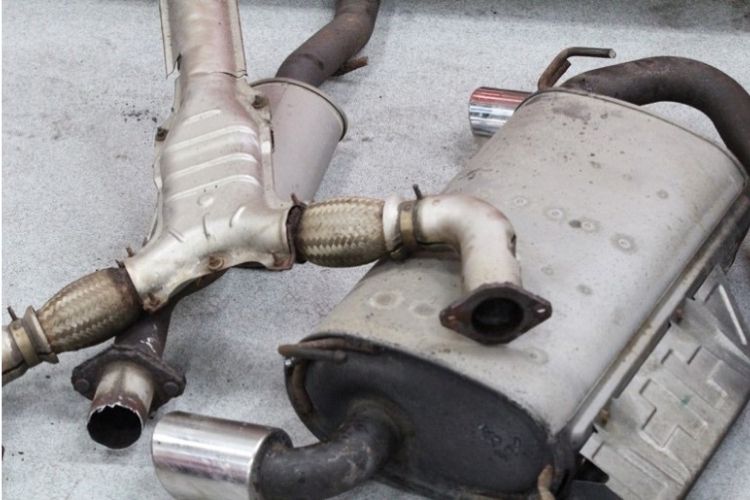 Goodson made sure to reiterate how much more fun these projects can be when you have a partner. "It's great to have someone with you to do the build." He adds, "You can have fun with them, enjoy the suffering underneath the car. Then at the end of the day, look back at the suffering and enjoy it."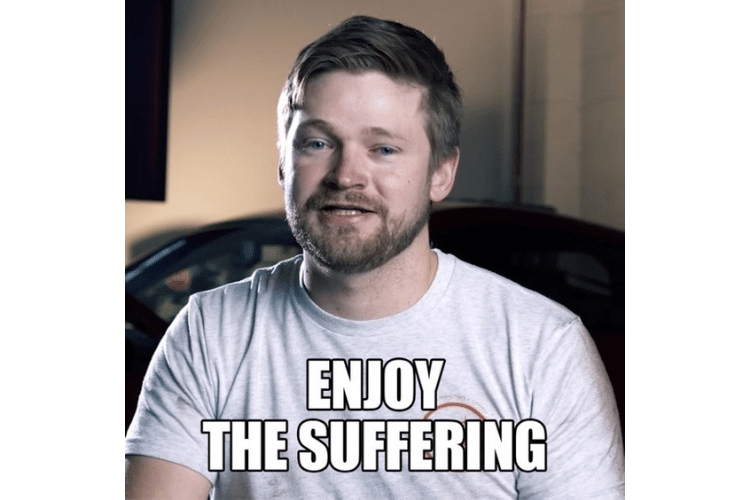 WHAT COMES NEXT
Misery be damned, we removed the tires and wheels, front bumper, air intake, and the old exhaust after one day. All that to make room to start installing some of our new parts. In Episode Two, we're going to add some basic bolt-on engine mods:
Plenum Spacer
Cold Air Intakes
Throttle Body
We're also going to change out a leaky valve cover and perform routine maintenance by putting in new spark plugs and coil packs.
For more on this car build or the latest STA-BIL® and 303® news, make sure to follow both on Instagram (@303CarCare & @stabilbrand) and Facebook. You can also subscribe to their respective YouTube channels.