REVVING UP™ – FINISHING TOUCHES
SYNOPSIS:
If this video series had a designated flagman, he or she would be waving the checkered flag as our Nissan 350Z re-build enters its final lap in Revving Up™ Episode 6.
Check out Galuska and Goodson as they put on a rear spoiler, install a new radio, introduce an oil cooler, and give the car a thorough detail to keep it looking shiny and new.
THE CHECKERED FLAG LAP
It's our sixth and final week in the garage as we put the finishing touches on our red 2003 Nissan 350Z.
If you are new around these parts, our team set out to build a project car on a budget, and we are so close to enjoying the fruits of our labor. It's only a matter of pushing this combo daily driver and weekend track car across the proverbial finish line.
The journey has been filled with unexpected bumps, long days of filming, but most of all, success! It has been more than satisfying to work on the Z piece by piece, week after week, with you by our side.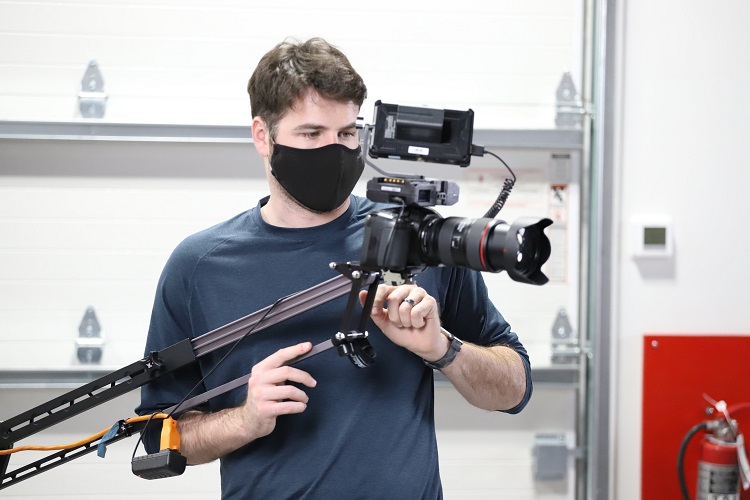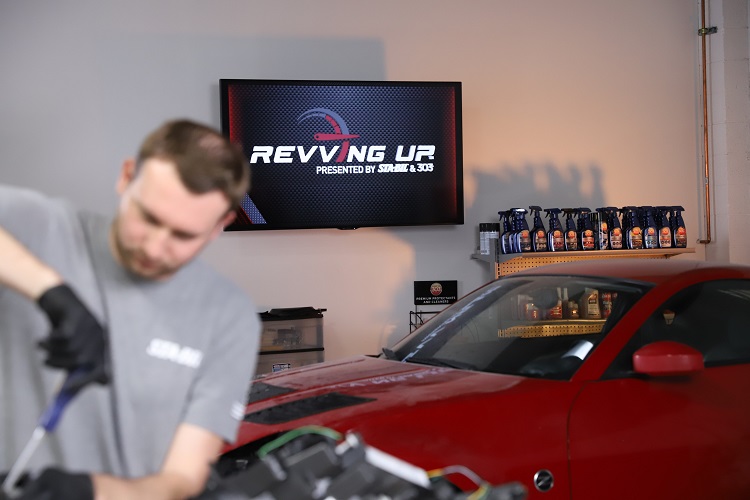 You can learn how we got started on this idea by returning to the first episode of the series. But if you want to save a little time, here's a quick breakdown of what we accomplished to this point:
Prepped the car to set up a smooth build.
Modified the engine with a new cold air intake, larger throttle body, and plenum spacer.
Replaced the suspension with new coilovers, traction bars, camber arms, and front adjustable control arms.
Installed new brakes and slotted rotors, sway bars, chassis bracing, and exhaust.
Made significant cosmetic changes with a new front splitter, side splitter, and hood vents.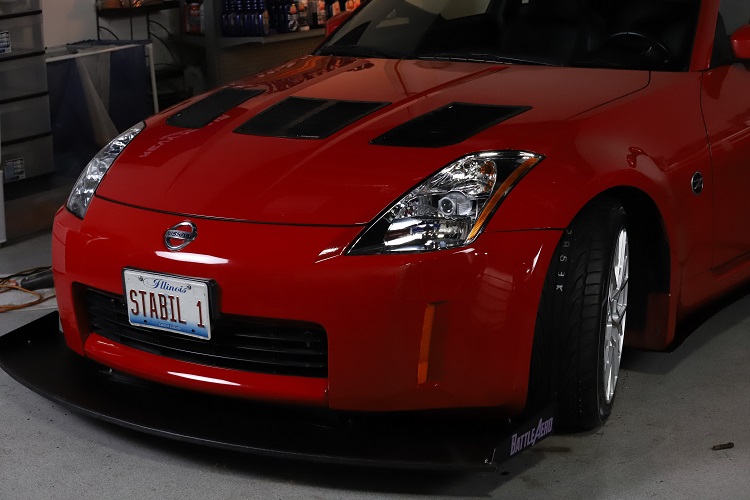 It's our last chance to modify this coupe before we put our work to the test on the race track. Come along for the ride as we detail how to install new headlights, an oil cooler, replace a stereo head unit, introduce a rear spoiler, and conduct a thorough cleaning so onlookers can't help but "ooh and aah" at the sight of the newly built General Z (working title as a nickname).
LET THERE BE LIGHT!
The first item on our to-do list is swapping out the old headlights for some new ones. If you look at the photograph below, you will notice a significant difference between the two.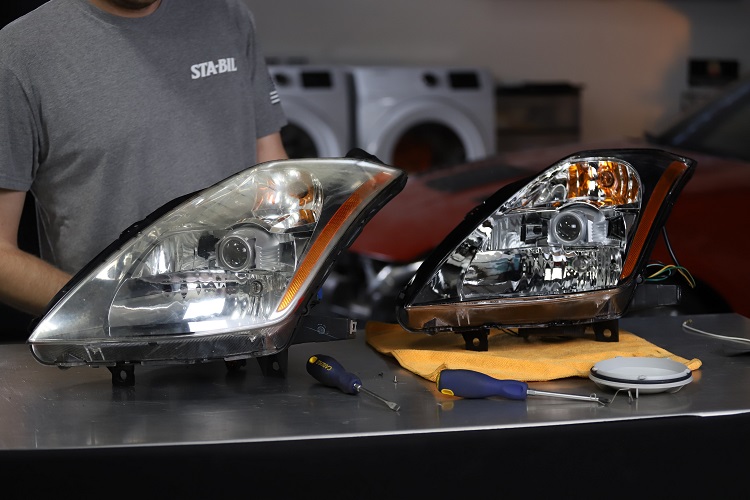 The original headlights posed a problem that is best explained by 303 Brand Manager DJ Goodson:
We mentioned that we'd have to replace the headlights. That's because there was too much oxidation on the outside of the old ones. The new ones are the same exact model as the old ones; these are just fresh out of the box and are super clear. We threw them in real quick before we re-attached the front bumper."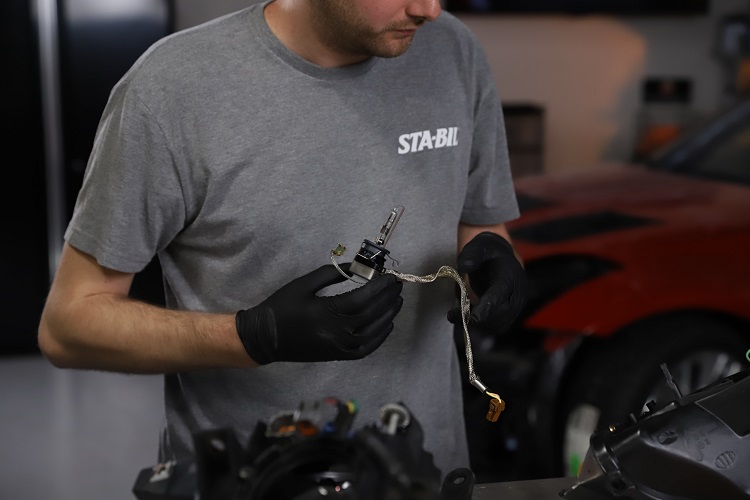 You might have noticed that STA-BIL Brand Manager Bob Galuska (pictured above) is wearing gloves when handling the headlights. There's a very important reason for that.
Natural oils from your skin can act as a heat conductor on the surface of an HID bulb. Once you turn it on, heat will naturally rush to the portion of the bulb that has been touched (oil residue). This results in improper distribution of heat, and the bulb will most likely fail.
To put it plainly, use gloves if you want to play it safe when working on your headlights. Otherwise, you run the risk of blowing them out and ain't nobody got time for that.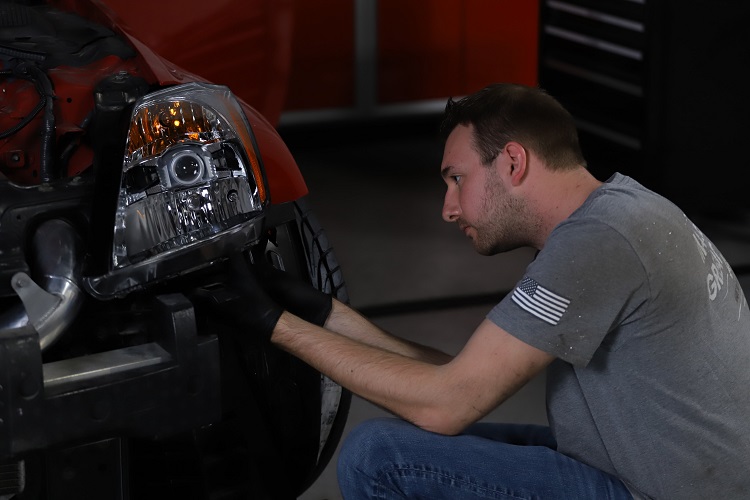 "We re-used the HID ballast and bulbs from the old headlights and put them in the new ones because they were still functional," Galuska explains. "It saved us money and only cost us the time it took to put them into the new headlights."
After properly installing the new headlights, our pathway to completing this build began to illuminate. It's a feeling that is difficult to put in words, but if you know, you know.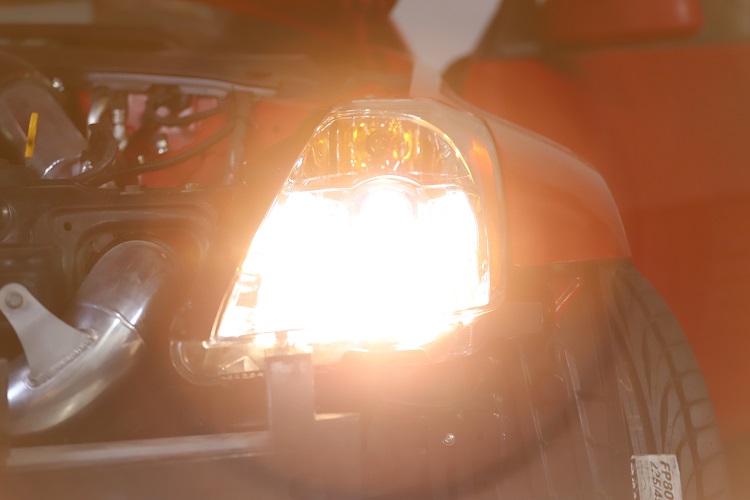 COOLER HEADS (AND OIL) PREVAIL
Headlights don't have a monopoly in the world of hot temperatures. Engines can easily overheat for reasons such as having too little coolant or not having an oil cooler. We elected to drain the old oil and install a brand-new oil cooler so we can push the limits of General Z (again, we're still debating the nickname) without running the risk of overheating.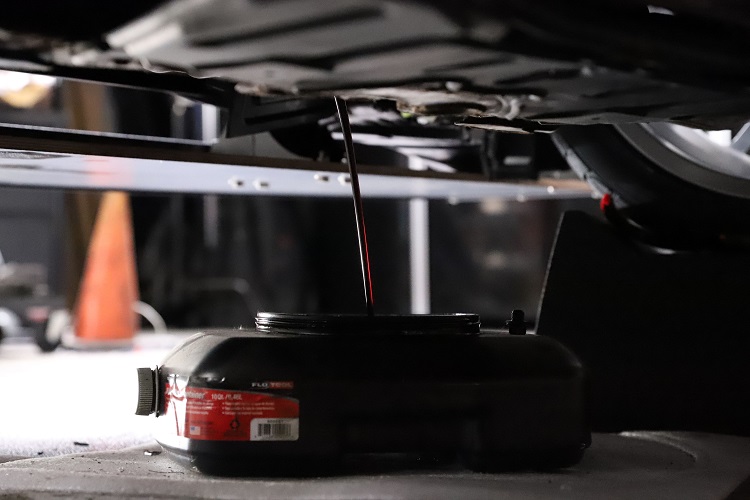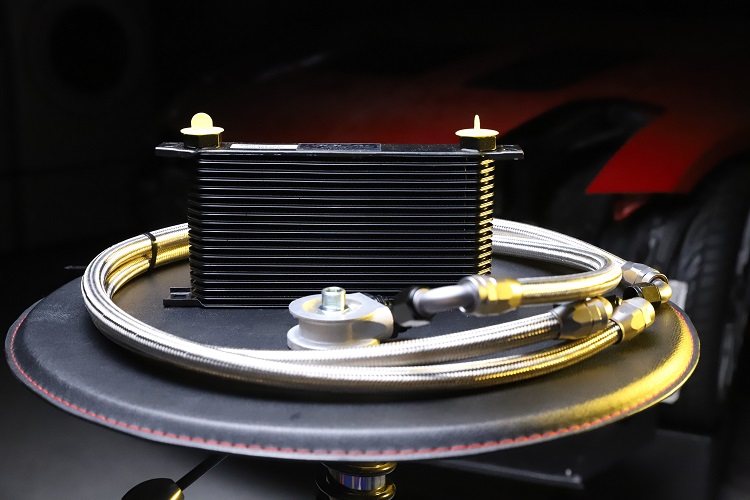 "Installing an oil cooler is a safety measure so that we have less of a chance of our temps getting hot while doing some spirited driving," Galuska says.
If you are considering the idea of using an oil cooler on your ride, all you need is an adjustable wrench. Take a look at the following photo to see where we introduced our new oil cooler on the 350Z before putting the front bumper back in place.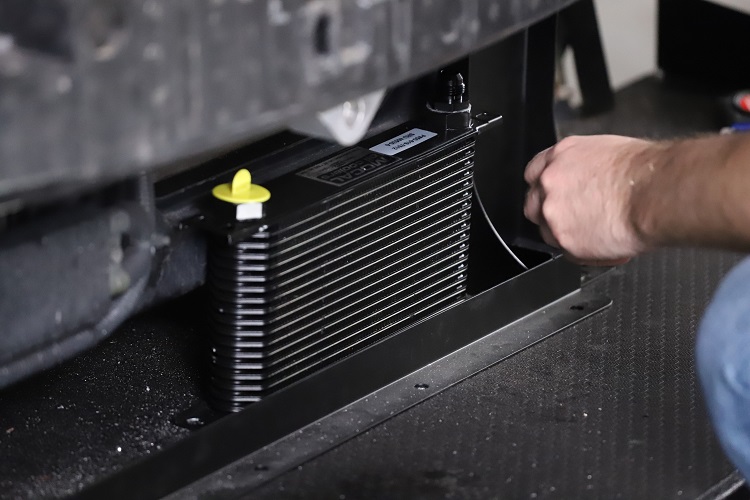 The oil cooler kit we are using is designed specifically for this model. For this reason, the hoses in the undercarriage are already cut to fit the dimensions and length needed. We needed to fasten them to our new oil cooler and keep them in place with zip ties for good measure.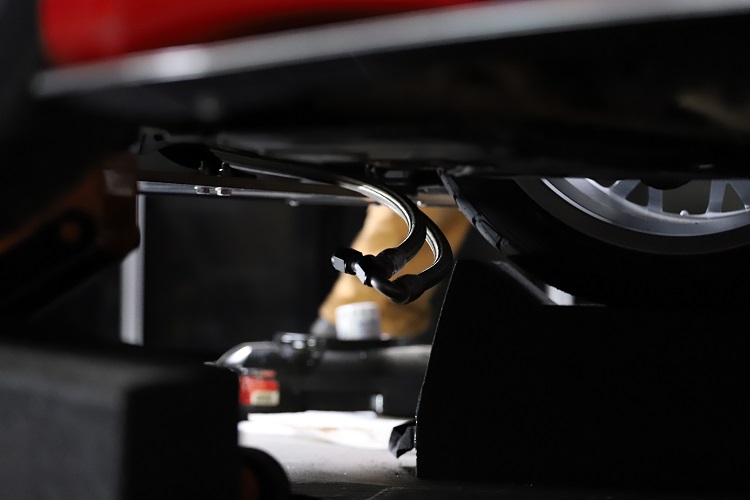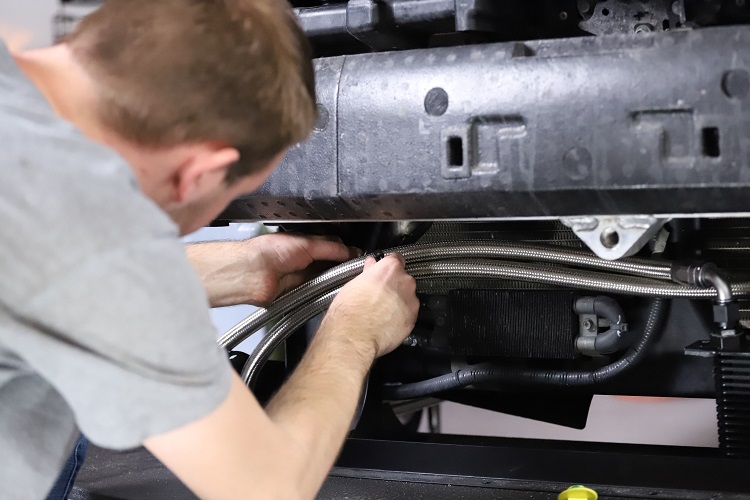 Once we finished securing the hoses to the oil cooler, we were free to put the front bumper back in its proper location.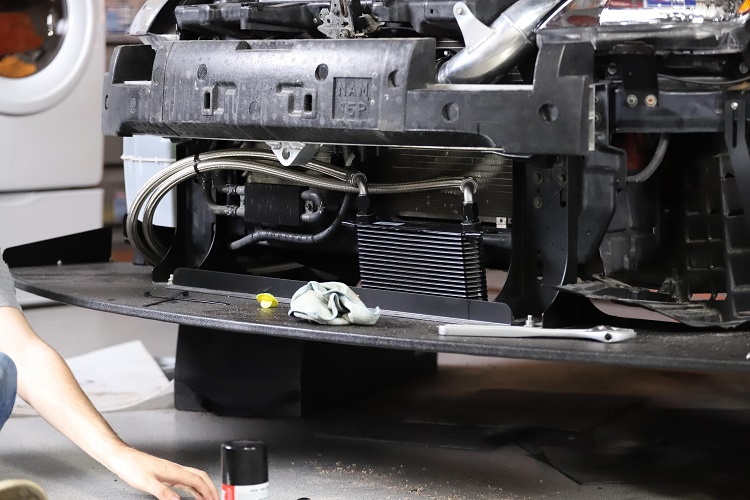 DOWN TO THE LAST DETAIL
We've spent so much time on this build, so it's important to us that the car looks like it's dressed to kill by the time we're done. The only products we trust to get us there is 303's lineup of cleaners and protectants, especially the recently released Graphene Nano Spray Coating pictured below.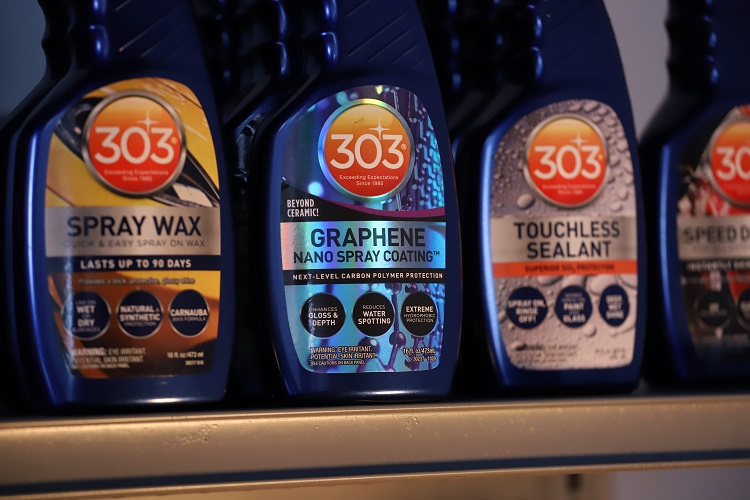 "It's a durable graphene oxide coating that lasts up to a year," says Goodson. "It reduces water spots and has some crazy hydrophobic properties to shed water super fast off of paint, glass, wheels, or trim."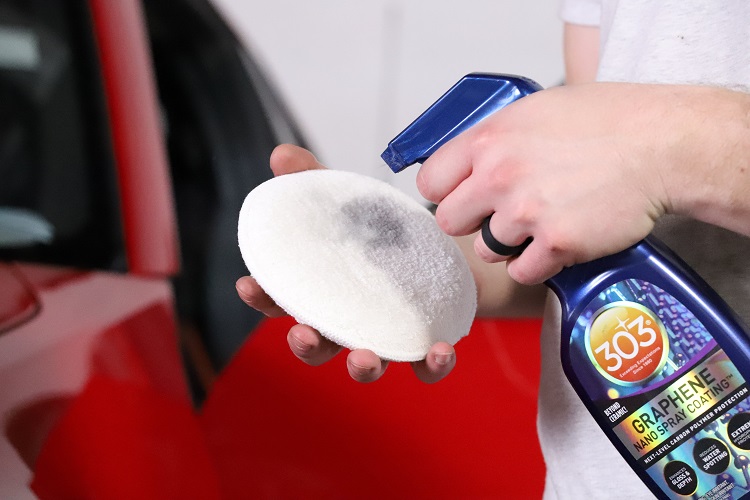 BUT… Before we applied 303 Graphene Nano Spray Coating to protect the exterior of the 350Z, we spruced up the car using the following easy three-step process.
Step 1: Quick once-over using a waterless wash.
Step 2: Decontaminate the paint using 303 Speed Detailer and 303 Clay Mitt.
Step 3: Correct the paint by using 303 Polish to knock out scratches and swirl marks.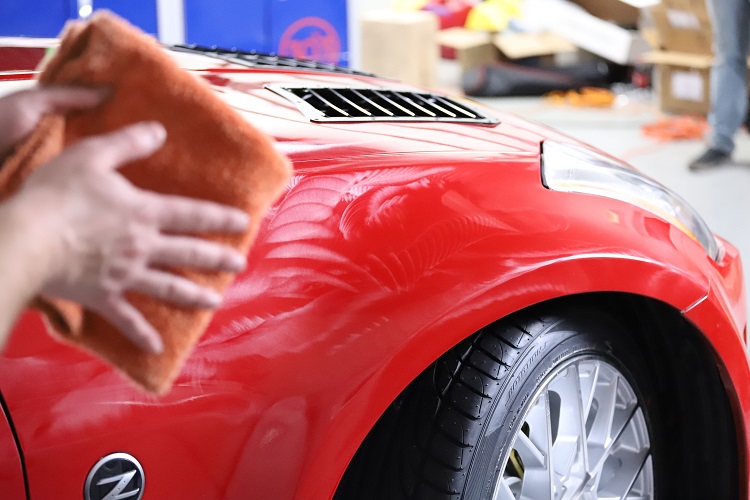 There is no way that we would ever allow General Z (has it caught on yet?) to have any chinks in its armor. Therefore, we used a few other detailing products in addition to the Graphene Nano Spray Coating.
"We added 303 Protectant to the tires to add some UV protection," Goodson explains. "We also gave a quick once over to the dash and seats using 303 Interior Cleaner, 303 Leather Cleaner, and 303 Leather Conditioner."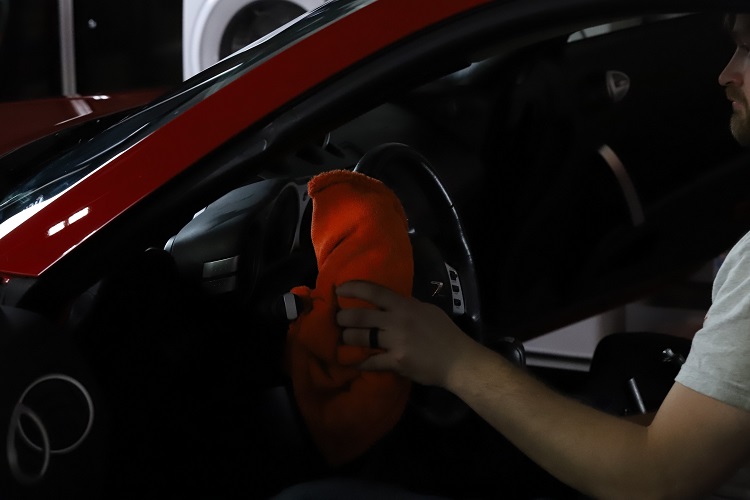 MODERNIZING THE MEDIA DECK
A daily driver car is no fun without a stereo deck equipped with all the bells and whistles. In our case, we decided to improve upon the original stereo from 2003 by saying "YES" to a modern one from JVC with Bluetooth connectivity.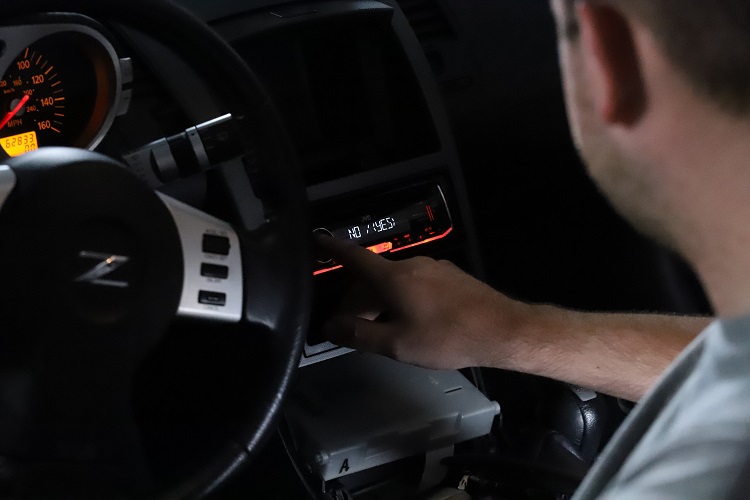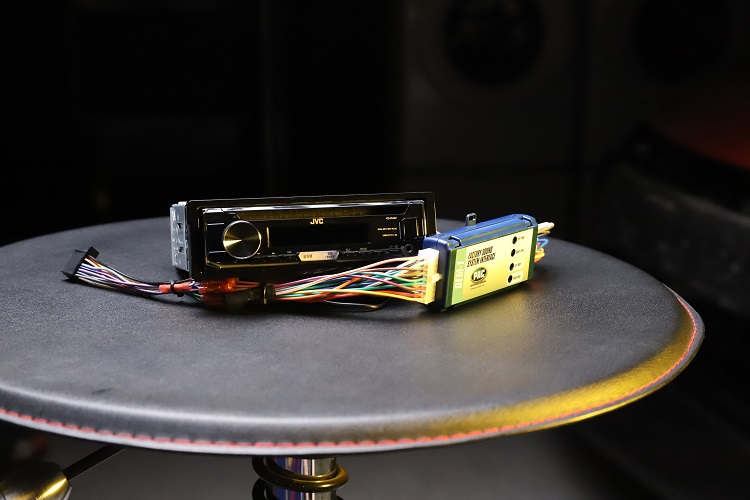 Before installing the new unit, Galuska disconnected the car battery as a simple best practice that everyone should follow.
There isn't much risk involved when putting in a new head unit, like in our case. But the last thing we want to do is damage any component of the vehicle after putting so much effort into it.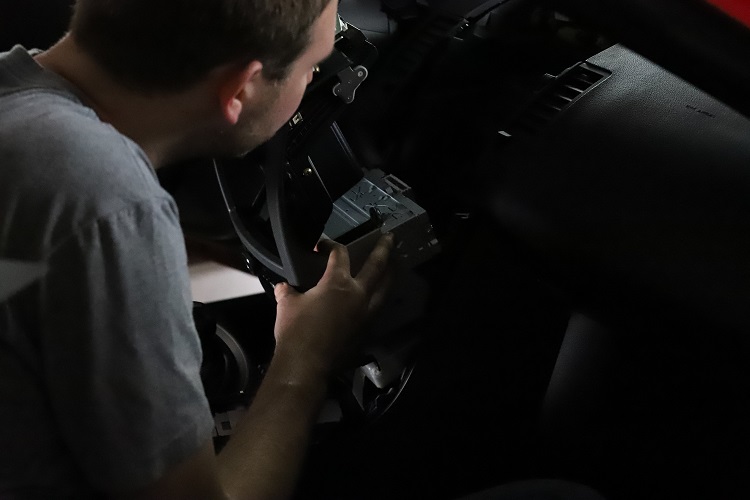 Once we got it installed, we turned the volume up because only one item remained on our build list.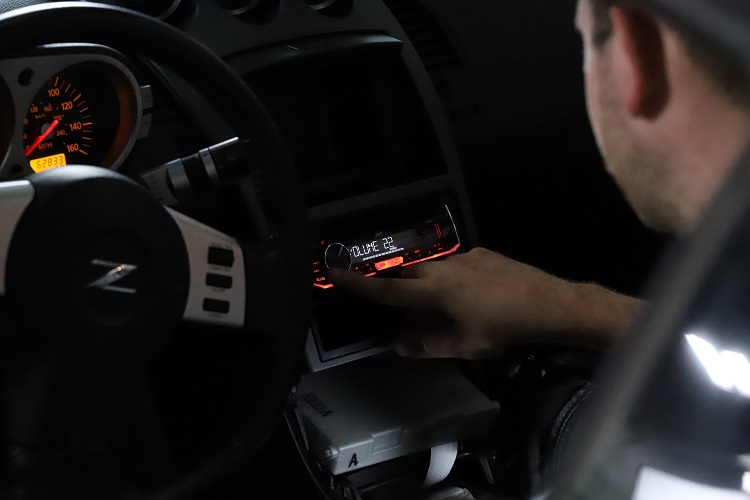 SPOILER ALERT
Our final task on the last day we spent in the garage came in the form of installing a spoiler. Suffice to say it's not much of a spoiler alert because it's the concluding act of our Revving Up build. But the copywriter we pay can't help but call attention to double entendres, so we hope you enjoy the play on words anyway.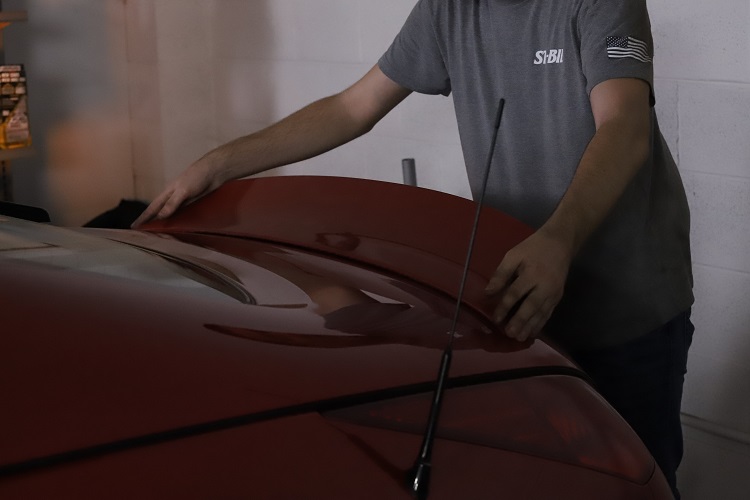 "While most of the other modifications on the car were for performance purposes, we decided to go with a simple spoiler for the rear of the car that is just there as a cosmetic modification," says Galuska.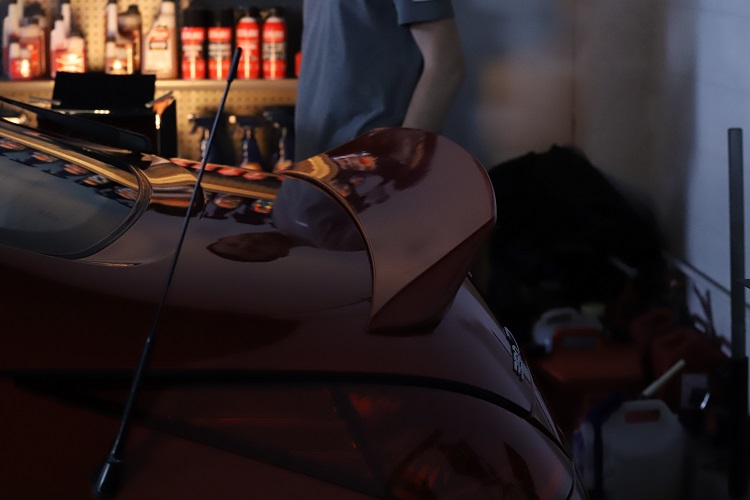 And just like that, we closed the book on General Z's (it's official that this is the nickname, right?) comprehensive yet attainable build. We hope you use this video series to inspire a similar project because it instills a sense of pride you must experience for yourself.
WHAT COMES NEXT
Now that the build is complete, nothing but big plans await the 2003 Nissan 350Z. That's why we lowered it down from the race ramps we used to prop it up and began dreaming of what comes next.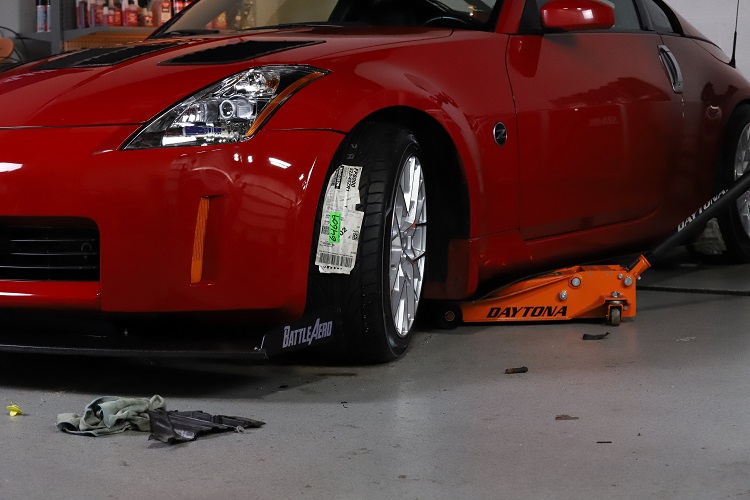 "It's awesome to finally see the car back down on the ground and all our new parts installed," Galuska said. "We can't wait to take it for its first ride!"
That's precisely what is going to happen next week in Revving Up Episode 7. Be sure to join us as we put the pedal to the metal and test the limits of what this baby can do. Hopefully, it performs well otherwise, our faces will be red with embarrassment to match the paint job.
See you next week at the race track!
For more on this car build or the latest STA-BIL® and 303® news, make sure to follow both on Instagram (@303CarCare & @stabilbrand) and Facebook. You can also subscribe to their respective YouTube channels.