How To Clean Your Patio Furniture
Your outdoor furniture is just as important to your home as your living room furniture. You've picked the color, material, and design to perfectly compliment your personal style as well as the aesthetics of your backyard and/or deck. Having made such an investment, why not ensure that your outdoor furniture will stay looking new for as long as possible? Stay ahead of the game by ensuring that you are giving the best care possible to your outdoor furniture and fabrics. Protecting ahead of time will be much easier in the long-run for both you and your wallet. Using 303® Products will provide you with everything you need for the ultimate protection. Here are our guidance tips to get you started on helping your materials last:
Step 1: Clean Your Fabric
First, clean your fabric using the manufacturer's recommended cleaning routine (usually listed on the tag attached to the fabric on your furniture). Sometimes, you will be able to use your washing machine to clean removable fabrics. Other styles you may need to scrub by hand with soap before rinsing.
To keep everything extra clean, there are also a growing number of patio covers available. You can use these to protect your furniture and fabrics from exposure to sun and rain. However, keep in mind that these too may need some care. 303 can help you there, as well.
Step 2: Remove Tough Stains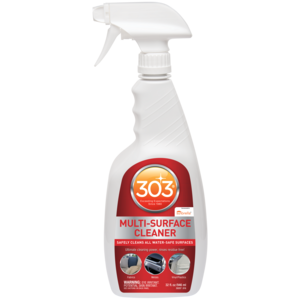 After you have cleaned your fabric, you may still have stubborn stains that are difficult to remove. Some of the most difficult stains are caused by residue that drops from trees, mildew, and rust. Each type of stain should be treated differently. Tree sap usually does not require a special solvent and can usually be removed with cleaner or other clear oils. Mildew can be more difficult to remove – the most common process is simple elbow grease. Rust is another fabric and metal-damaging culprit. It can create permanent marks on soft fabrics and deteriorate metal. If you cannot take the rust off of your furniture using traditional cleaning methods check online to see what your fabric can sustain before using vinegar to scrub the stain away. Here, we would highly recommend using 303 Multi-Surface Cleaner because it will safely remove all of these stains without harming your fabric and rinses residue-free.
Another great thing about 303® Multi-Surface Cleaner is that it sets you up for taking your fabric protection to the next level: its cleaning ability will allow 303 Fabric Guard to fully bond to the fabric surfaces. 303® Fabric Guard will help you combat dirt, mold, and mildew by restoring your fabrics' lost stain and water repellency while still keeping those fabrics breathable.
Step 3: Protect Your Furniture
Finally, it's time to protect your outdoor furniture against future stains. If you have any all-weather wicker, powder coated frames, sling back chairs, recycled plastics, resin, or wrought iron surfaces on your patio furniture – you can use 303® Aerospace Protectant to protect them. Using 303 Aerospace Protectant will help prevent any fading, cracking, embrittlement, and chalking.
Don't settle for dirty, dingy patio furniture – protect it and keep it looking like new for years to come with 303 products!