Get Your Ride Looking Good for Spring
The chill of winter is finally fading, which means warm weather and sunny days aren't far behind. It's spring cleaning time, and not just for your home. The snow, cold, and road salt of winter can take a toll on your car and now is a great opportunity to give it a full refresh to get it looking great for spring. With the 303® automotive product line from Gold Eagle, and a little bit of elbow grease, you'll have everything you need to breathe new life into your car, inside and out. Whether you're heading off on a spring break road trip or you just want to keep your ride looking stylish for your day-to-day commute, just follow these simple tips to get started.
Don't Forget Down Under
Before you get too caught up in making your finish sparkle and your interior as fresh as new, don't forget to spend a bit of time on the more practical things. Being exposed to harsh winter ice, slush, and road salt means your car's undercarriage has to take a lot of abuse. Road salt, in particular, can be extremely corrosive to any exposed metal surfaces so it's important to keep your car's undercarriage as clean and free of buildup as possible.
The best tool for this job is a pressure washer, though a garden hose or even a sprinkler will work if it can generate enough water pressure to blast away the salt and grime. For best results, use a lift or a car jack and jack stands to raise your car and provide easier access to its underbody. Spray the entire underside thoroughly, paying particular attention to the insides of the wheel wells and other hard to reach areas. While some stubborn spots may require the use of a cleaner and a stiff brush, a pressure washer should handle most of the work.
Wash Away Winter
Maintaining a clean, healthy finish is what allows your car to really shine and look its best. Unfortunately, the winter elements often conspire to damage your finish and leave your car looking worse for wear. The single most important step in making sure this doesn't happen is to give your car a thorough cleaning to wash away the accumulation of dirt and road grime. Allowing that grime to linger on your car's surface will only give it more time to do its nefarious work, so starting with a good wash as quickly as possible is key.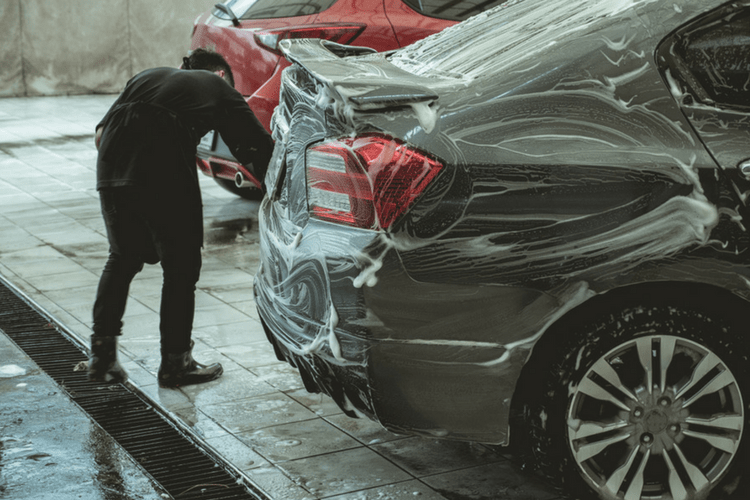 Begin by using a hose or pressure washer to rinse away any surface particles of dirt and grime. Use a high-quality car wash soap and microfiber cloth to clean each exterior surface thoroughly, beginning with your car's roof and working downward. Rinse off and allow your car to dry completely before moving on to the next step. After your initial wash and dry, you can use 303® Automotive Speed Detailer for a quick, effective cleaning and shine any time you need it. The Speed Detailer provides a simple spray-on cleaner that also adds shine and UV protection to keep your paint in pristine condition.
Finish With a Wax
Once you have your car's exterior cleaned up, it's time to make that finish sparkle like new. To do that, you'll need to apply a fresh coat of wax. Everyone knows that wax will give your finish that extra shine, but it's much more than that. A high-quality carnauba wax also provides superior protection against dirt, grime, tree sap, bird droppings, and other irritants to keep your paint and clear coat safe and looking great. Waxes even protect against fading caused by ultraviolet rays. You simply can't maintain an eye-catching finish without a high-quality wax coat.
303® Automotive Quick Wax is ideal for this job.  303® Quick Wax is made from the same carnauba wax as traditional paste waxes, but it can be applied in just minutes. As an added bonus, it'll also help clean off any dirt and grime that's built up since your last wash. Just spray it on, let it dry into a film and then buff it out with a microfiber cloth.
Clean That Cruddy Interior
Of course, the inside of your car is every bit as important as the outside. From slushy mud to corrosive road salt, winter can quickly turn even the most pristine interior into a nasty mess. To tackle your interior, start with the basics. Thoroughly vacuum your floor mats, floors, seats, and any other exposed surfaces. Use a crevice tool to get into small areas that are otherwise difficult to access.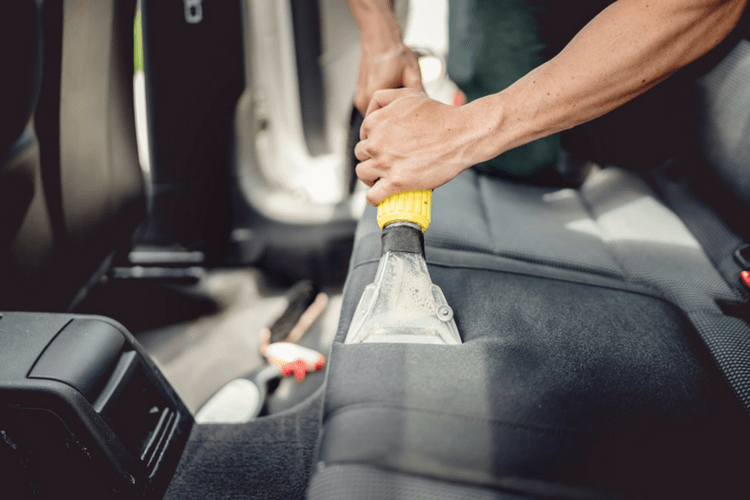 Next, use 303® Multi-Surface Cleaner to clean your upholstery, dashboard. Once everything is clean and dry, follow it up with a coat of 303® Automotive Protectant. This provides an important layer of protection for any rubber, vinyl or plastic surface inside your car and locks out dirt and dust. The UV protection will prevent UV fading and cracking. While you're at it, you can even use it to breathe new life into your windshield wipers.
Condition Your Seals
Like many of your car's components, you probably don't pay much attention to the rubber seals and weather stripping around your doors, windows, hood, and trunk until something goes wrong. Maybe the road noise while you're driving gradually becomes louder, or you notice sudden leaks where seals have started to deteriorate. The culprit is likely hardening, drying, or cracking brought about by harsh winter conditions. Extreme temperatures can suck the life out of rubber seals, leaving them unable to do the jobs for which they're intended.
Fortunately, maintaining and reviving these seals is a quick and easy task if you use 303® Products. The 303® automotive line of products will have your car ready for spring in no time!