How to Clean Windows: Professional Cleaning Tips
Cleaning windows may be one of the things you dread most, but the results can instantly make your home brighter and more inviting. You may hesitate to begin the job because you are not sure how to clean windows so that they look professionally done. Perhaps in the past, you ended up with filmy or streaked window panes. Maybe you even scratched these delicate surfaces. Fortunately, you can get the results you want by following some simple expert tips.
Best Way to Wash Windows: Cleaning Fluids
You need to be careful when choosing solutions to clean your windows. You may be tempted to grab an "all-purpose" cleaner, but be warned. Some contain strong chemicals that can harm your glass surfaces. Any fluid with "scrubbing particles" will be too harsh for your windows and possibly leave streaks behind.
Professionals know which cleaning fluids easily and safely remove film from windows. They often choose manufactured window cleaners, such as TriNova Glass Cleaner, a proven product from Gold Eagle. You can emulate the professionals by purchasing your own bottle of TriNova's hard-working solution.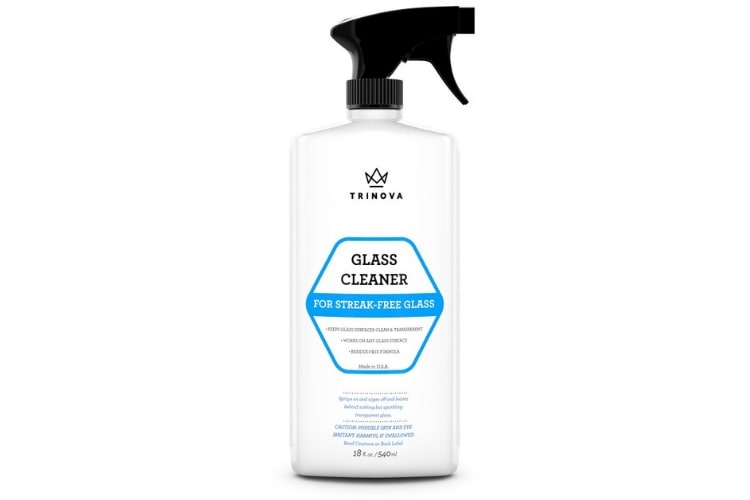 You may choose the DIY route and make a 100% natural window cleaner by mixing one part white vinegar with one part tap water. This solution will effectively cut through grease without leaving streaks behind or harming your glass surfaces in any way. It is also safe for children and pets.
Dishwashing liquid also works wonders on your windows and other glass surfaces. It leaves your window panes slick so that your squeegee slides easily to remove every trace of the solution. Experts recommend using a 100% biodegradable product so that it doesn't harm your outdoor plants. It's also safer if you have curious toddlers who like to put their mouths on the inside of your windows.
Best Way to Wash Windows: Cleaning Cloths
Using the right cloth helps you avoid streaks on your windows. Paper towels will dry your glass, but they often fall apart, leaving bits and pieces of paper behind. Any type of rough fabric can cause scratches.
A microfiber cloth is one of the best choices you can make to keep your windows streak-free and unscathed. They are made of polyester and polyamides that clean without scratching or leaving behind lint. They also absorb all the moisture so that no streaks appear.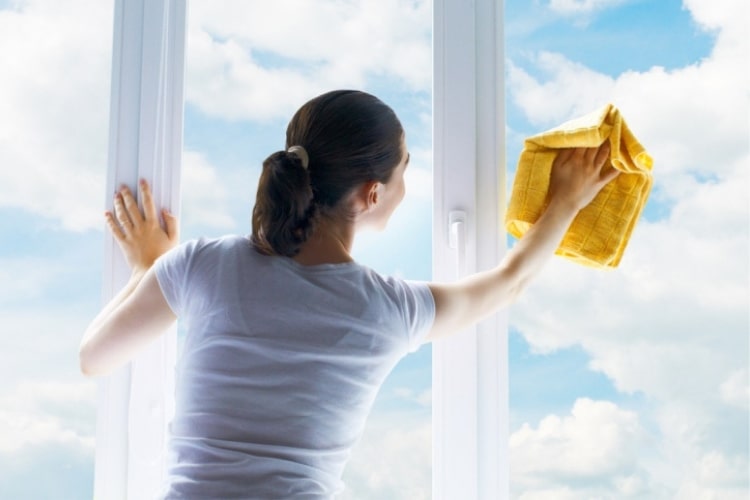 Using a terry cloth rag to clean your windows is another effective method. It too is soft and absorbent and minimizes streaks.
Best Way to Wash…Glass Cooktops?
While you are tending to your windows, you may want to clean your glass cooktop as well. This surface can easily become covered with hard-to-remove grease and food particles. You can use the same glass cleaners as you use on your windows, but you will get better results with a specialized cleaner such as TriNova Cooktop Cleaner that comes separately or in a special Kitchen/Bath Cleaning Pack.
When you are looking for the best way to wash windows, consider tackling the job yourself with professional quality window-cleaning products, including cleaner, cloths, and squeegees. You may also choose to mix your own window cleaning solution from white vinegar.
As with most jobs, having the right tools at hand is essential to getting the job done right. When you are properly prepared, you do not have to dread window cleaning. And once you are finished, the results will be well worth your effort.