How to Clean & Protect Marine Canvas and Bimini Tops
Marine canvas is a part of the boating experience for many enthusiasts. It appears in many forms, including:
Bimini tops
Boat covers
Steering station covers
Cockpit curtains
Umbrellas
There are a variety of marine fabrics on the market. Vinyl-coated polyester and vinyl-coated acrylic are two examples. Some are heavier than others. Some are more colorfast and UV-resistant than others. Sunbrella's solution-dyed acrylic fabric is shrink-resistant, colorfast and UV-resistant.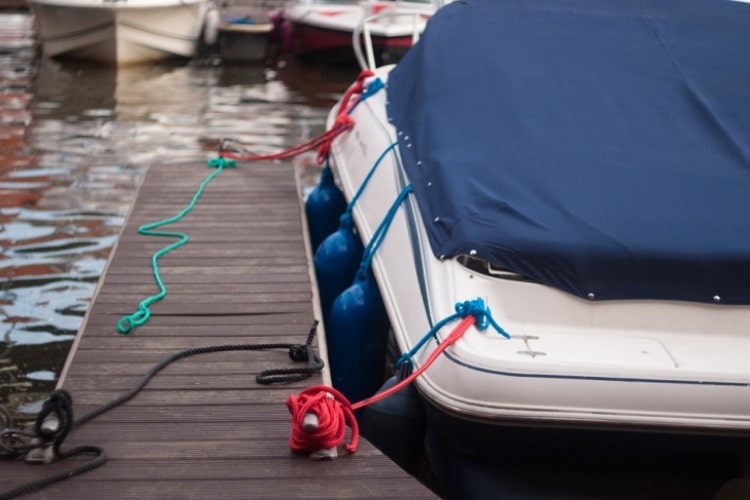 Marine fabrics come into contact with a variety of contaminants. Bird droppings, greasy food, spilled drinks and oily smears are a few examples. Periodic maintenance of marine canvas prolongs its service life. The right fabric treatment will inhibit staining, repel water and restore UV resistance.
Tips for Cleaning Marine Canvas
First of all, use clear water to consistently hose off your fabrics during the boating season. Want to thoroughly clean your marine canvas? Sunbrella, a leading marine canvas manufacturer, recommends the following:
Light cleaning
First, remove loose dirt and debris. Second, hose down the fabric. Third, use a soft bristle brush and soapy water to take on stains and embedded dirt. Give the solution time to soak completely into the cloth. Do not use harsh detergents.
For advice on specific stains, consult this Stain Chart.
More difficult stains
303 Marine Multi-Surface Cleaner tackles challenging stains on marine canvas. It contains robust degreasers and other cleaning agents. Spray until wet, then use a cloth or medium-soft bristle brush to loosen contaminants. Wipe up any excess with a clean cloth. Increase soak times and agitation as necessary. Air dry.
Marine fabrics from Sunbrella and other sources are typically mildew-resistant. However, mildew may still develop on foreign substances adhering to the material.
First, protect adjacent surfaces. Next, prepare a fabric cleaning solution using ¼ cup mild soap and one cup bleach per gallon of clean water. Apply the solution and let it soak into the fabric for about 15 minutes. Rinse away all soap residue, and air dry.
Use caution when cleaning the coated underside of certain marine fabrics. Examples include Sunbrella SeaMark, Plus, Clarity and Supreme. Spray coated materials with the bleach solution and promptly rinse.
Protect Your Marine Canvas
Boating enthusiasts use 303 Marine Fabric Guard on a variety of fabrics. Protect Bimini tops, umbrellas, boat covers and awnings with the product. It restores and maintains the water repellency and stain resistance. Apply 303 Fabric Guard to inhibit future mold/mildew growth.
It is specially formulated for use on both natural and synthetic fabrics. Treated materials retain their color, breathability, flammability and feel. Sunbrella exclusively recommends 303 Marine Fabric Guard for use on its marine and other outdoor fabrics.
Apply the product to clean, dry material. It is best to use 303 Fabric Guard at temperatures of at least 70 degrees F. Spray until wet, using overlapping strokes. It is possible to apply it with a brush or roller. Plan for reduced coverage if you do.
303 Marine Fabric Guard is flammable. Keep it and newly treated fabrics away from excessive heat, open flames or sparks. Treated fabric requires 12 to 24 hours to cure. Accelerate the curing process by applying the formulation in direct sunlight.
Protect newly treated fabric from rain, dew or other moisture sources until curing is complete. Occasionally test the fabric with water to determine the level of water repellency. Periodic reapplication is ideal.