How to Clean Fuel Injectors – Easy Guide
Fuel delivery systems evolved over the years. First, there were carburetors, then port fuel injection and now direct injection. With the latter, fuel injectors directly spray fuel right into the combustion chamber.
An unfortunate byproduct of direct injection technology is carbon buildup. Carbon deposits accumulate when a hydrocarbon like gasoline fails to burn completely.
When these deposits get out of control, they often require manual removal. An auto technician removes the manifold and cleans the valves. Soaking in a special chemical bath is one option, while blasting is another. Either way, it's a messy, time-consuming and costly process.
Of course, it's best to limit carbon deposits in the first place.
Therefore, prevention is the best cure.
Do My Fuel Injectors Need Cleaning?
Direct inject (DI) engines first appeared on sports cars and luxury performance vehicles. Today, DI engines are quite common in sedans, SUVs, pickups and vans. Clean fuel injectors are crucial to the proper operation of these engines.
Clogged fuel injectors reduce engine performance in many ways. They are responsible for a variety of engine woes:
Reduced fuel economy
Difficult starts
Poor acceleration
Rough idling
Stalling
Pre-ignition
Throttle hesitation
Higher carbon monoxide emissions
Excess hydrocarbon emissions
Clean Your Fuel Injectors the Easy Way
What is fuel injector cleaner and why do you need it? It is a specially formulated gasoline additive with special detergents. These chemicals target fuel injector deposits.
Restore engine power and fuel efficiency with 104+ Fuel Injector Pro, a comprehensive fuel system cleaner for all engines. This premium fuel injector cleaner restores lost acceleration and improve throttle response. A special direct injection detergent reduces carbon buildup.
Avoid expensive trips to your mechanic with consistent use of a premium fuel injector cleaner like 104+ Fuel Injector Pro.
Follow this step-by-step guide when you use this premium fuel injector cleaner:
Pour bottle contents into the gas tank
Add a full tank of gas
For ideal results, use a second bottle at the next fill up
Use another bottle every 7,000 miles OR at every oil change
If you like instant gratification, you'll like the results when you clean your vehicle's fuel injectors. Once they are free to operate as designed, you'll notice a quick improvement in the way your engine performs.
Dos and Don'ts of Fuel Injector Maintenance
Use fuel injector cleaner only as directed. Overuse can harm the injector coil insulation. Also, water and fuel injectors don't mix. A full tank of gasoline helps minimize water in the fuel system, particularly in vehicles that sit for extended periods.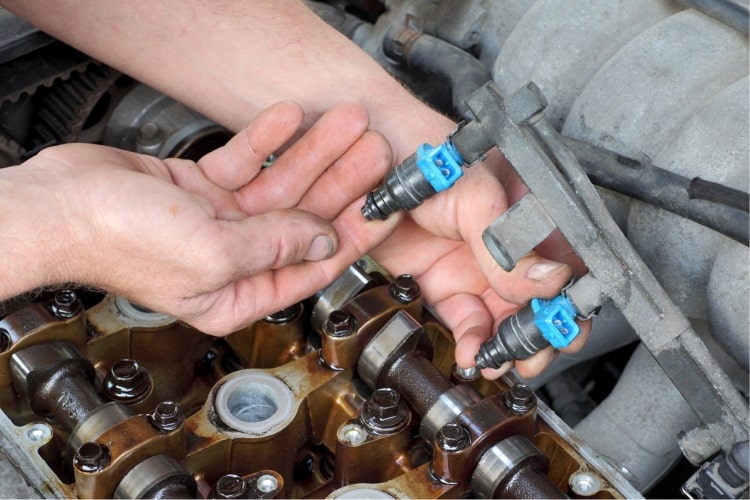 Some car enthusiasts remove fuel injectors to clean them. This can be a problem if it is not done correctly. For example, soaking fuel injectors in a potent cleaner like acetone poses risks. Using an ultrasonic jewelry cleaning tank is suspect as well. If you do remove your fuel injectors, keep in mind that the o-rings and seals should not dry out. This may lead to misfires and difficult starts.
Sometimes, clogged fuel injectors require a mechanic's attention. Some car enthusiasts use fuel injector cleaning kits to remove more difficult deposits. After you invest in such a service, start a regimen of periodically adding fuel injector cleaner to your gasoline.
Fuel injector cleaners often pay for themselves through fuel savings alone. Restore your MPG with clean fuel injectors!