Why Choose a Touchless Sealant over Ceramic Coating?
Your car, pickup, SUV or mini-van is an investment you want to protect. You can use a wide variety of protectants, including carnauba wax, touchless sealant and ceramic coating. As you make your decision, a proper evaluation of quality, performance and cost is key.
There are numerous reasons to protect the paint on your vehicle. Bird droppings contain contaminants that can degrade finishes. Likewise, bugs that strike the surface release amino acids that may etch your vehicle's clearcoat. Road tar can also damage your vehicle's paint.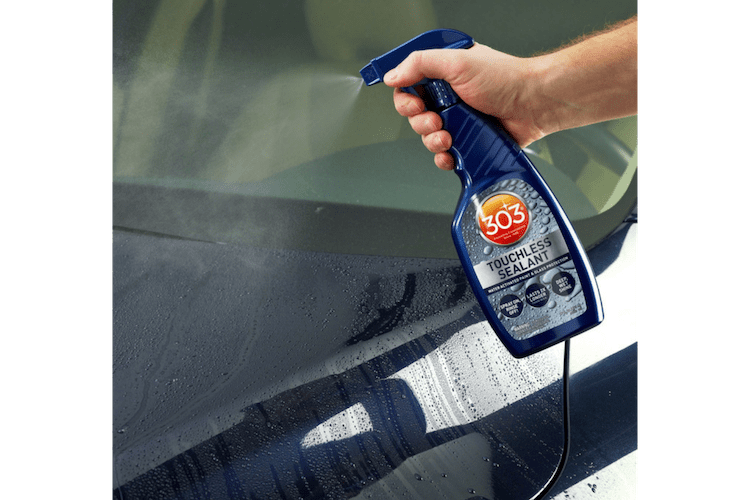 Comparing Protective Coatings
Touchless sealants often outperform even the best spray wax. Ceramic coatings last the longest. However, ceramic coating typically costs much more than repeat applications of touchless sealant.
Touchless sealants rely on plastic polymers to protect your vehicle. Ceramic coatings use a different class of agents called nano-ceramics. Both products chemically bond to your vehicle's factory paint. The nano-ceramics in such coatings deeply bond to the factory paint. This is the primary reason for their longevity.
Both protectants deliver durable protection when they are properly applied. They address the harmful effects of UV damage, oxidation, acid rain and other contaminants. In general, ceramic coatings are thicker than those provided by touchless sealants. However, it is possible to polish both coatings to a deep gloss. Since a ceramic coating is both expensive and long-lasting, proper application is crucial. If a ceramic coating is not applied the right way, it may actually look worse than a car's original paint.
Applying Protective Coatings
A touchless sealant is a do-it-yourself product. You usually need an authorized installer to apply a ceramic coating. The application and curing of a ceramic coating usually require several days at a detailing shop. Ceramic coatings also involve more prep work. Ceramic coatings also need approximately 24-48 hours to cure.
Compare this process to the "spray on, wipe off" ease of touchless sealant.
303 Touchless Sealant exhibits some ceramic properties. However, it is far easier to apply than the more expensive ceramic coatings. A vehicle treated with a touchless sealant is ready to use immediately after application.
The formulation of 303 Touchless Sealant bonds to a variety of exterior surfaces. It contains silicon dioxide (SiO2), a compound that is extremely hydrophobic. It also contains additives to enhance durability and further improve its water repellency. Expect each application to last up to six months, about twice as long as carnauba wax.
303 Touchless Sealant delivers:
Excellent water beading
Superior fade resistance
A quick, simple application process
It is possible to use it on a variety of exterior surfaces, including paint, glass and wheels.
All protectants protect against light scratching, etching and other superficial damage. They do not protect against rock chips and larger parking lot scratches.
Quality Car Care Products from Gold Eagle
303 Touchless Sealant is just one of a complete line of products designed for the exterior of your vehicle. Select the cleaners, conditioners and protectants that will protect the investment you've made in your vehicle.