Boat Safety Tips for Independence Day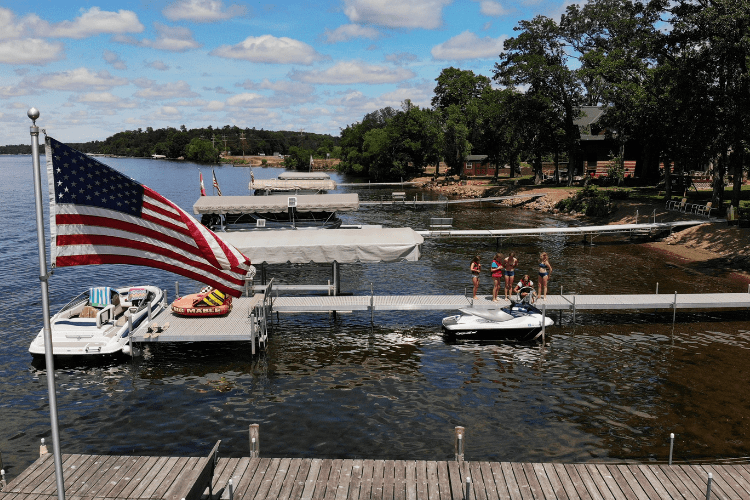 The 4th of July is a summertime staple for Americans. It's a holiday that brings our melting pot together as first-generation citizens and immigrants stand side-by-side with families who have been here for decades. As all of us come together to celebrate our country's birth, it usually means an abundance of fireworks, barbecues, and, you guessed it – boats. Get in the spirit by reviewing the following boat safety tips to help you make the most of your Independence Day this year.
Wear A Life Jacket
First and foremost, it's important to remember your personal safety equipment. Put on a life jacket before you even step foot on a boat because nothing puts a halt to a fun summer afternoon like a severe boating accident. Statista shows that 767 people suffered casualties from boating accidents in 2020, and another 3,191 were injured. These numbers would be severely reduced if everyone wore a life jacket on board.
Make A Float Plan
Creating a float plan is a crucial step for general boat safety and will help authorities facilitate a search-and-rescue operation in an emergency. Ensure you include the type of vessel you're using, the number of passengers aboard, and your planned route towards your end destination. While you may think float plans are for bigger vessels and longer trips, small boats and PWCs should use them, too. If you're ever in doubt, make a float plan because it can save your life.
Keep The Engine Running Smoothly
Marine traffic is highest during Independence Day because kids are on summer break, parents are off work, and everyone has been patiently waiting to head to the lake. Like moths to a flame, people will be out in droves, so the last thing you want is to stall on open water to cause a bottleneck or worse, in the case of an emergency. Keep a marine-specific fuel additive with you to correct rough running engines so you can quickly address the issue and avoid being a hazard on the water.
Limit Alcohol Consumption
It's no secret that Americans love to have a good time, and the 4th of July is like the Super Bowl for patriotic partiers everywhere. That's why wholesalers like Tipsy Elves get a lot of revenue for making and distributing fun apparel to commemorate the holiday. Still, remembering our independence from Great Britain is not an excuse to get absolutely shipwrecked during a pleasure cruise. Enjoy libations responsibly and try abstaining if you are playing the skipper role.
Check Weather & Use Common Sense
Before taking a boat ride, you must be mindful of the weather conditions. If there are storms in the forecast, it is wise to wait until the system moves off the radar before heading out. Check the NWS Marine Weather Forecast for real-time updates on every major marine hub in the U.S. You can narrow your search to a single point by inputting the latitude and longitude. It might take a minute of your time, but it's a much better system than, "Red sky at morning, sailors take warning."
We can list several other precautions here, but the most important is using your intuition as a boat operator. If all else fails, you will have an excellent time on the water if you are prepared, employ basic boat etiquette, and use common sense. It's all you need for a safe, fun-filled 4th of July on the water.