5 Fantastic RV Destinations in the U.S.
From the low mountains of the Northeast to the rugged canyons of the Southwest, the U.S. has no shortage of landscapes that deserve to be seen.
One way to take in all of the country's majestic beauty is by loading up your RV with the essentials and hitting the highway.
So come with us as we explore five compelling RV sites and campgrounds in an adventure that spans from sea to shining sea.
Just make sure you have a functioning sewer hose before you leave!
---
Horsethief Lake Campground – South Dakota
It doesn't get much more Americana than cruising past the base of Mount Rushmore in an RV. That's why Horsethief Lake Campground near Hill City, S.D. gets the first mention on the list.
Located only two to three miles (depending on which campsite you reserve) from the stone faces of our former presidents, Horsethief Lake Campground provides all of the convenience and comfort you can want to see this national monument the right way.
More importantly, this is one of the few national landmarks easily accessible in an RV. According to Life On Route, Mount Rushmore has roughly 25 parking spaces dedicated to RVs under 30 feet in length and 40 spaces for anything longer.
The campground itself has 36 sites scattered near the lake within the Black Hills National Forest. It provides the perfect setting for those who want to be active and those who want to kick back and take in the serenity of nature.
Fun fact: Although he is commonly photographed wearing glasses, Theodore Roosevelt's bifocals are missing from his face on Mount Rushmore.
Rancho Sedona RV Park – Arizona
Located about an hour south of Flagstaff, Ariz., Rancho Sedona RV Park offers all the amenities you can want to relax amongst the red rocks and do it with style. But the beauty of the landscape immediately surrounding the site doesn't stop there.
The campground is enveloped by Sycamore and Cottonwood trees, so there is ample shade throughout the park. Additionally, the calm flowing water of Oak Creek sits just to the north of the site, providing a perfect setting to take a walk.
After you get done enjoying the contrasting colors from the red clay rocks, green trees, and sparkling blue water, Rancho Sedona RV Park is extremely close to the city's shopping, restaurants, and nightlife. Essentially, you can leave the RV at your site to hit the town without much hassle, so it's a great option for those who like a bit of civilization mixed in with their dose of nature.
Fun fact: Sedona, Ariz. is considered to be a spiritual vortex. Visitors from all over the world claim that coming here helps them feel re-energized, uplifted, and inspired. Put this one on your list if you want to slow down and gain a new perspective.
Devil's Lake State Park – Wisconsin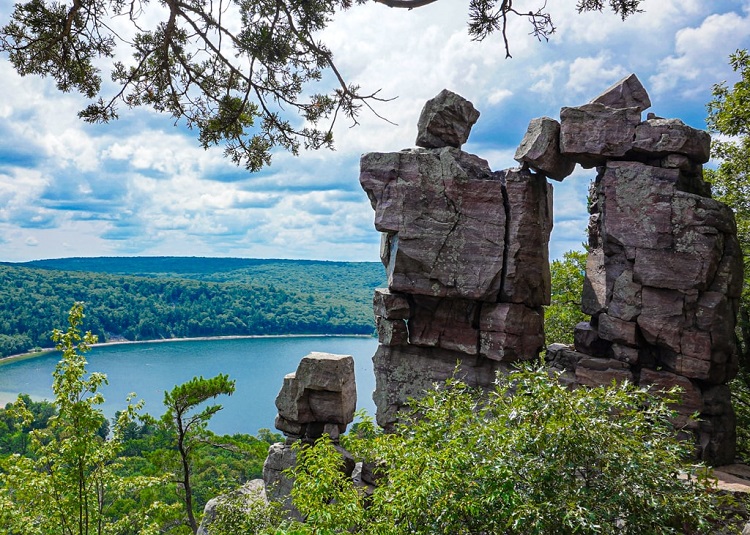 The Midwest has so much more to offer than cornfields, cold winters, and flat terrain most people would consider to be boring. Need proof? Take one look at the photo above that captures the natural beauty of Devil's Lake State Park in Baraboo, Wis.
Devil's Lake State Park offers 423 dedicated sites across three campgrounds, offering plenty of options when it comes to where you set up shop. Additionally, the park is flush with activities like hiking, rock climbing, fishing, swimming, and kayaking, so there is truly something for everyone here.
Summer is the busiest time of year as visitors from neighboring states tend to flock to this destination while kids are out of school. Nonetheless, you can still enjoy favorable weather and fewer crowds if you plan a trip in the late spring or early fall.
Fun fact: The name 'Devil's Lake' comes from a misunderstanding between European settlers and the Ho-Chunk Nation, whose name for the body of water roughly translates to 'Spirit Lake.'
Bluewater Key RV Resort – Florida Keys
RVs and island time? You'll find plenty of that at Bluewater Key RV Resort in Key West, Fla.
The resort offers year-round sunshine, so it's a good idea to plan a winter getaway here in your Winnebago (or whichever brand of RV you drive). You have to keep in mind that other travelers are thinking the same thing; that's why pricing is highest between October and April.
On the topic of cost estimates, it's important to note that this specific RV site is the only one on our list considered a luxury resort. The rental lots all come with upgraded conveniences like WiFi, cable TV, laundry, and docks if you are traveling with toys to take out on the water.
If you are interested in a more budget-friendly option, there is no need to fret. Key West has plenty of alternatives nearby, like El Mar RV Resort.
Fun fact: Located only 90 miles away from Cuba, Key West is home to the southernmost point in the continental United States. It's also the location of the Ernest Hemingway Home & Museum for any literature lovers in your party.
Lake George RV Park – New York
Nestled up against the Adirondack Mountains in upstate New York lies Lake George RV Park. With amenities like swimming pools, arcades, fishing holes, bike trails, and a state-of-the-art dog park, the facility has something for every member of the family to enjoy (even Lucky, Maverick, or Sparky).
One benefit of this campground is the fact that they always have a rotating schedule of things to do, including indoor activities. If you have ever gone RVing before, you know that rain can sometimes put a damper on the trip since it limits what you can go out and see. You won't run into those same issues if you reserve a space here.
Keep in mind that Lake George RV Park is a family-oriented resort. If you are looking for an experience that caters more to adults, you will still be able to enjoy yourself. Just know that there will probably be plenty of children around.
Fun fact: Lake George offers one of the best places in the country to watch the leaves change colors in the fall. Plan your trip during the last week of September or at any point in October for some serious leaf-peeping.
---
Honorable "Off the Beaten Path" Mention – Pacific Northwest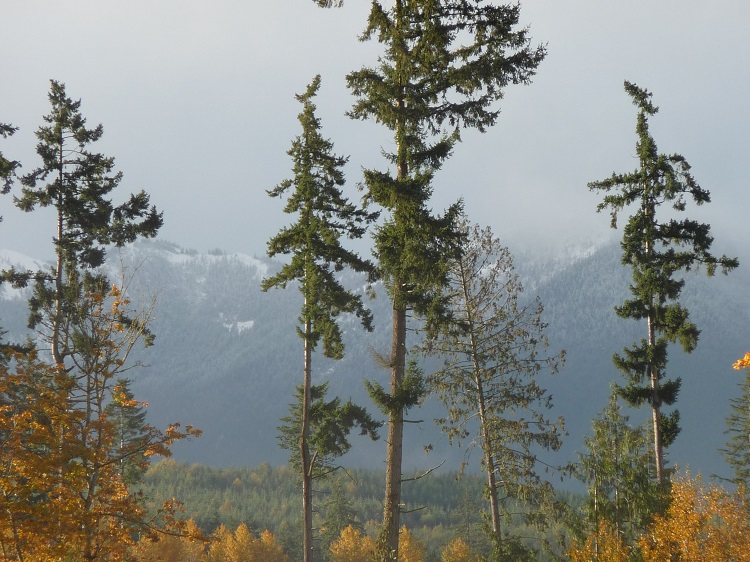 After traversing across the country in an RV with your family or crew, you might want to take on a new challenge.
Consider venturing to the Pacific Northwest, where there is no shortage of intense greenery from frequent rain, majestic coastline, and awe-inspiring mountains that are beautiful enough to take your breath away.
The only issue is that this area of the country isn't well-suited for RV travel. Instead, you will need to set out in a smaller but powerful vehicle like a truck or an SUV to see multiple sites. For that reason, consider dipping your toe into the world of overlanding, where the journey itself is the primary goal for the trip.
The Pacific Northwest is an excellent place to plan your first overlanding expedition. There are several communities like the NWOL that connect like-minded people who share the same appetite for adventure.