303 Touchless Sealant: A Truly Versatile Paint Protectant
At the height of the Great Depression, Armin Hirsch founded Gold Eagle in a small Chicago storefront. His innovative automotive chemicals quickly acquired a following that eventually expanded worldwide.
Today, the tradition of innovation continues with the introduction of 303 Touchless Sealant. A January 2019 press release cites the many advantages of this revolutionary new protectant. We'd like to think that Mr. Hirsch would be proud.
Advanced Formulation
303 Touchless Sealant features silicon dioxide (SiO2) nanoparticles suspended in a liquid resin. SiO2 exhibits some impressive properties. It's a compound with a melting point above 2,900 degrees F. It has a hardness of seven on the Mohs Hardness Scale, the same as quartz. The combination of SiO2 and resin chemically bonds to exterior surfaces, and it repels water to an amazing degree.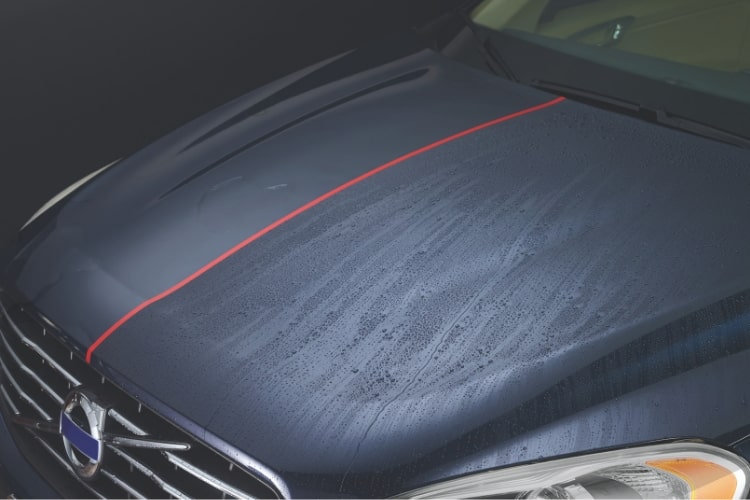 This compound is different than the Silicon Carbide (SiC) used in ceramic coatings. Although such coatings are quite durable, they require prep work and cure time. They are typically applied by professionals at many times the cost.
303 Touchless Sealant delivers the answers you want to important questions:
Would you like to reduce the number of times you apply a wax protectant every year?
Would you rather measure applications in minutes or hours?
Do you want to take advantage of the latest hydrophobic technology?
303 Touchless Sealant is perfect for dedicated car enthusiasts and accomplished detailers. In fact, it is an ideal product for any car owner. The term "touchless" refers to the fact that, unlike traditional waxes, you don't have to rub it into the surface. Simply spray it on and rinse it off! Compare the time savings as opposed to hand applying a traditional car wax two or three times as often.
The advanced hydrophobic formulation repels sheets of water, causing them to coalesce into tight, rounded beads.
Protect Paint and Much More
Every application of 303 Touchless Sealant provides months of protection. It is appropriate for use on many finishes including clearcoat, gel coat, single-stage paint and matte paint.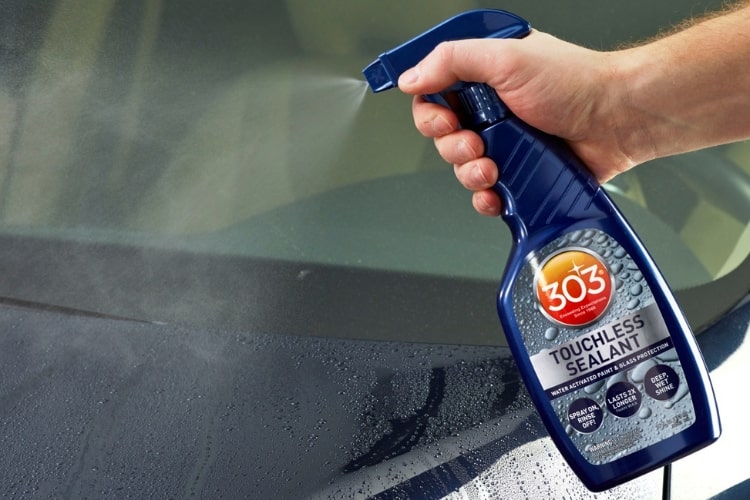 You can also use it on other exterior surfaces, like:
Fiberglass
Plastics
Trim
Tires & wheels
Glass
You can even use it on your windshield!
Application Tips
To successfully apply 303 Touchless Sealant to your vehicle's exterior, follow these five simple steps:
Park your vehicle in a shaded area, or apply on a cloudy day
Wash your vehicle while the paint surface is cool
While the surface is still wet, apply a light mist of 303 Touchless Sealant to one section at a time
Rinse immediately. To avoid water spots or streaking, do not let any drying occur
After treating the entire vehicle, use a microfiber or waffle weave drying towel to dry
Invest in a bottle of 303 Touchless Sealant! You'll enjoy a beautiful glossy shine, important UV resistance and protection against light scratches. Enjoy watching water bead up on treated surfaces. It imparts a deep gloss that you'll appreciate on both vintage and newer models.