303 Marine Graphene Nano Spray Coating: What You Need to Know
It's no secret that marine environments are harsh, and quite frankly, it's tough to be a boat. Sunshine, salt water, and inclement weather are three foes that quietly challenge the integrity of any toy that's sitting in the dock or being pulled on the back of a pickup truck.
UV rays continuously beat upon the exterior to break down the pigment in gel coats and cause fading. Sodium chloride eats away at the metal, leading to serious corrosion issues. Even rain can seep into unprotected spaces to cause water damage if it doesn't quickly shed off the surface.
All three of these potential problems can be addressed with one intuitive product called 303 Marine Graphene Nano Spray Coating. Take a peek at the following video for an overview, and keep reading to learn how this graphene-based coating is all you need to preserve your boats and PWCs.
303 Graphene Marine Nano Spray Coating Explained
After seeing how well our graphene nano spray coating worked in the automotive vertical, we knew we had to bring the same concept to the marine market. Boats stand to benefit from the way our patented graphene-oxide formula creates a water-beading effect, and leaves lasting protection that is viable for a year. So to anticipate your first question, the answer is, "Yes, this product uses the same formula as 303 Graphene Nano Spray Coating." However, we package the marine coating in a larger bottle, giving you more product to cover bigger surface areas.
You might have never heard of our graphene-based coating for cars before, and that's okay. The main point you should be aware of is that we formulate the product with graphene-oxide. This chemical compound has hydrophobic properties that create a water-beading effect on treated areas, so it doesn't have a chance to linger and absorb through the exterior. Instead, water quickly sheds off the surface, as you can see in the following photo (left side is untreated & right side is treated):
Another interesting benefit of the graphene-based coating is reduced water spotting, which occurs after dried mineral deposits are left on a surface after being allowed to air dry. The chemical structure of the coating lowers the surface temperature of treated areas, creating the environment necessary to prevent mineral deposits from hardening. So if you apply the product, it becomes challenging for water-spotting to occur, preserving the materials of your boat.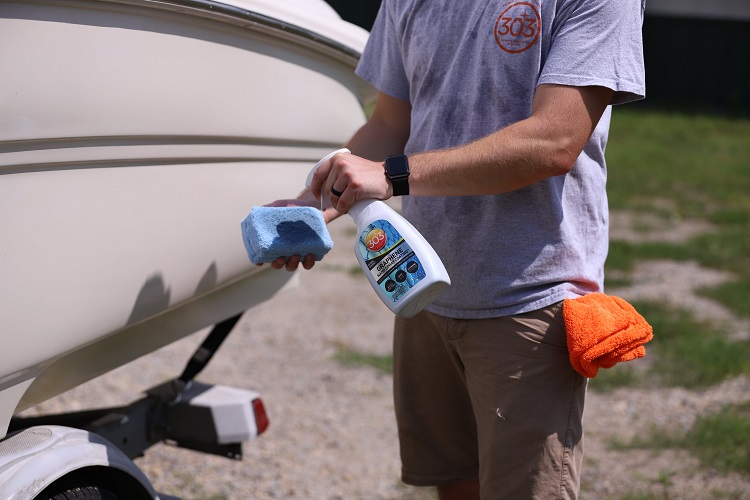 How to Use 303 Graphene Marine Nano Spray Coating
One of the product's nicest benefits is the fact that you can use it in direct sunlight, whereas similar coatings require shade. Therefore, all you need to treat your boat or PWC is the product, microfiber applicator, and microfiber towel before performing the following steps:
Make sure all areas of the boat or PWC is clean and dry
Shake the bottle well to mix the contents
Spray product directly onto the microfiber applicator
Apply the product to all exterior surfaces in a hitch cross pattern
Allow 5-10 minutes for the product to haze white
Use a clean microfiber towel to buff off the product
And that's it! You can safely introduce your boat or PWC into the water immediately after treatment because the product requires no cure time. You are going to love how fast, easy, and effective it is to protect your investment. Not to mention, the results speak for themselves.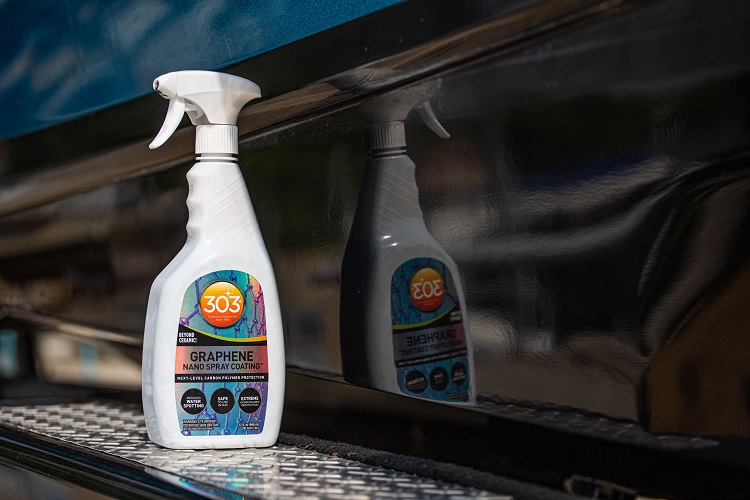 The Benefits of Going Graphene Instead of Ceramic
Ceramic and graphene coatings are both great candidates to protect a boat from UV rays and corrosion. But graphene-oxide is one of the thinnest and strongest chemical structures known to man, which yields some serious benefits.
The chemical compound has a higher water contact angle to create more beading. It is so flexible and durable that it's invulnerable to cracking or chipping. And last but not least, graphene-oxide is durable enough that one afternoon spent treating your boat will provide up to 12 months of protection.
In our humble opinion, one bottle of 303 Graphene Marine Nano Spray Coating is well worth the price, considering how far it will go to preserve your favorite marine toys. In fact, it just might end up saving you a good deal in costly boat repairs.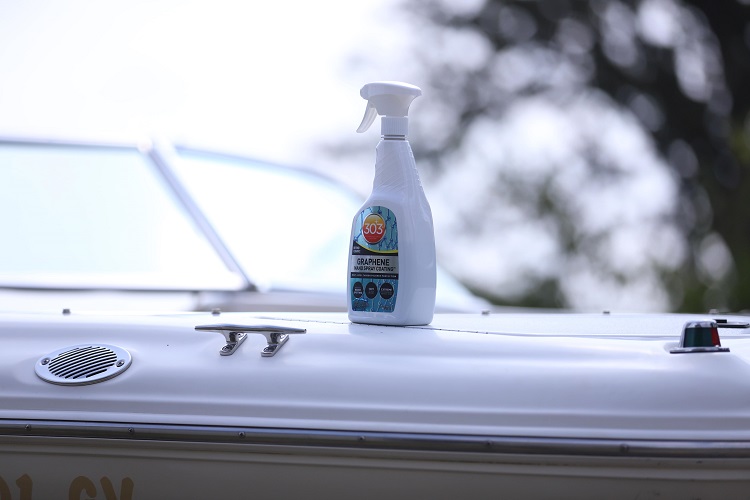 303

Marine Graphene Nano Spray Coating FAQ
If you want a quick snapshot of the most commonly asked questions we get about the product, take a look at the following Q&A.
Q: Do you need to remove existing coatings, waxes, or sealants before applying?
A: No. The product will enhance any existing base layers to reinforce that protection.
Q: Can the product be layered on top of itself for even more protection?
A: Yes. You can re-apply the product up to three times to see more results. The fourth time does not yield any more benefits based on our testing.
Q: What surfaces of my boat or PWC can you apply the product to?
A: Gel coat, exterior paint, plastic, metal, chrome, vinyl wraps, and even glass. It's safe to apply the product on all of these surfaces for 12 months of protection.
Q: Does the product contain any dyes?
A: No. The product sprays on black due to the chemical structure of graphene oxide. No dyes are needed, so what you see is entirely authentic to how we manufacture it in our Chicago-based plant.