Wyclef Jean's Car Collection
Wyclef Jean, former Fugee frontman, has a hobby that includes car collecting. He has accumulated 37 exotic vehicles that are specially customized to fit his character. Jean has always explained he feels cars are works of art. Jean is politically active in Haiti, one of the poorest countries in the world, so his extravagant collection has drawn great criticism. No matter, few can argue the cars in his collection are some of the most beautiful ever produced. Although Jean rarely discusses his collection, here is a look at some of the most unusual offerings.
McLaren F1
Touted as the "fastest car in the world," the McLaren F1 is a supercar meant for consumer driving. The streamlined design and lightweight materials allow for top speeds of over 240 miles per hour. Unlike other sports cars, this vehicle has room for two rear passengers. It is estimated that Wyclef dropped over $1 million when he bought his McLaren. Since then, the cars have become quite rare. His may have doubled or tripled in value.
Pagani Zonda C12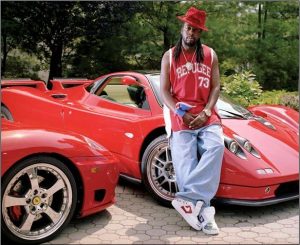 One of the rarest Italian sports cars ever made was the Pagani Zonda C12. Just over 200 cars were ever produced. The car was extremely impressive with its 6.0 liter V12 engine and carbon fiber body. Jean's cherry red C12 is only one of three models to still exist in America.
2003 Hummer H2
Unlike other rare cars in Wyclef's collection, his Hummer H2 is ordinary on the outside but heavily customized on the inside. The Hummer H2 seats six and was modeled as a smaller version of a military cargo vehicle. What makes Jean's so special is the super huge aquarium he had installed in the back. It is known that he stocks it with sharks before taking it out on the road.
Jean is a quiet collector who probably scatters his collection among his numerous Florida properties. There have been numerous rumors that someday he will open a car museum and donate all the proceeds to a Haitian charity. At that point, it will give car enthusiasts a better look at his rare collection.