What's in Jay Leno's Garage – 1955 Packard Caribbean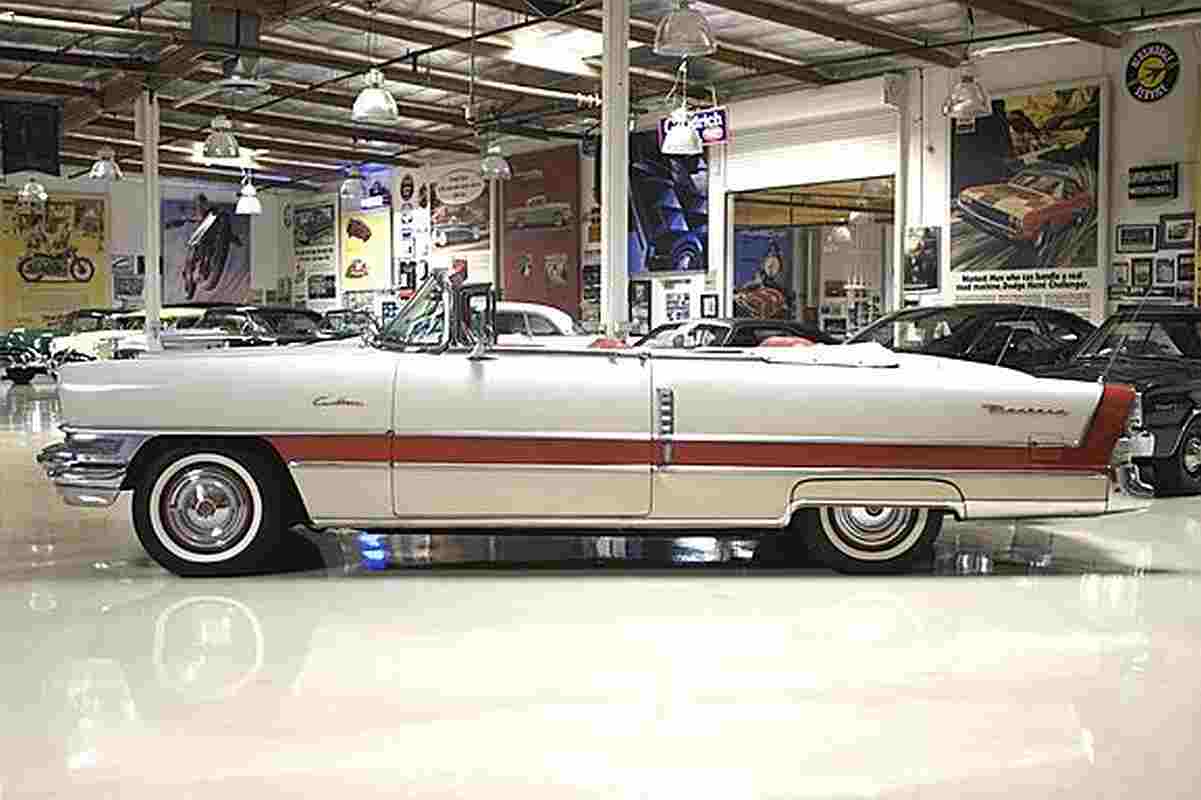 Welcome to the latest edition of What's in Jay Leno's Garage? In past posts we saw cool rides like the 1909 Stanley Steamer and the 1954 Jaguar XK120M Coupe. Today , we feature the 1955 Packard Carribean.
Jay Leno is one of the most famous comedians known for his classic car collection. His passion for automobiles is clearly displayed by his knowledge and vast array of cars, which is estimated to be worth over $50 million. One of his beauties includes a 1955 Packard Caribbean. It has an off-white color with a bold red stripe painted on both sides to match the interior. Leno keeps it parked in front of an advertisement that touts it as "America's most glamorous sports car." Here is a closer look at how it lives up to this name.
1955 Packard Caribbean – Body Design
1955 was a turning point for Packard. This was the year when the car manufacturer introduced a bold new Caribbean model. The vehicle saw a facelift from previous models. The 1955 Caribbean included a wrapped windshield, eggcrate grille, twin radio antennas, cathedral taillights and a set of running lights along the edges of the rear fender. The overall shape of the car was elongated to resemble the glitz and elegance of Cadillac vehicles. Features special to the Caribbean were double dummy air scoops and a body side contrasting-color panel composed of two different chrome moldings. To bring extra appeal to buyers, most Caribbeans were painted with a three-tone style.
Under the Hood of the 1955 Packard Caribbean
To provide a dramatic change in the Packard line, the Caribbean was the first to include a V8 engine that provided 275 horsepower. The ultramatic automatic transmission was redesigned as well. The car could go from zero to 60 mph in 15 seconds. This set it apart from its Cadillac competition. It was known for excellent handling and the ability to tackle rough road conditions with ease. Packard filmed a Caribbean floating over railroad tracks to distinguish itself from other vehicles that struggled through obstacles.
Success or Failure?
During the time, the newly developed Studebaker-Packard Corporation was in financial turmoil, so buyer confidence was low. Also, the manufacturer rushed production of the 1955 Caribbean to get the car to the showroom. This caused early mechanical issues to plague the vehicle. Even though the car sold well, it was the beginning of the end for Packards built in Detroit. The next year was the last for Caribbean production.