What is Mobile Detailing?
Mobile detailing is exactly what it sounds like – a professional service that brings a top to bottom car detail directly to your location. These services have become more and more popular over the years as people look to spend a little bit more money in exchange for time saved.
There are several different options to consider regarding mobile detailing, which we'll cover below:
Waterless or Traditional?
There are some companies that offer full-blown car washes, packing a portable pressure washer into a well-equipped van. This option delivers a thorough and traditional wash, getting your car squeaky clean from top to bottom. Because these services have more equipment and overhead needs, they're more expensive than the next option.
A waterless wash uses a highly lubricated formula with mild cleaning agents to clean your car's surface without a hose and bucket. Traditionally these products have carried some risk of paint damage, but recent advances in technology allow modern products to encapsulate dirt and grit to be wiped away without scratching. As long as the detailing company uses precaution, and your car isn't too dirty, a waterless wash will get your car looking amazing at less of a premium than the traditional method.
Interior or exterior only?
With an exterior-only wash, you're on your own regarding those dirty floorboards and the loose French fry you dropped earlier in the week. The detailer will clean your paint, windows, tires and rims and the outside of your car will look showroom ready; but inside your car will be exactly the way you left it. If you're a meticulous person this is a great option, because you don't need to find time to hand off the keys and the service is cheaper.
If however, your car interior can get out of hand without special attention then you might want to consider a full detail. Your mobile detailing professional will meet you at a predetermined time to hand off the keys, and then get to work. Expect your interior services including cupholders and air vents to get a wipe down. Additionally, the floorboards and seats will get a vacuum so there is no debris or dirt floating around. If your car has leather, you'll also get a special conditioner applied to prevent UV damage. This service costs more but completes the feeling of having the car completely clean and ready.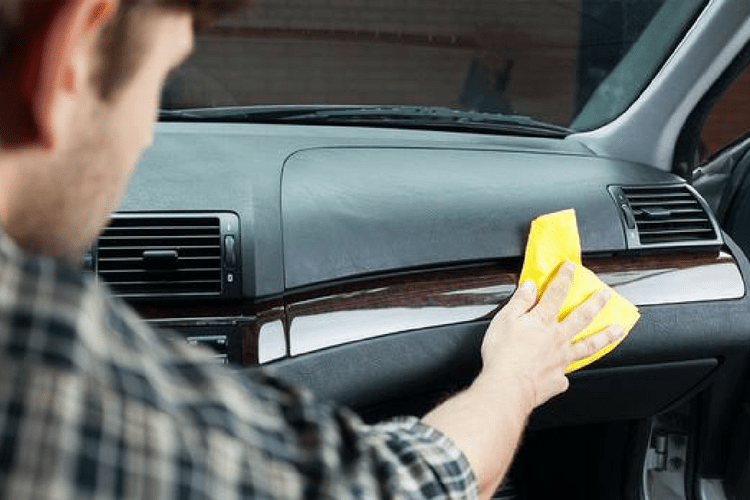 Top 5 Products for Mobile Detailers
#1) Glass Cleaner
You don't want your detailer using an all-purpose product on your glass because streaks are certain to occur.
#2) Tire Shine
Nothing completes a great detail job quite like a slick black tire. The level of gloss is up to you, and most professionals will tailor it to your request.
#3) Rim Cleaner
Brake dust is notoriously hard to remove with regular soap and water, so a specialty product is a must if you hope to get wheels looking perfect.
#4) Microfiber towels
The old standby, it's not a sexy choice – but a necessary one.
#5) Wheel Brush
Again, a stream of water isn't going to tackle brake dust well enough. A stiff bristled brush will do the job.
BONUS
If you are going waterless, you'll obviously need a good Waterless Car Wash. Consider a concentrated formula to save money. If you want to learn more about Waterless Wash check out this blog post: What is Waterless Car Wash?
If you're going to be cleaning interiors as well, a vacuum is a must! Assuming you have an adaptor, the 1.5 Gallon Shop-vac is a great choice. If you want to go the car-specific route, there are plenty of options out there which all perform adequately.
Have you started (or considered starting) a mobile detailing business? Let us know in the comments below.