Was the 1949 Mercury in "Rebel Without a Cause" Really a Rebel?
In 1955, the classic film "Rebel Without a Cause" introduced American society to an image of generation gap. This groundbreaking film touched on some very important sociological constructs, but it also provided a glimpse into the burgeoning car culture that captivates generations to this day.
Who Provided the Attitude, Jim Stark or His Ride?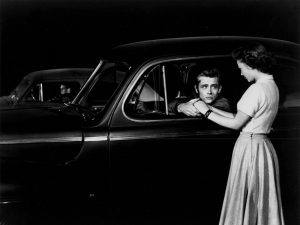 James Dean's performance as troubled teenager Jim Stark embodied a certain ethos of misguided rebellion and irresistible cool. Through sheer acting chops, Dean projected his attitude into his 1949 Mercury Coupe, which did not have as much street cred as other vehicles of the time. The Mercury Coupe was actually marketed by Ford as a family car for middle-class American families getting their first taste of prosperity in the wake of World War II. The Coupe in the film was only slightly modified; any Ford hot rod of the mid-1950s would have been a more suitable and rebellious car for Jim Stark, but James Dean made the Mercury Coupe cool by association.
Not So Much of a Rebel Under the Hood
Although the '49 Mercury Coupe had its share of American muscle by historical standards, Jim Stark probably relied on racing skills more than on tech to stand his ground as the top rebel of Dawson High School. This car was powered by an L-Head, V-8 255 with a Holley 885 FFC two-barrel engine. With a base of 110 horsepower and torque of 200 pound-feet, this Coupe could run the 1/4 mile in about 21 seconds with a good weight kit. Essentially, the 255 was not much of a change from the 239 or even the 221; however, the 4-inch crankshaft and other engine parts were easier to exchange and customize, which made this car a favorite among hot rod enthusiasts who wished to increase horsepower.
The 1949 Mercury Coupe – An American Classic
The six-passenger 1949 Mercury Coupe featured in "Rebel Without a Cause" has been part of the collections of the National Automobile Museum in Reno and the California Automobile Museum in Sacramento. The historical significance of the car goes hand in hand with the James Dean legend and the portrayal of troubled American youth in film. It is important to note that the Coupe was made a movie star not only by Dean's performance but also by the intimate cinematography that highlighted the car's stylish chassis.