TriNova Natural Multi-Surface Cleaner: What You Need to Know
There is no shortage of cleaning agents on the market that do an excellent job blasting away dirt and grime. The only problem is that the majority of these products contain harsh chemicals that can be harmful to children and pets.
If that's a big no-no in your household, you hold the option to switch over to green cleaning supplies. Going this route is a step in the right direction, but you might have found that many of these sprays and solutions cannot get the job done right.
Until now.
TriNova Natural Multi-Surface Cleaner is the ultimate in the world of cleaning supplies because it checks off all the boxes. Cleans up the most difficult messes? Check. Works on nearly every surface of the house? Check. Made from all-natural ingredients that meet the green standard? Check.
If you're ready to learn more about how such a seamless product could exist, we've laid it out for you right here.
TriNova Natural Multi-Surface Cleaner Explained
Using only organic ingredients, TriNova Natural Multi-Surface Cleaner contains a specialized formula that is effective and environmentally conscious. The cleaning solution is powered entirely by plants, with the ingredients listed right on the label of the bottle. It took some time, but the chemists that created this versatile spray found a recipe that eradicates messes, smells fantastic, and works on virtually any surface of the home. We can talk at length about how we made it possible. But the fact is that you have to experience the power of the product for yourself. It will change your life.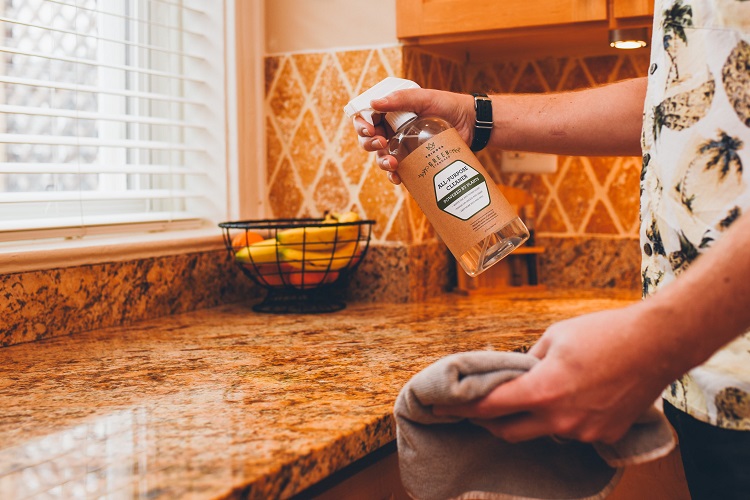 How to Use TriNova Natural Multi-Surface Cleaner
The versatility offered by the cleaning agent requires a particular approach based on which type of surface you are trying to clean. Since you can use TriNova Natural Multi-Surface Cleaner on counters, stovetops, floors, bathroom surfaces, and even walls, we've outlined some basic instructions that will help you use the product the right way. Check out the following directions to get started.
For Any Surface That Is NOT Reflective or Stainless Steel
First, spray TriNova Natural Multi-Surface Cleaner directly onto the surface you intend to clean. If you are dealing with a stubborn mess or dried-on stains, allow two full minutes for the product to saturate. Finally, wipe the area clean with an absorbent towel or microfiber cloth, of which there is one included with every bottle.
For Reflective Surfaces
Use the exact directions indicated above with one extra step. Once you've wiped the area clean, grab a paper towel or dry cloth to buff off any remaining residue from the mirror, window, or any other reflective surface you just cleaned.
For Stainless Steel Surfaces
Follow each step from the two sections outlined above. If you see streaking on the surface, wipe with the stainless steel grain to eliminate the streaks. Doing so will ensure that the area appears spotless. Use in tandem with TriNova Stainless Steel Cleaner and Polish for optimum results.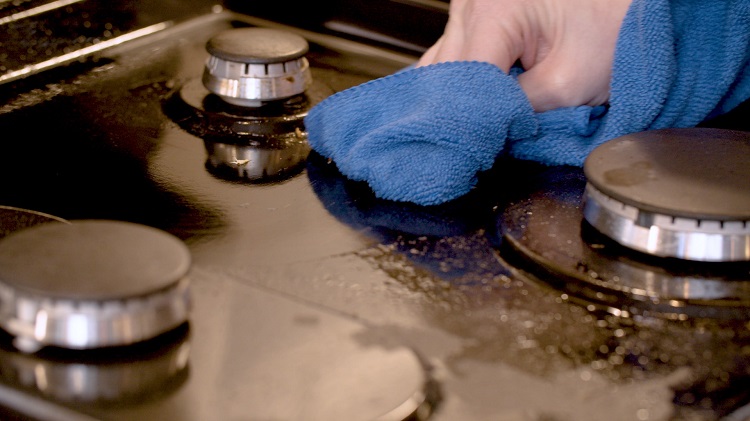 An Effective Cleaning Agent That's Entirely Safe
If you have cleaning supplies under your kitchen sink, it will behoove you to take a look at the ingredients. Do you even know? Are there any listed on the bottle? Unfortunately, a lot of cleaning supplies are made from chemicals that can be considered harmful. Don't get it twisted because not all chemicals are bad, but some products contain chemicals that can activate allergies or even contain carcinogens. TriNova Natural Multi-Surface Cleaner is designed to avoid these harmful properties. That means you can go spray-happy around the house, and rest assured that nobody under your roof will become exposed to factors that can negatively impact their health.
TriNova Natural Multi-Surface Cleaner FAQ
We've gone over a lot of helpful information about the way TriNova Natural Multi-Surface Cleaner works. But sometimes, it's beneficial to be as plain as possible. Nobody likes to get jerked around, so let's be as direct as possible. Check out three of the most commonly asked questions consumers have about this incredible cleaning agent so you have all the inside details you can possibly need.
Q: Is the product made up only with organic ingredients, as the advertising would indicate?
A: Yes. Every component of TriNova Natural Multi-Surface Cleaner comes from 100% plant-based and natural ingredients.
Q: Is the custom scent overpowering?
A: No. TriNova Natural Multi-Surface Cleaner has a subtle, pleasant fragrance. This design is intentional to offer some relief compared to other cleaning agents with overwhelming aromas.
Q: How many surfaces are compatible with TriNova Natural Multi-Surface Cleaner?
A: Just about anything you have in your home! The product can be used in the kitchen, bathroom, living room, and bedroom. In addition, you can spray it on glass, floors, countertops, and even walls. So if there's a mess you don't know what to do with, TriNova Natural Multi-Surface Cleaner will address it.