TriNova Daily Granite Cleaner: What You Need to Know
A premium stone surface can elevate the look and feel of your home. For example, kitchens are one of the most commonly renovated rooms across the country. Updating an outdated kitchen countertop for one made of stone will make an instant improvement to the room. Best of all, there are plenty of options available to make this change. Whether it's quartz, marble laminate, or granite (to name a few), it's hard to argue with the final results. The only thing you are left to worry about is HOW to take care of your newfound stone countertop. Allow TriNova Daily Granite Cleaner to fill that void.
TriNova Daily Granite Cleaner Explained
Washing a stone surface with a cleaning product that is not designed for it can do significant harm. These surfaces have a sealant that is easily penetrable when the highly acidic properties of everyday cleaning supplies contact the outer layer. For this reason, TriNova Daily Granite Cleaner effectively cleans stains and spills from natural stone without decimating it. Using a non-acidic, pH-neutral formula, the cleaner eradicates oils, spills, dirt, and more in premium stone surfaces to restore its organic shine. In essence, TriNova Daily Granite Cleaner is designed to use every day to keep premium stone countertops, floors, tables, and showers looking their best.
How to Use TriNova Daily Granite Cleaner
The cleaning agent is potent to the point where a little goes a long way. Therefore, gently mist the surface of the stone you wish to treat and wipe it down with a clean, dry towel. For best results, use a towel made from microfiber. If you really want to make the most of your cleaning efforts, you can take it one step further. Our TriNova Granite Sealer is a highly effective "Step 2" that will ensure there is little possibility for stains to seep in.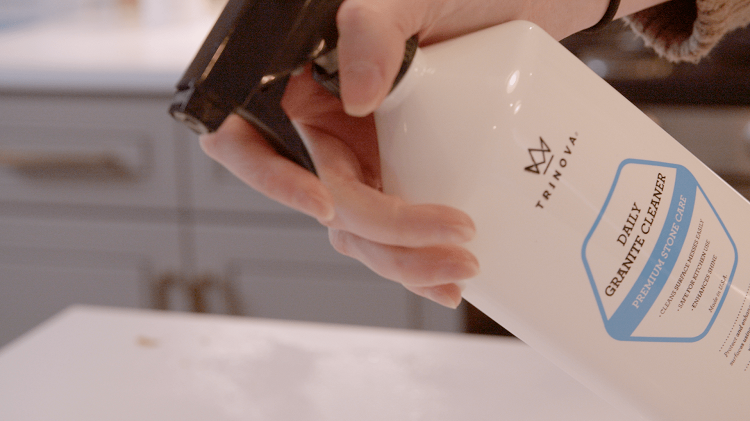 Why Natural Stone Requires Proper Care
We've discussed the importance of using a low (or no) acid cleaning agent to protect natural stone surfaces, but we haven't explored the main reason. Almost all stone surfaces are porous, meaning they are more susceptible to seepage. An oil-based spill has a much easier time penetrating natural stone like granite compared to a different type of material like butcher block. By cleansing your stone surfaces with the right cleaning agent, you can rest assured that no harm will come to them.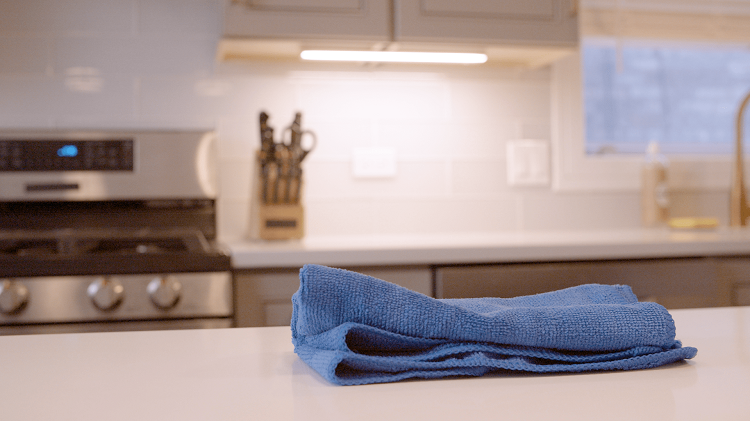 TriNova Daily Granite Cleaner FAQ
If you still have a few questions about how the cleaning agent works, that's quite alright. We've outlined a couple of the most common concerns customers have about it below. Once you've read through it, follow the button after the last Q&A to visit the product page for yourself!
Q: If I want to prepare food directly on my stone countertop, will this cleaning agent make it safe?
A: Yes. This product is completely food safe because it is made from a water-based solution that does not contain harmful properties.
Q: Can the cleaning agent really be used on all types of natural stone?
A: Yes! The product is marketed as a daily granite cleaner but it is perfectly safe to use on any natural stone surface including quartz, travertine, marble, limestone, onyx, and more.