Top Three Mustangs of All Time
Mustang  Week continues today here at the Cool Rides Online Blog. Yesterday we looked at the 50 Year history of the Ford Mustang. Today we feature the Top Three Mustangs of All time.
It's easy to ignite a spirited debate at almost any car show by asking which Mustangs are the best ones of all time. Selecting from a half-century of Mustangs is no small task. This particular list honors the early glory years as well as contemporary engineering prowess. What credentials are needed for a Mustang to be among the best of the best? The debate will last and last.
1965 Shelby GT350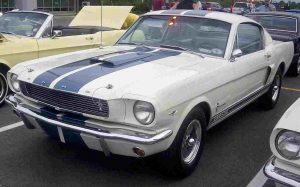 Only 562 of these pure fastback sports cars were built by Carroll Shelby's crew at Shelby American in California. Every one was white with two blue stripes. Advanced features included a fiberglass hood, high-performance exhaust and Holley 4-barrel carburetor. The '65 Shelby GT350 was essentially a NASCAR racer modified to be street legal. Evidence of this is found in the wide, low-profile semi-racing Goodyear tires safe at 130 mph sustained speeds.
The 289 cu-in V8 engine got an array of modifications that raised its potential output to 306 hp. The 1965 Shelby GT350 was the closest thing to a racer out on the roads. In fact, for $1,500, an option package was available that turned it into a full-fledged racer with a 32-gallon fuel tank, Plexiglas windows, roll bar, fireproof interior, racing seats, shoulder harness and more.
1969 Mach 1 Cobra Jet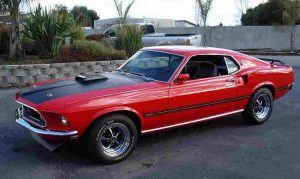 This Mustang is recognized as the most powerful of the early Mustangs, the granddaddy of them all. The 428 cu-in (7.0 L) engine was rated at a maximum 335 hp at 5,200 rpm and 440 lb-ft of torque at 3,400 rpm. It achieved a 5.5-second time in the zero to 60 scamper, and it completed the quarter-mile in 13.9 seconds at 103 mph. Its top speed of 121 mph was also reportedly the best of the lot.
2013 Shelby GT500
If power equals popularity, then the most powerful Mustang ever must get its due. This 2013 model year powerhouse can squeal from zero to 60 mph in just 3.5 seconds, making it competitive with some of the world's foremost super exotics. Motor Trend reported an 11.6-second time in the quarter-mile, during which it hit a top speed of 125.7 mph.
To what does this GT500 owe its power? Well, the 5.8 L supercharged aluminum engine is capable of a whopping 662 horsepower at 6,500 rpm and a massive 631 lb-ft of torque at 4,000 rpm. The 662 hp figure surpassed that achieved by any other V8 in North American automotive history.