The Three Best Ford Mustang Engines in History
There was a huge turnout of Mustangs at the 2014 Hot Rod Power Tour thanks to the pony car's 50th anniversary, but it remains a perennial favorite at this driving-focused event. The car's low-buck, big-power approach makes it an obvious choice for the cross-country drive, but which engines have delivered best on that promise throughout history?
Mach 1 Cobra Jet 428
The fastest muscle car-era Mustang is not the one most people would expect. The '69 redesign of the Mustang added 150 pounds, and Ford promoted the pricey Boss 429, built from the start for drag racing, as the fastest model. However, real world tests show that the 428 Cobra Jet is faster than the Boss. In fact, its 5.5-second zero to 60 time matched the '70 Mustang Trans Am, a model that wasn't even street legal, while the production car's top speed of 121 miles per hour was higher than its racing cousin. Best of all, its $3,500 MSRP was $1,200 less than the 429, and buyers didn't have to forgo air conditioning for big power.
5.0
The '80s 5-liter Mustangs may not have been the fastest cars in the nameplate's history, but the platform's flexibility makes it a hot rodding platform to rival '57 Chevy's and '32 Ford Coupes.
When Ford brought the reworked 302 to the 1982 model, it marked the return of muscle car performance. Later models were capable of going from zero to 60 miles per hour in 6 seconds straight from the factory, and it didn't take much to turn the lightweight Fox body into a drag racing monster. Better still, it was an option on the LX trim, making it available at rock bottom prices — about 30 percent less than its would-be replacement, the Probe GT.
Shelby GT500 Supercharged 5.8l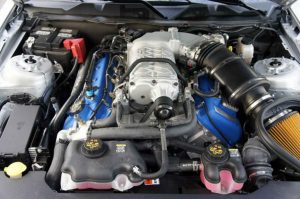 With 662 horsepower and 631 pound feet of torque, the 2013 GT500 is the most powerful Mustang Ford has ever built, and for a time, it was the most powerful production car engine ever built in North America. The aluminum block 5.8-liter V8 uses a massive, 2.3-liter supercharger that adds 14 psi of boost to get those numbers, yet it can still get 24 miles per gallon on the highway. Modern aerodynamics give the car a top speed of 189 miles per hour, and launch control helps it hit 60 miles per hour in 3.5 seconds. Add that in with a price tag of around $60,000, and the modern GT500 is an astounding value capable of embarrassing exotic European cars that cost several times as much.