The one and only 1967 Dodge Polara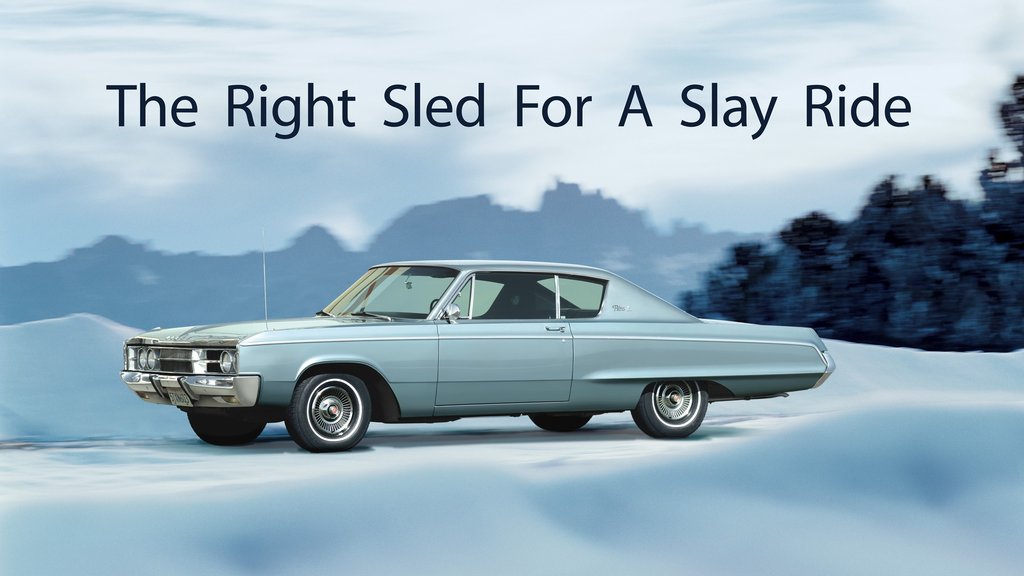 My love affair with my 1967 Dodge Polara began, as many great relationships do, almost by accident.  It was unexpected.  I was only 15 years old and I had a summer job and some money.  I wanted my own car by the time I turned 16 and so, I had been looking.  The year was 1971 and the used cars I could afford (I had $500) had to be about 7 years old. I was open to which car I wanted and, I enjoyed the search and the opportunity to closely inspect a variety of cars.  I fell in love with a 1966 Buick Skylark Convertible, that was just too rusty to trust. I had even looked at a 1964 Lincoln Continental, which I admired but could not afford.  I didn't even know what a muscle car was.  I was looking for something I could see my father driving.
I exhausted all my preconceived notions without ever even considering a Dodge or Chrysler.  But happened to look on a local dealer's used car lot and there it was, the 1967 Polara Coupe fastback that caught my eye.  The bold grill and cat's eye tail lamps were distinctive. The interior was generous and ample and I liked the Medium Blue Metallic Paint.  My initial attraction, I will have to admit, was superficial.  I liked the way it looked.  I really knew very little about cars, or engines and I wasn't motivated by the rumble of a powerful V8. Those were common, gas was cheap and even mid-sized cars were huge and had the V8 power plant.  I just wanted to drive… everywhere!
This Dodge Polara had the hood up, and even I could see that there was a lot of what should be there, missing. I remember seeing the shiny interior of the engine block cylinders.  I asked what was wrong and was told the engine needed a rebuild.  Now I can't imagine a used car dealer volunteering that information today.  Especially to a dumb kid with $500 burning a hole in his pocket.  But, back in the day (here we go) I think there was more honor in business.  At least, that's my experience. This dealer didn't want a car to leave his lot that wasn't "right".  It was his reputation that he regarded more than easy cash.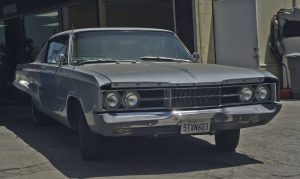 So I was informed that, if I wanted this car, I would have to wait about 2 weeks. I wanted it.  The price was $700 but we reached a deal for the $500. I gave him the money and my phone number right there, on the spot, knowing he would call me when it was ready. That was it, or so I thought. And you know, it was my mother that suggested I look at that particular Dealer's lot.  Dots I had not yet connected.  You see, in two weeks, I would already be 16. I would already have my license (I would take the test at the first possible moment).  My mother worked a day job, my dad, worked nights.  They couldn't always keep a close eye on their 5 kids but you know, they somehow did.  My Mom didn't want me wasting my money on a piece of junk.  And she didn't want me having a car, by any means, before I was 16 and had a license.  In fact, the more I thought about it, I was encouraged to wander to the garage and "find" that Polara by the salesman on the lot.  My mother was out in front of the play, something I never realized until much later.  In fact, when the car was ready, she somehow ended up with the keys and the law was laid down.  It doesn't come home until I buy insurance for it. My Mom loved me.  If I remember, the cost was about $125 to insure it, and me and those who may be adversely affected by me driving it. Not each month.  $125 for the year.
I loved that car even though I knew very little about it.  It was sporty enough to suit me, large enough to carry a bunch of friends and very comfortable and easy to drive.  The square shape and the hint of fins on the rear fenders that had not yet evolved away made it easy to see all 4 corners and, therefore, easy to drive and park. My Father had a 1970 Chevrolet with a 350 V8 and this was every bit as responsive (if not more) than his car. I actually liked the interior and exterior lines of my Polara so much more than his "new" car. And I did drive it everywhere. In the sun, rain or snow (SW Pennsylvania), the mountains or the turnpike. When I did sell the car (2 years later) I actually sold it for $800, making a small profit. This is when I started to consider the possibility that my Mother may have secretly subsidized my initial purchase, something she never would admit to.
I don't think I ever thought about that car very much since then, since 1973. But, in 2004, while searching for an image of a "Polaris" Missile on Google, one of the images that came up was a medium blue metallic 67 Dodge Polara Coupe. I clicked on the image and was re-directed to an Ebay Auction page. There were more images there, interior, exterior and under the hood. It brought back a flood of memories and I realized that I loved that car more than I ever knew. No other vehicle that I had owned since then meant as much to me. But it had been over 30 years, I was a grown man and well, I didn't have time for such things. So, I just enjoyed the images and memories a bit. I called my wife over to the computer to show her. But she doesn't care about cars at all. She said, "What's that!" I told her that it was the very first car I had ever owned. Well, not the exact car, but one just like it. She said "Oh. It's big!" and walked away. I enjoyed the images and then went on with my day.
About a week later she asked me, "You remember that car you showed me on Ebay?" Yes. "Well, I bid on it and I won. Got your car back!" She smiled. So did I. Then I asked…wasn't that car in Seattle? (We lived in New Jersey at the time.) So, we made the purchase, ($3200 I think) and flew to Seattle and drove it back, in October, across I-90 toward Madison, then down to Chicago and across I-80 to NY. My wife loves me. We had a ball.
I've driven that car ever since. From NY to Central Texas (my wife's family home) and back, several times, and NY to LA. It has always been a "driver" and a "driving restoration" project for me. It had less than 100K original miles on it when I got it, and I've replaced everything I could with NOS and original parts. I try to keep it as close to original and stock as possible. Aside from the electronic ignition, the tires and the dual exhaust, it matches the build sheet and the original sticker (which I have). It is on its 3rd rebuild of the original 383 Big Block now, 60 over, and still going strong. In fact, stronger than ever.
My Polara has always been popular with the crowds at car shows and cruise-ins because it is unusual, original and, I believe, because it is a driver. People just like that. It has won numerous First Place Trophies for MoPar C-Body Stock entries from coast to coast. Most notable among those are, Carlisle, Las Vegas and Spring Fling in LA. In fact, after winning at MoPars on the Strip, my Polara was invited to be put on display at the Cannery Casino and Hotel Concourse, along with $100K SuperBirds and Chargers, Roadrunners and 'Cudas. Got it's first re-paint just this past year (original DD1 color) and is in need of a couple of trim parts but, other than that, it is better than ever. I've done most of the work myself, finding the mechanic in me I never knew was there. I even did the bodywork for the repaint. So I know this car inside and out and by the seat of my pants I can tell if ever anything is amiss. I can't even bring myself to drive it with the radio on because I like to listen to the sound of the motor more than anything on the air.
This vehicle has an extensive paper trail, from the original build sheet, window sticker and dealer sales sheet to a photo of the car on the car-carrier train that shipped it from the factory. This year, I registered it with California for the Original Black and Gold License Plates. It's not your usual "collector car" and so, I will probably never make a return on my investment of money or time. But no other vehicle I have ever owned has given me more satisfaction per mile. And I've no plans to sell it. It now has about 330K actual miles on it, still with all it's original sheet metal (never had rust issues) and engine, 727 transmission and 8 3/4 Rear End. The original clock still works…poorly as always. I think it will out live me.