The Differences Between the '67 Camaro & '68 Camaro
Any classic Camaro owner knows the joys that such a vehicle can bring, and it's an investment that can offer hours of entertainment over the years. If you're considering buying one, there are a few things to understand regarding the differences between the '67 and '68 Camaros.
The '68 Camaro Featured Improved Ventilation
Classic cars relied heavily on ventilation systems beyond the windows we typically find in modern models. The '68 model featured more efficient ventilation under the dash. By pulling a tab, the driver or passenger was able to open up the system and allow outside air to blow into the vehicle, significantly increasing the effects of the open windows. Another ventilation difference is that the '67 model had vent windows to supplement the roll-down windows.
Legal Changes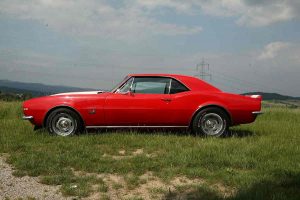 In the year 1968, the federal government mandated a change that gave the Camaro a slightly different look. In fact, it changed the appearance of every vehicle sold in the United States. It was during this year that side marker lights were put to use. On the side of the front fender, as well as on the rear quarter, you will find these lights on all vehicles since that time, so a quick way to determine the age of a Camaro you may be considering is to check for the presence of these side marker lights.
Other Differences
Aside from these main differences, there are a number of other subtle changes Chevy made when they introduced the '68 model. While the basic body style remained relatively similar, the rectangular parking lamps on the grill replaced the round ones found on the '67 model. Enthusiasts with a need for speed were happy to discover that the '68 model gave them more bang for their buck with the 350-horsepower option of the 396-cubic-inch, big block V8.
It's also worth noting that the '67 model did not have the spoiler option. This became available as an option on all cars except those with a rear antenna in 1968-69. While this addition was not mandatory on all cars, the '69 pace car required it.
Which Is the Better Option between the '67 or '68 Camaro?
When determining whether the '67 or '68 Camaro is the better option, it is really a matter of personal taste. While many prefer the older model, others tend to be more attracted to the updates that were made to the newer edition. Either way, the Camaro is a classic car that will continue to attract attention into the future.