Protecting Your Vehicle's Tires and Engine Using 303 Aerospace Protectant
With the summer months kicking off, all car enthusiasts want to be able to protect their automobile. Automobiles face harmful UV rays, dust, water, and grime that can accumulate on the car during summer use. Luckily, car enthusiasts do not need to worry anymore. Why? 303® Aerospace Protectant®. 303® Aerospace Protectant is a water based dressing that can be used to protect vinyl, plastics, rubber, and leather.

Consequently, 303® Aerospace Protectant is ideal to use on your cars tires and engine. 303® Aerospace Protectant is a water based dressing. This is unique because many other tire dressing products contain harmful silicons or petrochemicals and can harm your tire by dissolving the protective waxes. Another benefit of 303® Aerospace Protectant is it protects from all of the environmental factors listed above. Moreover, the 303® Aerospace Protectant looks great on tires!
Additionally, many engines today contain plastic parts under the hood that the 303® Aerospace Protectant can bring back the factory new look of an engine bay while protecting it from dirt, grime, and water!
Let's take a look at how to apply it and the effects the 303® Aerospace Protectant has. The cars I tested on were a 2012 Honda Civic Si and a 2013 Ford Taurus SHO. All the pictures I took were with an iPhone.
I started by washing my car using car soap and water. I also washed my wheels and tires with the car soap. I left the wheels sitting wet ready to apply the 303 Aerospace Protectant.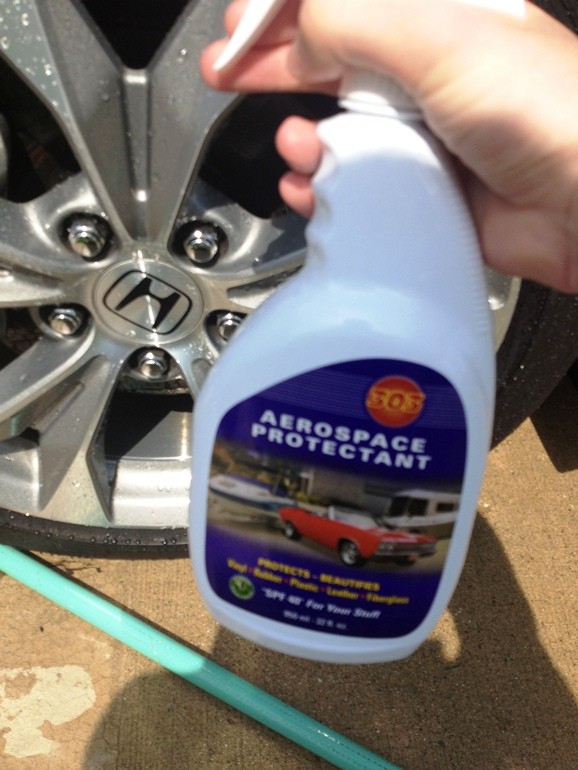 I then applied the 303® to the tires. Apply however much you want to get the kind of black finish you are working for. You can even apply to the wheel well for a nice black finish while also helping restore the plastics in the wheel well!  When using 303® Aerospace Protectant on wheels and tires, care must be taken to minimize spray onto the brake discs.  Excessive over-spray will lengthen stopping distances until the formula wears off.
I let the 303® Aerospace Protectant sit for about 5-10 Minutes while I dried off the rest of the car. Some people recommend even more time but I believe 5-10 minutes is enough time for the product to work. Afterwards, I hosed off the wheel, tire, and wheel well. Some people recommend wiping straight off after application, but I like hosing off the product and drying the treated area. Either way works fine, I think hosing it off works better.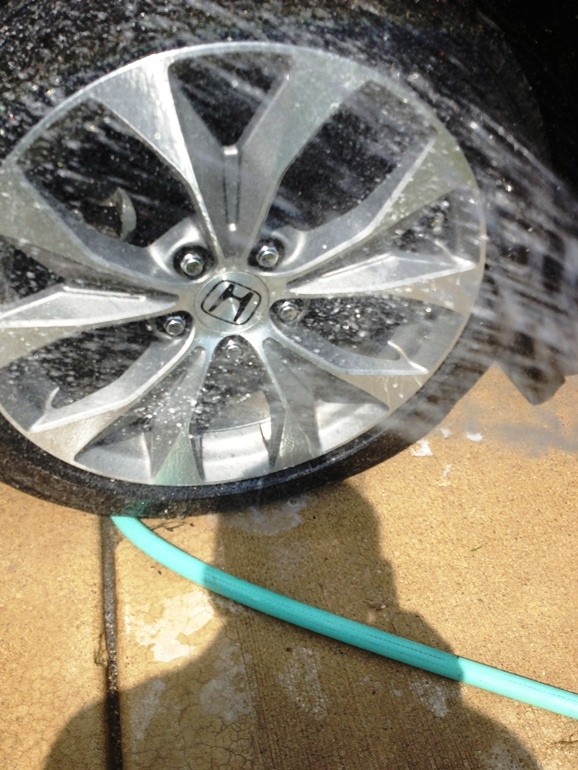 I then moved on to wiping off the wheel. I used separate towels. One for the wheel and one for the tire and wheel well so I could evenly apply the product to the treated area.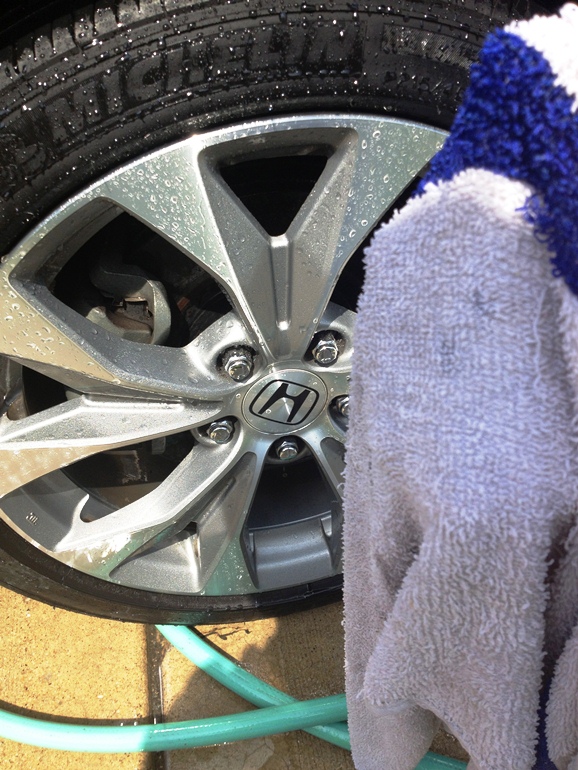 Overall, I think the wheels turned out great. Provides a nice black finish that does not turn out to look greasy or wet. Best of all, the product prevents UV damage, dirt, grime, and water. It rained later in the day unfortunately (I forgot to check the weather) and when driving around my tires still looked black! Here's pictures from the Civic and a previously treated Taurus.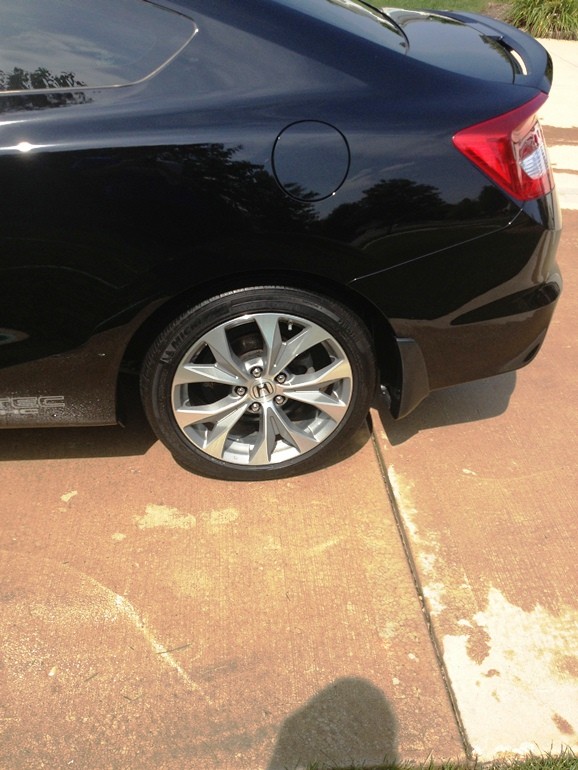 Not only can you tackle tires, but also engines. There are many ways that people recommend to do it, such as applying the 303® Aerospace Protectant and letting it sit. After a period of time they wipe it off. Instead, I evenly doused my engine bay with a degreaser to get rid of unwanted grime. Then, I hosed it off with water. Afterwards, I applied the 303 Aerospace Protectant evenly over the whole engine bay. I hosed it off and let it sit then as I washed my car. Here are the results!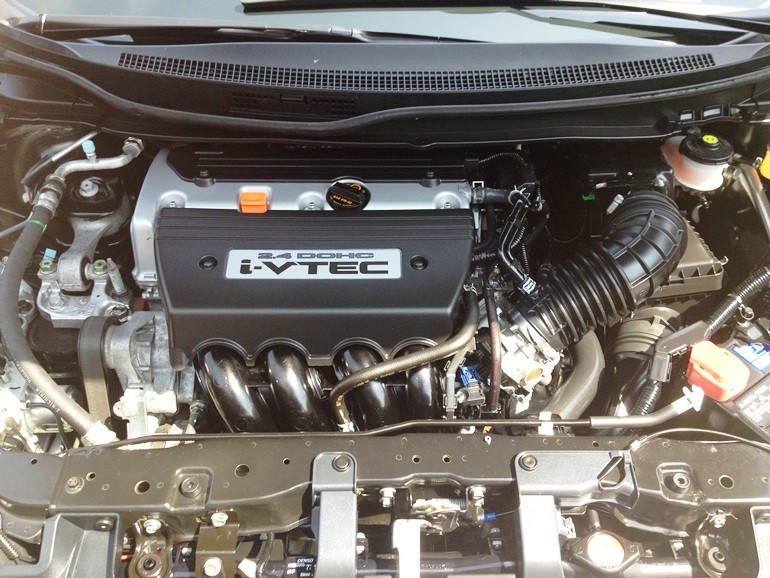 Overall, I think the treated areas turned out great. The 303® Aerospace Protectant helps protect my tires and engine bay while restoring it to looking brand new. 303® Aerospace Protectant can be used for a wide variety of surfaces on your automobile. Check out the video to see what else you can protect with 303® Aerospace Protectant.