Muscle Mondays – 1970 Plymouth Hemi 'Cuda
The Mustang and Camaro have a rivalry spanning decades, but back in the '60s, Chrysler had an entry in the pony car class. The Barracuda began as a fastback coupe version of the Valiant, but by 1970, it was a unique model with all the hallmarks of classic Mopar styling: crazy colors, hockey stick stripes, rally wheels, a coke bottle body and a shortened name that looked good on badges. Add in Chrysler's legendary Hemi, and the 'Cuda became one of the most desirable models of the muscle car era.
Plymouth Hemi 'Cuda – Big Price, Small Production
The vast majority of buyers went for the Commando 440, a $250 option that offered refinement and street performance. The Hemi is a rough idling race engine, and it cost a whopping $900, adding 30 percent to the cost of a base 'Cuda. That limited the customer base to those who wanted something they could race. Just 652 cars were built, of which 284 had a 4 speed manual, preferred for track racing, and 368 had a Torqueflight automatic, preferred by drag racers. Only 14 were convertibles.
Tiny Car + Big Engine = Big Performance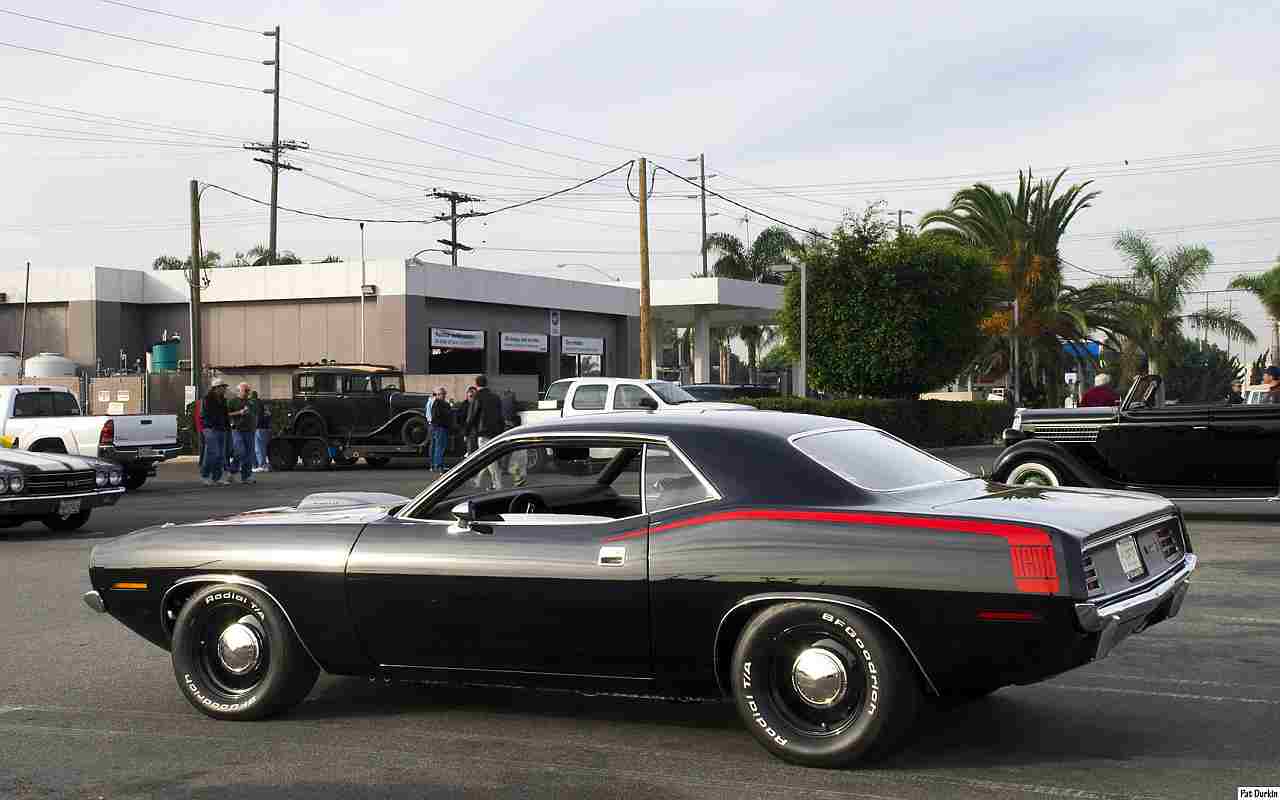 The Hemi 'Cuda's "Shaker" hood and optional "Hemi" side graphics may have made it stand out, but the car was still stripped down with options including basics like a split bench seat. It's this combination of simple, light construction and pure power that makes the 'Cuda so remarkable.
Officially rated at 425 bhp and 490 lb-ft of torque, the Hemi's real output was closer to 550 hp. That was more than any other production big block on the market. Other engines like Ford's Cammer and Chevy's ZL1 may have been more powerful, but these were only technically production engines, built in small numbers to meet racing regulations. The lightweight E-body kept curb weight just under 3,700 lbs, giving the car a phenomenal power to weight ratio.
There really wasn't anything faster at the time available to the average buyer. When Motor Trend tested the 'Cuda, the car clocked a 0-60 mph time of 5.8 seconds, a full second faster than a Mustang Boss 429.
An Unlikely Race Winner
Along with its obvious drag strip prowess, the car proved to be the perfect thing for Chrysler Europe to use for their new racing program. Four cars were imported to the division, collecting 62 wins in Grand Prix Group 1 racing over four years.