Muscle Car Profile: The 1970 Shelby GT500 Convertible
Convertibles Week continues. Today we're profiling the 1970 Shelby GT500 Convertible. The 1970 Shelby GT500 convertible was one of the last great models of the classic muscle car era. Though it is arguably less iconic than Shelby variants of the Ford Mustang that were produced from 1965 through 1968, the 1969 and 1970 GT500 remain some of the most striking classic cars to emerge from the '60s.
A Rare Breed, Perhaps the Last of Its Kind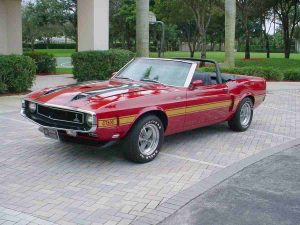 Aside from a small number of specially requested Shelby Mustangs produced from 1971 through 1972, the 1970 GT350 and GT500 were the last Shelby Mustangs produced during the original era of the American muscle car. After production ceased in 1970, enthusiasts had to wait over three decades to get their hands on the next Shelby Mustang: the 2006 Shelby GT-H.
In total, there were only 335 Shelby GT500 convertibles produced from 1969 to 1970, making it a rare car indeed. In fact, no GT500 Mustangs were actually produced in 1970. Instead, Shelby simply rebadged unsold 1969 models – with government authorization – and made a couple of minor revisions including a front chin spoiler and black hood stripes. Due to its rarity, a fully restored 1970 GT500 convertible can sell for well over $100,000 today.
Engine and Drive Train Specs of the1970 Shelby GT500 Convertible
Like the fastback model, the Shelby GT500 convertible was powered by a huge 428-cubic-inch, 7.0-liter Cobra Jet V8 engine. The 7.0-liter Cobra Jet V8 was rated at 335 horsepower and 440 pound-feet of torque, though many enthusiasts consider these numbers to be quite conservative. A four-speed manual transmission was standard, including a close-ratio gearbox as optional equipment on the GT350 variants. A three-speed automatic transmission was also optional.
The 1970 Shelby GT500 is a rare find these days, especially in convertible form. While the 1970 GT500 would have trouble outperforming even the base V6 Mustang of today, there's something undeniably more special about opening up the four-barrel carb of an old-school V8 and hearing that 7.0-liter Cobra Jet roar with the top down.