Muscle Car Feature – 1964 Pontiac GTO Tri-Power
The 1964 Pontiac GTO represents the quintessential muscle car. It's not just its sexy Coke bottle-shaped body or its starring role in fueling the 1960s muscle car craze that made the "Goat" a rather unique and impressive machine. Approximately 8,200 or so of the GTOs ordered in 1964 also share a special treat that was just a check-box away.
1964 Pontiac GTO Tri-Power – Three Carbs, No Waiting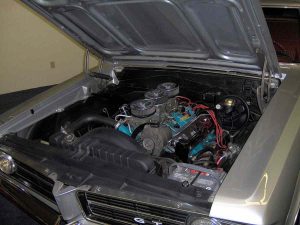 The burly 389 cubic-inch eight-cylinder engine, borrowed from Pontiac's full-size offerings, put down an impressive 325 horsepower while flying in the face of GM's then-recent prohibition on engines larger than 330 cubic inches in intermediate-sized vehicles. Nevertheless, Pontiac felt that this born rebel could use a few more ponies under the hood.
Enter the Tri-Power setup as an available option. Ticking the right order box meant dispensing with the single Carter AFB four-barrel carburetor in favor of three two-barrel Rochester 2G carburetors. This setup meant that the 1964 GTO could get extra helpings of fuel and air whenever demand dictated it.
Tri-Power Performance
In an era where fuel injection was still a relatively exotic option for a scant few vehicles, having a triple-carb setup proved very useful when it came to generating extra horsepower. The Tri-Powered GTO gained an additional 23 horsepower over its single-carbureted counterpart. Performance proved plenty brisk – contemporary reports put the Tri-Power GTO's 0 to 60 mph time at a full second faster than a regular GTO, especially if properly equipped with an optional close-ratio four-speed manual transmission.
End of the Line for the GTO Tri-Power
The Tri-Power option remained available throughout the 1964 and 1965 model years, but changing technologies and a waning desire for many muscle car fans to take up the admittedly time-consuming task of synchronizing carb linkages conspired to make multiple-carburetor setups largely obsolete outside of serious racing and enthusiast applications. By mid-1966, the Tri-Power option went away in favor of the four-barrel single Rochester carb.
Even to this day, seeing a 389-powered Goat with a triple-carb setup is quite a sight to behold. While direct fuel injection and other hot-shot ways of metering fuel are par for the course, the Tri-Powered Pontiac GTO represented a time when drastic creative measures were met with some rather wild resorts.