Muscle Car Comparison – 2014 vs. 1970 Dodge Challenger
When comparing the 2014 and 1970 Dodge Challenger, auto enthusiasts may make some surprising discoveries. In terms of brute power, the heyday of the original Challenger lasted only for a couple of years. In 1972, emissions standards tightened, and the party was over. The 2014 version pays homage to these big street machines of yesteryear in a variety of ways.
Powerful Engines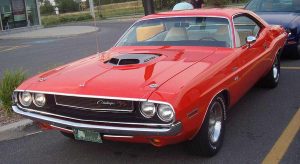 Massive straight-line power is perhaps the most significant similarity. The 1970 Dodge Challenger R/T equipped with a 440 "six-pack" engine rated at 390 hp could do zero-to-60 in six seconds flat. The quarter mile was completed in 13.6 seconds at 104.0 mph. The ultimate option was the 426 Street Hemi rated at 425 hp.
The 2014 Challenger R/T comes equipped with a 5.7-liter engine rated at 376 hp, remarkably similar, in terms of raw horsepower, to the 1970 version. So, how do the ultimate power plants compare? The SRT Supercharged version is powered by a 6.4-liter behemoth capable of 470 hp while the 426 Hemi puts out "only" 425 hp. Edmunds' 0-to-60 result was 4.5 seconds, which gives the edge to the 2014 version over the 1970 model.
Shifting is decidedly more advanced today, thanks to a pistol-grip, six-speed manual that offers more gears than that found in the 1970 Challenger. This advanced tranny is also undoubtedly a factor when it comes to acceleration.
Spacious Interiors
The modern-day Challenger bears a similarity to its ancestor in terms of interior space. Compared to a modern-day Mustang or Camaro, the Challenger's ability to comfortably seat four is superior. Likewise, the 1970 Challenger offered muscle car power combined with spacious seating. Ironically, critics, past and present, have panned the rather bland, uninspired interiors of the two Challengers. Apparently the inclusion of a rather pedestrian interior was yet another way to pay homage to the early Challenger.
Fuel Ratings
Let's face it, enthusiasts don't really lament inferior fuel economy in their muscle cars. Nonetheless, a modern Challenger equipped with the most powerful engine is rated at 14 mpg in the city and 23 mpg on the highway. The city number is not exactly light years away from the fuel "efficiency" of the original Challenger, but that 23 mpg highway number was simply a fantasy four-and-a-half decades ago. Most fuel estimates for the 426 Hemi ranged from 6-8 mpg. Ironically, after one adjusts for inflation, the muscle cars from both eras cost roughly the same to fuel, about $0.20/mi in today's cash.
Finally, when adjusting for inflation, the value offered by the 1970 Challenger is highlighted. In today's dollars, the vintage Challenger cost just $12-16,000 brand-new, less than a third of the cost of the modern version.