Mulching Mowers for a Healthy Lawn
All lawn mowers are not created equal. Either your lawn mower throws, collects or mulches grass clippings. Each family of lawn mower has its own advantages and disadvantages, but mulching lawn mowers are almost always the most efficient class of lawn mowers for homeowners. Mulching your grass clippings keeps your lawn healthy and naturally fertilized, and also reduces the amount of grassy mess that's left as a byproduct of long-overdue lawn mowing. Mulching lawn mowers effectively recycle grass clippings into the mower blades until the byproduct is cut fine enough to fall onto the soil surface. Here's a round-up of the best mulching lawn mowers available.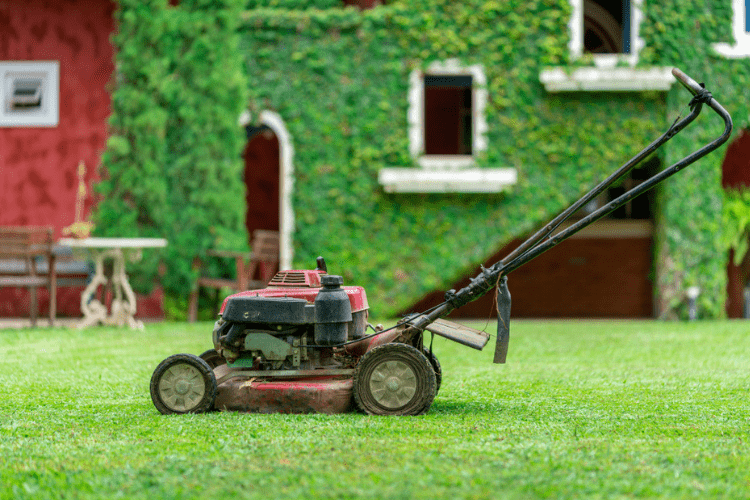 The System
Mulching your lawn is based on something called the "2/3 system". The concept is simple, ingenious and generally doesn't require a ton of work. However, it does demand some adequate planning. The 2/3 system means that you never let your lawn grow more than a third higher than your desired finished grass height. So if you want your lawn three inches in height, you should mow when your lawn is approximately four inches tall. This way, the mulching capability of your lawn mower won't get bogged down, and the cut up grass clippings will fall to the soil surface.
The Mowers
Featuring an efficient Honda motor and a 21" cutting diameter, the Husqvarna 7021P Push Mower is one of the most maneuverable and adaptable push lawn mowers available. While some mowers feature only one cutting capability, the Husqvarna 7021P Push Mower features three cutting systems: collection, side discharge and mulching. The Husqvarna 7021P Push Mower also features a 9-position cutting head so that no matter the condition or length of your lawn, this Husqvarna mower can handle it.
Black & Decker 20" 13-amp Corded Electric Mower
The assumption that lawnmowers are gas guzzling beasts is an unnecessary one. If you take a look at the tool section at most hardware stores, you'll see that most power tools and yard equipment is corded and electric to begin with. The Black & Decker 20" 13-amp Corded Electric Mower gives homeowners all the versatility of a gas powered lawn mower without the noise and smell. The Black & Decker 20" 13-amp Corded Electric Mower also features smart EdgeMax technology that achieves a close trim around landscape edging and planter beds. The Black & Decker 20" 13-amp Corded Electric Mower also features mulching, side discharge and bagging capabilities.
Honda HRX217K5VKA 187cc Gas 21 in. 4-in-1 Versamow System Lawn Mower with Clip Director and MicroCut Blades
This small but mighty lawn mower is one of the most routinely admired mower models available. The Honda HRX217K5VKA features a 187cc engine, and a super-fine 21-in blade that rotates inside of a unique dome that recirculates grass clippings until they are completely mulched.
Lawn Mower Care
Taking care of your lawn mower is as important as the act of actually taking care of your lawn. Any variety of gas engine requires some measure of routine maintenance and care, and due to the messy and dirty environment that yard work takes place in, your mower is especially no exception. But just like your car or motorcycle, a few routine steps will keep your lawn mower running smoothly for years to come.
Changing the Oil
The easiest method for changing your lawn mower's oil is simply called the Tilt Method. The name of the method alone is almost enough instruction. Changing your lawn mower's oil works best when the oil and engine are warm, so immediately after running the lawn mower, set it on a flat surface and let the mower run until the gas tank is empty. Put down some rags or newspaper to protect whatever surface you'll be using to change the mower's oil. Next, disconnect the spark plug wires to prevent accidentally starting the lawn mower during this process. Next set out a catch basin and tip the oil reservoir towards the basin, fully draining the reservoir of oil. Your last step is to refill the motor oil reservoir. Be sure to consult the owner's manual before choosing the appropriate motor oil to use. Don't forget to reattach the spark plug wire and check where you can properly dispose of the used oil. It's as simple as that.
Sharpen the Blades
This is a slightly more dangerous maintenance project, but it's a really important one, especially if you don't want to constantly clean up mats of old wet grass clippings after mowing. Keeping your mowers blades sharp and running smoothly is imperative to doing a good job, and also ensures that your grass will heal and grow back healthier. After removing the lawn mower blade, fix it in a vice and determine whether or not it's worth saving. Often times, lawn mower blades get neglected and are no longer worth sharpening. However, if the blade is free of any major chips or dings, sharpening it into shape is the most cost effective route. Pick up a handheld "bastard file" and begin sharpening from the top side of the cutting edge. This will preserve the blade better. Remember that files should only work during the pushing motion. About 50 even strokes across the cutting surface should be sufficient. Do not attempt to file your mower blade down to a razor sharpness. "Butter knife" sharpness will work fine and preserve the integrity of the blade longer.
STA-BIL Products
STA-BIL Carb and Choke Cleaner
If your lawn mower starts running a little rough, STA-BIL Carb and Choke Cleaner is the fastest way to restore your tool to its peak shape. STA-BIL Carb and Choke Cleaner dissolves gum, grime, dirt and lead and is safe for use with any carbureted internal combustion engine.
You don't have to drain your lawn mower's gas tank before you put it away for storage this winter. STA-BIL Fuel Stabilizer keeps your lawn mower engine free of gum and varnish, and ensures easy starts after a long winter of storage.